2021 is all about data and the customer data landscape is an important topic of discussion right now. Today, customers expect content to be personalized to their preferences and are demanding greater honesty and transparency about how their personal information is used.
In the past, digital marketers would use second and third-party customer data to create content but with Google slowly cutting our third party cookies, and customer data regulations changing, what can digital marketers do to ensure a personalized content experience?
This is where first-party data becomes important.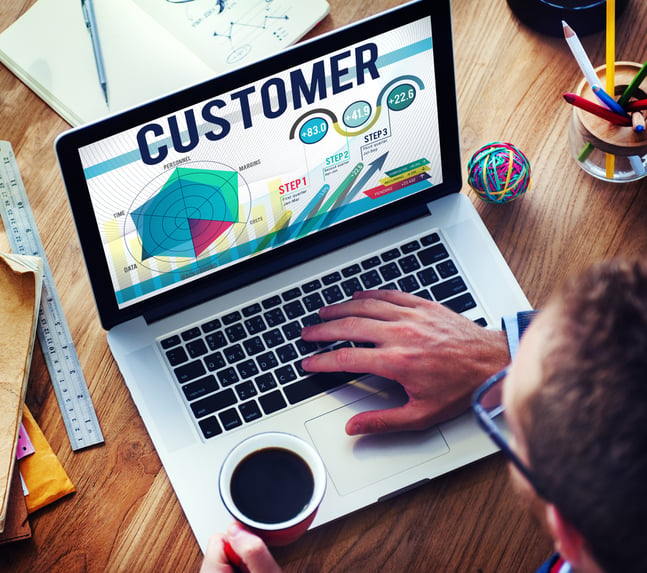 What is First-Party Data?
First-party data refers to any information that is collected directly from your customer base, leads or online audience. There is a lot of value in first-party data because it offers the highest quality insight into the likes, preferences, and behaviors of your audience so that you can create a personalized experience for them. This allows you the opportunity to fully understand where a lead is within the buying cycle, and tailor your retargeting strategy to suit their needs.
This tactic helps you predict future customer trends and betters your marketing performance substantially.
The Benefits of First-Party Data
This type data is of a higher quality than all other types of customer data for a variety of reasons. The main reason being that this kind of data is information you have collected yourself which ensures it is the most reliable and accurate data. Another added benefit is that it is cost-effective because you are collecting this information without paying any extra costs. And of course, when it comes to data regulations, first-party data comes with minimal concerns - as it complies with data privacy regulations.
Below, we take a deeper look at these benefits and why first-party data is important for your business:
In compliance with data regulations: As stated previously, the digital space has seen increased measures in data protection and first-party data comes with minimal risks as you can locate the source of the data and where it comes from - this means that the collection process is in compliance with the updated regulations.
Highest quality data: This kind of data comes directly from your audience and customers ensuring its accuracy. Third-party data is information collected from a variety of platforms and this makes the data less meaningful.
Relevant: As this data comes directly from your audience and customers you gain valuable and relevant insight into their buying behaviour which helps you create personalized campaigns that guide leads through the buying process effectively.
Cost-effective: As stated previously, this kind of data collection saves you money because you are collecting the information as opposed to purchasing it from a third-party.
Now that we understand the benefits that come with implementing a first-party data strategy, let's take a look at how you can develop one for your business and in turn, acquire high-quality leads and better your bottom line.
Developing a first-party data strategy for business growth
Creating and launching a first-party data collection strategy is not as daunting as you may believe. Plus, you can be sure that you will yield a return on investment once the strategy has been implemented.
Below, we outline the steps you can take to ensure a successful first-party data strategy for your business:
Customer Relationship Management Platforms and Inventory
When you begin putting together your first-party data collection strategy it is important that you do an inventory of potential data sources across platforms. You can also leverage customer relationship management platforms to organize all your data sources. By combining your customer touch points in a single place, you will have a holistic view of your data and a greater understanding of your audience.
While you are putting together an inventory of potential data touchpoints, you will find that you can source more data within a CRM than you thought possible. Before you add these touch points to your strategy, consider which are actually relevant to your business. Identify what data you need based on the information it gives you about your target audience and use these touch points for data collection if they provide valuable insight into your audience's needs. In order to understand their value, put together a customer journey map. This will help you determine what data requires more focus and what should be woven into your strategy.
Data Collection Processes
Once you have identified the data points you can begin pulling your data together, segment it and create personalized campaigns. A Customer Relationship Management software like HubSpot provides you with the software to manage your customer pipeline based on data, ensuring you reach your audience, at the right time, with the right message - resulting in greater sales and of course, business growth.
But how do you begin collecting this data? This is where landing pages, discounts and creative marketing comes into play. For example, you can create downloadable and helpful content that your audience can receive by providing certain information through a landing page. This kind of tactic works wonders because you are providing your audience with something they need, which in turn, drives them to take a specific action such as providing you with their information.
Once you have collected this information you can segment your audience based on preferences, career, demographic and where they are within the customer pipeline. Again, this is why CRMs are quickly becoming a necessity.
Test, Measure and Refine Your Processes
Testing is vital to the success of your first-party data strategy and you will need to test your audiences and your messaging. This should be done before you launch a massive campaign. Once you launch your campaigns you need to measure their successes. With testing and measuring you will identify what specific audiences want and what they don't want.
This helps you refine your process and ensures you receive only the highest quality data for greater lead generation and greater sales.
The Wrap Up
First-Party data is important for businesses in 2021 as it provides a great way to acquire high quality data without breaking the bank. It also ensures you do not go against any new regulations regarding online data and allows your marketing and sales team to understand your audience and their behavior's on a greater level. And by understanding your audience, segmenting them and creating personalized messages, you are sure to drive more sales and increase your bottom line.
Do you need a regular flow of qualified sales leads and relevant customer data?
If so, we can help. Nexa has been generating highly qualified sales leads for businesses of all types for almost a decade. We have both the experience and track record to help businesses in all industries generate highly qualified sales leads.
Contact Nexa for all your first-party data collection and lead generation needs here.