We're incredibly busy at Nexa at the moment. With the kids back at school and families back from their summer holidays, it means that the decision makers within Dubai's companies are back and ready to roll their sleeves up for what promises to be a frenetic few months ahead.
As a welcome distraction, we decided to create an article poking some fun at Dubai's unsung heroes; the people in a company that everyone hates but nobody can do without. That's right folks, we're talking about the IT team!
In the marketing world, very few projects go by without the dreaded "I'll need to bring IT in for this part" sentence being used. Let's be clear. It's not that IT aren't capable or that they're incompetent. Far from it in fact. We know that they're incredibly bright people. It's just that whenever IT do get involved, the inevitable gap between marketing strategy and IT implementation opens up and seemingly widens further with every spoken or emailed word. There's clearly a disconnect between marketing and IT and we sometimes wonder if IT would ever have been involved at all if the term "Digital Marketing" didn't actually include the word "digital". Who knows?
Anyway, without further a do, here's our top 24 list of phrases that your IT Manager will NEVER say to you:
1) "Yes, we can do this right away!"
2) "The company's new website has nothing to do with us (IT)"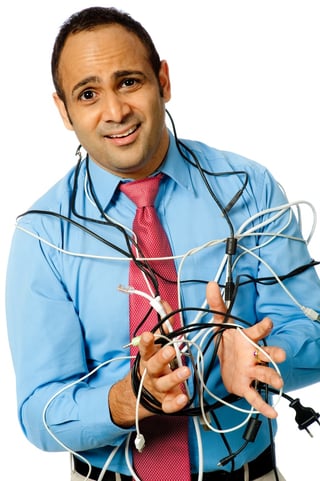 3) "The delay of this project is our (IT's) fault"
4) "That proposal seems like incredible value for money"
5) "Our new website should be hosted in the cloud and not in our company's server room"
6) "I've been thinking. With the way that technology is going, maybe IT and Marketing should work more closely"
7) "Guess what guys, we don't need long, annoying cables in the office anymore"
8) "No problem! We'll share full access with your team"
9) "Our server room is such a waste of office space"
10) "Guys, we should all use Slack to communicate internally instead of email"
11) "Why aren't you using the latest version of Internet Explorer?"
12) "If I did my job probably, you'd hardly notice I was here"
13) "You'll never guess what I saw on Snapchat last night..."
14) "I hated Lotus Notes"
15) "Windows XP sucks"
16) "No, I don't know that application"
17) "The integration is easy and quick to do"
18) "I think we need to be innovative, technologically advanced and ahead of our competitors. Let's start with the website"
19) "Let's not focus on how I feel, how about how the customer feels?"
20) "Our new website should be clean, easy to use and not have too much content on it"
21) "To be honest, the website is slow because of our poor server environment"
22) "Without you asking, I've increased your mailbox size and now you can also receive attachments larger than 10MB"
23) "Have you updated your phone to the latest version of iOS?"
24) "We should brainstorm this as a team..."