There is no way around it - videos are the dominant form of content being shared online. Animated videos are becoming increasingly popular, as mini-motion pictures are an effective and concise way for a business to communicate with their audience. It's proven to captivate viewers and sustain their interest, driving action and understanding.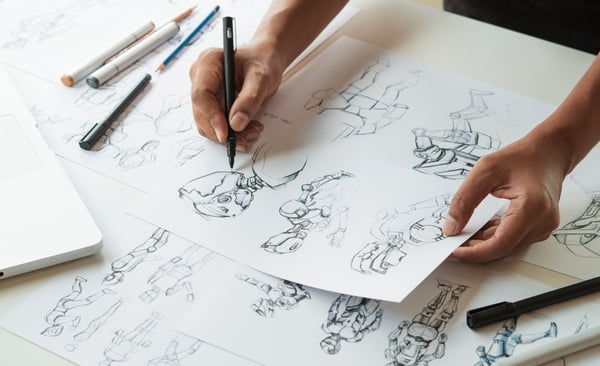 Here's how to get started with Animated Video Production
While some videographers are self taught, animated videos require expertise. Working with an agency can assist you by pairing you with a designer. They will work with you to develop the video, from the point of the conceptualisation of inspiring content to determining the appropriate audience, creating a script, a story as well as creating the actual animation and distributing your content, once complete.
These videos generally take one of two forms: live action or whiteboard. Live action animations involve human characters in a real world context. These are helpful in demonstrating the relevance of the information for the consumer in a way that is relatable and easy to understand. Whiteboard animation involves hand drawings which are highly effective and engaging as explanations of concepts and ideas. In both forms, animated videos have proven to be more effective in helping viewers retain information better, as opposed to reading the same information in long-form blog articles or e-books.
Animated videos are versatile in terms of the types of content you can produce, as well as the platforms where they are shared. You can display these on your homepage or relevant pages of your website, for example, as a welcome to your audience or to explain a key product or service message. They can also be of assistance to marketing campaigns and can be tailored to suit the buyer's journey at any point in the process. With considered descriptions and optimization, as well as the ease of sharing these bite sized bits of content, these videos can create lasting impressions for your business.
As with all digital media, the success of these videos can be monitored and analysed with analytical insights. When it comes to videos, there is data available on the views, play rate, engagement, shares, click through rates and conversion rates. These figures can be measured in order to demonstrate the successes of current videos, as well as points of departure for improving future video content.
Process of Creating Animated Videos
Storyboard: During this step, the storyline is developed. You decide on the message you want to convey as well as all of the details pertaining to the character. The visuals can take inspiration from your business's brand identity in terms of the colouring, style and voice. Once this has been determined, the messaging and sequencing will be decided.
Script: Some videos will have voice overs, some will have background music and others will have no sound at all. It is also possible for there to be readable text that is incorporated into the video. Whatever is to be said or written will be determined at this stage. It needs to be clear, concise and engaging.
Illustration: Based on the plans above, the illustrations will be created by an illustrator. This is where the visual content is designed and fine tuned for integration into animations.
Animation: Animation is the process of bringing the illustrations to life so that there is movement. They are transformed using software into motion graphics.
Sound: Depending on the sound chosen for the video, the actual soundbites will be recorded if necessary at this stage. If there is a voice over, the correct voice over artist needs to be found to match the character. With music, royalty free tunes or original sounds will need to be recorded. They are then edited and added into the video.
Editing: Once the visuals and the sound are wrapped up, the video will go through further rounds of editing until the client is satisfied. One of the benefits of animated videos is that they can easily be re-edited in future if need be.
Content Types for Animated Videos
Overviews: Share information relating to your brand, product or service. These videos are great for introductory purposes and answering pressing questions.
Newness: If you are rebranding or introducing a new product or service to your offering, animated videos are a great way to announce, showcase and explain.
Explainers: Animated videos can help you learn and understand complex concepts. They are therefore a great tool when it comes to breaking down and explaining ideas, philosophies, processes and infographics.
Character Targeting: There is an advantage of creating characters with specific personas, as they can be designed to match your brand, be likeable and resonate with particular audiences.
Tutorials: Demonstrate exactly how to use a product or service to your audience. This shows them how your brand can add simple solutions that are valuable to their lives.
Marketing support: Consider adding a video element to your marketing campaigns, as they can be helpful in generating and sustaining interest in your brand and offering.
Case Studies: Bring life to your testimonials through animated videos. These can showcase your success stories and achievements with context and results. Here's an example:
Animated videos can be highly beneficial for your business. It is a great way to disseminate a variety of content with audiences using bite size content. All you need is an agency to help you make your vision come to life.
Book a meeting with us at Nexa. Here is another example of once of our videos - this one to explain our Content Marketing Strategy related to sales and marketing funnels: