Is Digital Marketing really as good as it's made out to be or is there a better way to generate leads?
If you look back at our recent blogs, e-books and other content (like the video below), you'll notice a pattern - it's clear that we're obsessed (in fact, infatuated) with Account Based Marketing (ABM). And with good reason too.
You see, ABM is really what digital marketing is about. It's all about being precise with your marketing efforts in order to deliver fast results. And it costs less!
But lets go back for a minute...
Prior to ABM coming to the forefront of feasible and effective marketing strategies, many of us [digital marketers] were stuck in the same pattern when offering performance marketing advice to clients. More often than not, the advice we gave was focused around the following:
Creation of quality content assets
Creation of landing pages
The launching of multiple media campaigns using a combination of search engine marketing, SEO and social media campaigns.
Optimization of these campaigns on an ongoing basis to improve lead volumes, lead quality and of course, conversion.
Don't get me wrong. This approach continues to work for our clients today with the results generated usually exceeding expectations and I can guarantee that we'll continue creating these types of campaigns in the future too - especially for B2C businesses. But if we look at the financial aspects of this approach, much of a client's budget is spent on media costs. In fact, at Nexa we can see that typically, 80% of the overall campaign budget is spent with publishers such as Google, Facebook and LinkedIn who offer direct access to specific audiences and demographics quickly and efficiently. But this costs money and this cost is likely to increase over time.
So, what's the problem?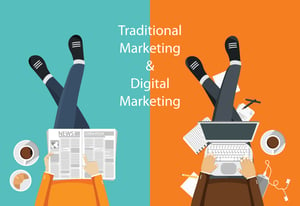 Here's the problem
(or maybe it's just a dilemma)
. Digital Advertising is marketed as a channel that reduces
waste - a criticism often aimed at traditional media channels such as TV, radio and print media - the 'spray and pray' approach to marketing.
While this may be true to a certain extent,
once we launch campaigns on social media and search channels, in theory, aren't we just doing the same as we'v
e always done, which is launch a campaign and hope that a potential client sees our advertising and then engages with the business? Of course, technology combined with the targeting capabilities available today are much more advanced than was previously the case with traditional media but the fact remains that advertisers are still
hoping
that a prospect sees their content/advert, like before, which to me is where the problem lies. In essence, we're still spraying and praying today, but perhaps with a little less wastage compared to before.
Fast-forward to ABM
With ABM, and specifically for B2B focused companies and some B2C businesses selling high-ticket value products, we now have another option. This option is also much more cost effective because our reliance on media spend diminishes and in some cases can be completely removed. ABM allows businesses to be precise in terms of who they are targeting and by doing so, reduce the need for any kind of spray and pray approach.
By identifying specific target companies using the ABM approach, a business can personalise their content to match the needs of a prospective client. For example, creating content highlighting similar work within the same industry may be of interest to a prospect as they can relate to this easier than generic promotional content and messaging.
Once a company has identified target companies, the role of their ABM agency should be find out everything they can about these companies. By this we mean, who the main decision makers are, who influences purchasing decisions and most importantly, how do we reach and connect with these individuals quickly and efficiently. As soon as this information is identified, the ABM agency should also track each interaction between the prospective company, its individuals and seller to understand how engaged the prospect is in the process and how likely they are to close into new business for the seller. There are clearly multiple stages of action here and at each stage the strategy may need to be tweaked to increase the chances of success.
With the ABM approach, the main aspect to note here is that the role of paid media in the ABM sales process is limited to influencing established relationships rather than generating leads to a wide audience, hence the reduction in campaign cost and overall media spend. As mentioned above, approximately 80% of a campaign budget is spent on media. If this was re-allocated to focusing efforts on specific companies and individual prospects within those companies, the impact for many businesses could be game-changing.
And it really works. Here's a recent example:
Just a couple of weeks ago, a client approached us asking us to help them generate meetings with exhibitors at a large healthcare event. The challenge here was that our client wasn't exhibiting at the event themselves and instead wanted to leverage the fact that a global audience of prospective clients would be in one location in order to create new sales opportunities.
With less than 10 days before the start of the event, our ABM team and the client's sales team jointly identified target companies as well as specific, influencing job roles using a variety of research mediums to ensure that this data was accurate. Once the companies were identified, Nexa's ABM team created new content in the form of an animated video and an E-book clearly outlining the client's value proposition and experience within the sector. Importantly, the content was designed to be a helpful information resource rather than a pushy sales collateral.
Finally, the ABM team identified a set of data - around 280 contacts from 150 companies. These contacts were identified as (dataset A) those likely to attend the event and (dataset B) if not attending, they would work closely with colleagues who were attending. We decided to give the same level of importance with dataset B as we did with dataset A. The reason for this was simple. If these individuals were not attending the event, but found our client's content interesting and of value, this may create an internal referral to their colleagues who were attending. Anyone in business understands the value of a referral and our team felt this approach could fast-track responses for our client. Finally, we used multiple channels to communicate to these audiences, sharing the content created, which was directly accessible from our communication.
The Results
Here are the numbers:
Target Companies: 150
Contacts identified: 280
Number of meetings booked: 19
ABM conversion (prospects to meetings): 12.67%
Media spend: US$ 300
Data costs: US$ 1,100
Cost per Meeting: $74
Average Value of Closed Deal: $75,000
Average conversion rate (meetings to closed deals): 15%
Just one deal produced from this activity will generate an ROI of 5,300% - when was the last time one of your campaigns produced in ROI of over 5,000%? Make no mistake, ABM is the future of B2B marketing and sales.
As mentioned above, ABM isn't for every company. But if you are interested in find out of ABM is a good fit for your lead generation and sales growth strategy, talk to us today.