The Education Sector in the UAE
After a decade of fast growth, many Private Schools in the UAE were suddenly facing increased pressure, where supply of school spaces was finally outstripping demand in terms of the number of children looking for schools. While this highlighted maturity within the market and in many cases presented parents with a wider choice of schools to select from, it could impact the financial performance of businesses within the sector.
It's widely accepted that businesses in competitive industries have to work hard not only to win new customers but also retain them. For over a decade, private schools in the UAE were fortunate enough to be in a position where demand for school places were often higher than actual availability. Whilst the governing bodies introduced new regulations and grading systems designed to maintain and increase teaching standards, items such as schools fees and payment terms, despite regulation, were often dictated by market conditions where parents had to swallow increasing school fees on an annual basis or risk the threat of their children not being placed in desirable schools. But things began changing fast.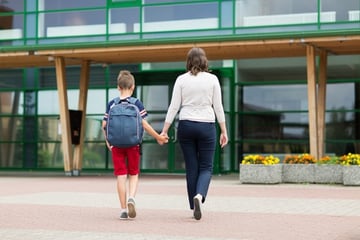 As new schools began offering different curriculums, we began seeing a substantial change in the market. In 2018 A number of high-profile schools decreased school fees for this academic year, and many more began to follow.
And then came COVID-19.
2020 saw a massive shift in the education system worldwide. With social distancing measures put in place and the need for online learning at the forefront of the education system, schools and parents are now faced with new dilemma's.
The Education Sector in the UAE in the Time of COVID-19
Before COVID-19, the issue of school fees in the UAE was always a talking point and featured prominently across social media and print platforms. And now, in the time of COVID-19, this has become an even greater talking point. Many parents have expressed that they expect a significant fee reduction for the final term of the year, and for as long as they have to implement long-distance learning.
This is because they feel that the full school fees should not be charged when all services cannot be provided on-site and there has been an increased need for parental involvement when it comes to managing certain aspects of the curriculum. Another reason for this need is personal financial restraints that are now on the parents, due to the impact on jobs and the economy as a whole.
Certainly there is no easy decision for schools to make right now and there is uncertainty as to how they will manage fees. Some schools are choosing to take a means-tested approach at discounts while others are offering payment plans. There has also been a reported number in different fee reductions on a general basis and they range from 10% - 50%. These are all difficult and challenging elements to navigate, especially when it comes to digital marketing for schools.
It is up to schools to help parents make better decisions when it comes to finding the right fit for their children, especially at this unprecedented time.
Helping Parents Make Better Education Decisions for Their Children
Let's look at this in a logical way.
An increase in supply within the education sector as mentioned above means that parents are now faced with a wider choice of schools to potentially choose from. They also need to consider fees, especially during COVID-19. A direct consequence of all of this is the amount of time that parents will need to spend researching the options that are available to them and understanding the right personal and financial fit.
Having spoken to a number of parents in an informal research study pre-COVID-19, the following considerations were highlighted by them when deciding on a school:
The curriculum on offer
The reputation of the school
Tuition fees (this is more relevant than ever)
Payment terms
Location of the school
The principal and leadership team
Cultural fit
Student demographics and profile
While all of the above makes sense, even at this time, it is difficult to find much of this information without having to directly engage with a school. This presents our first challenge as digital marketers.
The Zero Moment of Truth
Coined by Google in their 2011 e-book "ZMOT," the term "The Zero Moment of Truth" refers to the moment in the purchase cycle between the stimulus (what draws the user to the product, such as an advert or social media page) and the first moment of truth, that is: the moment the user makes a decision about their purchase.
The Zero Moment of Truth refers to the discovery and awareness stage in the buying journey when the consumer spends time researching a specific product or business. According to Think with Google in 2020, 53% of shoppers say they always do research before they buy a product to ensure they are making the best possible decision.
In 2012, Google and Forrester Research published a research study to help businesses understand the customer buying journey and the decision making process in today's modern, digitally connected world. The results were staggering.
They found that most customers were at least 70% of their way through the buying process BEFORE they reached out to a business. In education terms, what this study showed was that parents were already 70% decided on potential schools for their children before they contacted the admissions team, visited a school or open day or engaged in any form of communication with a school.
This research took place in 2012, and now with the internet and the digital world having evolved, they are placing greater emphasis on the importance of being present on mobile devices. The ubiquity of smartphones means that ZMOT is no longer defined by a single moment (ie: desktop or laptop search). Rather, it is an integral part of the constantly connected consumers day in its entirety. Search is now accessible from anywhere, on any device, at any given moment and your business needs to be present. It is important that your website is accessible on any device, and your brand be present on all platforms, from being present in search engines to being seen on social media.
Take a moment to think about this.
The Zero Moment of Truth is the precise moment when a potential parent will make themselves known to a school.
How Do Parents Get to This Stage?
The simple answer is research.
Today, all of us have access to more information than ever before and the internet is the main facilitator of this information. How we shop or make purchasing decisions today is vastly different from even 5 years ago. As consumers, we are much more prudent about how we spend our money, especially since the world was hit with the virus that affected our incomes and the economy as a whole. Today, we spend more time researching products or services before we make a purchase and the education sector and choice of school for a child certainly fits this for most parents.
What the 2012 research also showed is that most people will not have made a firm decision at this stage but most likely will have created a small shortlist from which a final winner will be selected.
If your school is not on that list for a parent, you will have virtually no chance of recruiting their child. Therefore it is vital to be visible during the research stage. It is important to understand how you can be visible, remain front of mind and "help" parents make this exceptionally important decision.
Being Visible and Staying Front of Mind
As with all customer buying journeys, your brand (in this case your school) needs to be visible and remain front of mind when parents are researching potential institutions for their children.
But how is this achieved?
It all comes down to careful planning and making sure that your marketing strategy is fully aligned with the research process that parents engage in. The chart below highlights a possible research journey undertaken by parents during the research stage.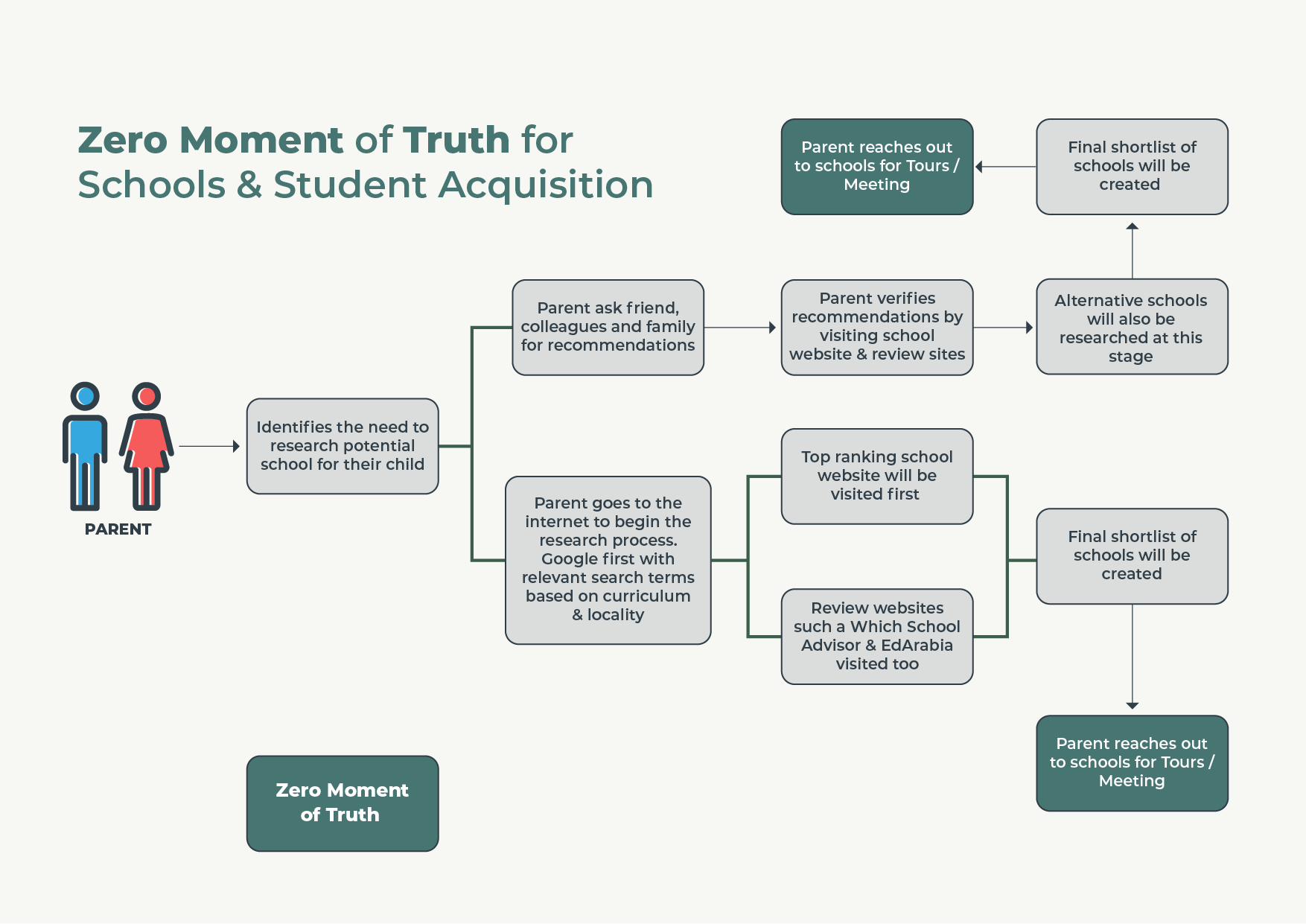 As previously mentioned, parents will look at 2 main sources of information when researching a new school, namely recommendations from friends, family and peers or the internet. However, with so much information available to parents, it is likely that even recommendations from others will result in first-hand research by parents.
Once schools have been researched, it is likely that a shortlist of 2 or 3 schools will be listed for further review. At this stage (the Zero Moment of Truth), parents will most likely reach out to schools to arrange interviews, appointments or tours - or online meetings due to social distancing.
Is This the Only Way to Reach Parents?
Absolutely not. Social media platforms such as Facebook or Instagram and other digital marketing tools allow us to reach parents using highly sophisticated, yet easy to deploy, campaigns based on the following types of targeting criteria:
Location data
Age, gender, nationality
Family status and age of children
Income
Using this data, schools have the ability to target parents within specific locations in order to increase their visibility and awareness and promote the school in a more social and news-driven way. If a school has student transfer programs in place, or discounted rates based on the current situation, social media presents an opportunity to raise awareness of this and target parents who have already placed their children into other schools but are not satisfied.
It, therefore, makes sense to make sure that schools integrate both search engine and social media marketing within their digital marketing strategy. It also makes sense to ensure that the school's website is the best it could possibly be - after all, this may be a parent's first impression of a school.
Our Recommendation
It's clear that a strategic marketing methodology needs to be employed if schools are to remain visible at the most important time of the student recruitment process - that moment when parents start the research process.
If you are interested in seeing how your school could market itself better to prospective parents, please complete the form on this page.