Updated for 2021
The United Arab Emirates is the most technologically advanced country in the middle east. From Abu Dhabi to Dubai, the UAE features many record breaking achievements that still hold their ground today.

Statistics show that a vast majority of UAE citizens use the Internet on a daily basis. As of 2020, there are 9.73 million active internet users in the UAE, that is 98.98% of the population and 54.50 percent access their email accounts, social media and eCommerce websites through their smartphones - and these numbers are set to rise as we head into 2021, especially since operons to person interaction has become vastly limited and the world is turning to online tools for business communication. As a small or medium sized business trying to compete for customers online in the UAE, email marketing should be one of the cornerstones of your digital advertising campaign.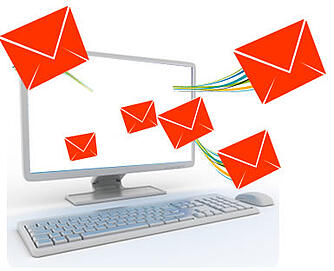 The Benefits of Email Marketing in UAE

In a recent study, digital marketers openly discussed the fact that email marketing still outranked other forms of Internet advertising for return on investment. Other forms of marketing include search engine optimization, content marketing and social media.
Email Marketing Statistics 2020 - 2021
Global email users amount to 3.9 billion, this number is set to grow to 4.3 billion by 2023 - that is half of the worlds population.
For every $1 you spend on emails marketing, you can expect an

average return of $42

. There are a lot of marketing benefits when it comes to email marketing, but this Return on Investment certainly tops the charts.
9 out of 10 marketers use email marketing to share content with their target market. And email marketing is the

third most popular distribution channel, just behind social media at 91 percent. But the two go hand in hand.




As stated previously these statistics are set to rise as we head into 2021.



Some of the benefits of email advertising are:

• Direct Marketing - Email is a great way to directly market your products and services. Whether you obtained these email addresses through an opt in form or they have previously purchased items from you, the results you gain from sending them monthly or weekly deals is significant because they are likely already interested in whatever you have to offer.
• Customer Engagement - Engaging customers on a personal level is very important. While hard, cold selling techniques used to work in previous years, customers now look for substance in material they receive. Email is the easiest way to deliver content that engages them.
• Platform for Promotions - If offering discounts and promotions is a huge part of your strategy, email marketing in Dubai is the best way to inform your customers. You can create custom promotional emails and send them to new and previous customers at a pre-determined time.
• Customer Retention - Repeat customers are an essential part to any business, regardless of the product or service you sell. They have proven to you that they will buy, and their browsing and purchase histories can offer you insight into what they like and what they don't like. Customer retention is all about catering your products to what is most popular; use your data to create effective and targeted email campaigns to achieve maximum return on investment.

The Future of Email Marketing in UAE

Email has now become one of the most basic forms of communication in the UAE. This is largely due to the tech-savvy customer base that crave instant gratification in the country.

Like the rest of the UAE, the most basic idea of email marketing in Dubai is here to stay. What may change is the format in which these emails are sent, and the content within the emails as well.
Because more than 50 percent of UAE residents access email via their smartphones or tablets, your campaigns must be responsive for all types of devices.