Do you wear your hair in a middle path or slightly to the side? Do you still wear skinny jeans? There has been a year-long battle raging on social media platforms (particularly on TikTok) and two generations have come head to head debating fashion, music and well, social media virality.
With hilarious memes, witty comebacks, and satirical videos being shared across social platforms, the social media war between Gen-Zers and Millennials has the social landscape laughing out loud.
Before we dive into the hilarity, let's take a quick look at how different generations actually use social media and why Gen Z and Millennials are quickly crossing paths.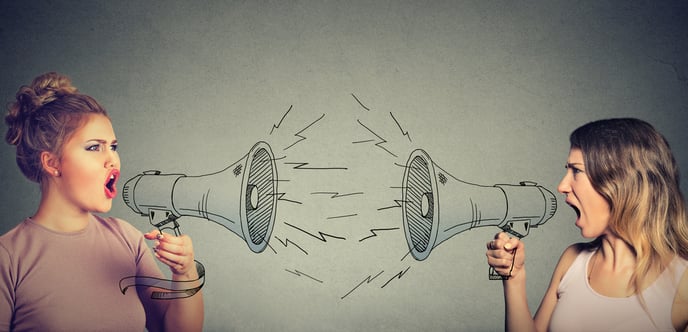 How Different Generations Use Social Media
80% of every generation uses social media at least once a day which means that these platforms have become a part of daily life.
Images are the most popular form of social media content across all generations. In fact, 77% of Millennials and Gen-Zers prefer to share videos on social media while 72% of Gen-Xers and 52% of baby boomers prefer posting images to social media.
The majority of Millennials and Gen-Zers use social media multiple times a day while Gen Zers spend time on fewer platforms and Millennials use multiple platforms.
Facebook is popular amongst the older generations and is quickly losing its popularity with Gen-Zers. However, Millennials and Gen Xers are still big fans of the OG platform.
Based on the above statistics, generations use social media in relation to what they want to gain from online interactions.
All generations are drawn to video and image content but Millennials and Gen-Zers are using apps such as TikTok and Instagram more religiously than the Gen-Xers and Boomers. Video-driven platforms are on the rise and these two generations are at the forefront of this monumental rise. And this is why the two generations are caught in an online war of wit and satire.
Let's take a look.
The Generational War of Wit
It's safe to say that Baby Boomers or "boomers" as they are known online have taken the greatest knock on social media due to the countless memes created about them (mostly by Millennials.) But karma has come for Millennials in the form of Gen-Z.
Millennials have now attracted the disdain of the younger generation and Gen-Z are now making their thoughts on the older generation very, very clear. And let's be honest, we all know that boomers are sipping on their tea, and smiling. So, what is the online beef about?
Over the last year, Gen-Z has been on the attack and have brutally slammed Millennial fashion, hobbies and interests. Essentially, skinny jeans, wine and Harry Potter are out and oversized jeans, vegan juices and Rick and Morty are in.
But Millennials are not taking it lying down? I mean, the audacity to talk badly about skinny jeans is just too far over the line!
But Millennials are not taking it lying down? I mean, skinny jeans are sacred and mocking them is taking it a step too far!
So, which side are you on? And if you are Gen-X, how does it feel to be so respected that there has been no war waged against you?
The Wrap Up
So, can this kind of satirical comedy trend actually be good for business marketing?
If done correctly - absolutely! Meme marketing and TikTok trends make for good social media fodder because they are great at improving brand engagement. We suggest you keep an eye on these kinds of quirky trends if you want to drive page engagement, build a community, get shares and improve branding.
I mean, if you are a clothing or hair brand - the meme and TikTok trend opportunity is endless for this one. Find a trend that speaks to your audience, add your brand voice and watch your engagement soar.

Contact Nexa for all your social media marketing requirements today.