Looking to reach customers in Dubai and Abu Dhabi? We've got the tips you need to know about for accurate customer targeting. Here's a guide to getting your share of the market in these cities effectively.
The tale of two cities
East meets west with two of the UAE's largest Emirates, in Dubai and Abu Dhabi. Western economics are met with the traditional values of an Islamic state. Other cities that make up the country include Ajman, Fujairah, Ras al Khaimah, Sharjah and Umm al Quwain. Perhaps more traditional than Dubai, Abu Dhabi is the capital and the wealthiest region as it has the largest number of oil reserves. It holds political and governmental control of all of the cities within the UAE, including Dubai. This means that it holds a position of power when it comes to military decisions and foreign affairs.
However, each Emirate has a large degree of independence, as outlined in the constitution. They are able to control their own economies and natural resources. Dubai is an open and competitive market for businesses, with a population of over two million people. The market in Abu Dhabi is more closed and less competitive, with a population of over one million people. The majority of the UAE population is aged between 25-69, while one quarter of the population is represented by the youth (under 25 years old).
A highly desirable population of residents for many businesses
In order to successfully target customers in the region, you'll need to have a long term growth perspective, and a thorough understanding. Businesses find favourable conditions in the UAE as it is an emerging market. The country is industrialized and a hub of thriving commercial activity with several rewarding opportunities available. With that in mind, a business will need to have detailed strategies in place, for both business and marketing in order to direct your business activities in the right direction.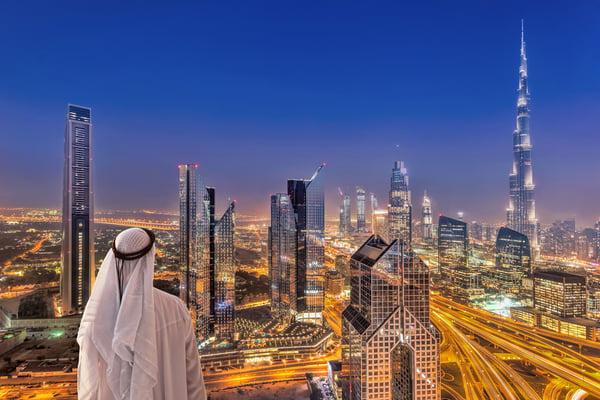 Targeting customers in the UAE
These are not the markets where you can garner mass appeal quickly through advertising. This market prefers experiences, word of mouth referrals and own research to advertising.
Without localisation and a network of connections, it may be a struggle to reach these customers. Therefore it is important to view customer targeting as an essential activity based on precision and one that is an investment for your business. In order to begin doing that, consider what value you're offering customers. Then, consider the following factors:
Research: The snippet of information above about Dubai and Abu Dhabi are brief introductions to both cities. You will need to conduct a highly detailed analysis of each city in order to gain an understanding of the area you're working in and the localisations to take into account.

Regulations: Depending on where and how you conduct business, there are regulations that you will need to follow. You need to ensure your register properly and are meeting compliance standards. This will affect your business's legal structure and taxation options.

Market research: In an extension of the research of the areas, you will need to conduct research on the market itself and the customers within them. This is important because the most effective targeting happens when markets are acutely segmented.

Specialists: Working with an agency or expert in the region can assist you with research of the area, as well as guidance when it comes to business regulations (such as the need to provide healthcare insurance for your team that are based in the cities), networking in the region and the funding opportunities available.
Marketing tips for Dubai and Abu Dhabi
These customers are known to be big spenders who will pay premium prices for high quality and brands that they love. With this comes a strong level of brand loyalty and high expectations when it comes to luxury. In fact, luxury makes up 30% of the Middle Eastern market and 30% of salaries are spent on luxury purchases. This goes hand in hand with a sustained optimistic perception of the economy in the near feature by most consumers, as well as a trend of trading up from mid market to top tier brands.
Many of the purchases made are from foreign businesses. The alluring factors for these customers are high quality, craftsmanship and status. Businesses will find that these customers are therefore quite demanding, hence a business needs to satisfy their needs more than adequately. What your business needs to do is to build relationships with these customer bases and to impress them. A taste for luxury means that your service needs to be top notch and your communications and customer experiences need to be personalised.
When targeting this demographic, you may be tempted to tailor your efforts towards the predominantly male population. However, women have a pivotal role in influencing the purchasing decisions. As mentioned, segmentation - and micro-segmentation, in particular - is an essential technique to use. You therefore need to invest in your marketing and digital capabilities for analytical purposes of your target market, business channels and performance.
Consumer behavior in the UAE is changing. TV advertising, for instance, is a great tool for extensive reach, especially via the two main broadcasters. However, these ads are expensive and on a downward trajectory. The region has great internet connectivity and a high number of smartphone and social media usage, so this needs to be a primary focus for your marketing and advertising plans.
Another changing customer behavior is the adoption of ecommerce. Despite having a strong mall culture, where socialisation and shopping occur simultaneously. Ecommerce is growing rapidly and one of the trends seen here is the purchasing of lower priced online deals. With people generally trying to be more conscious of money spent, and with the introduction of VAT to the UAE, businesses need to do their best to keep costs down.
There you have it, an introduction to targeting customers in Dubai and Abu Dhabi. Business in the UAE can be incredibly rewarding, provided you position your business accurately and target your audience effectively.
Need help with targeting customers in this region?
Book a session with us at Nexa, Dubai's number one lead generation agency.