The Kingdom of Saudi Arabia (KSA) is one of the largest countries in the Middle East. If your business would like to enter its marketspace or expand market share within KSA, you'll need a strategic targeting and marketing plan. We're taking you through the four key aspects of defining a target market - demographics, geographics, psychographics and behaviours that influence Saudi Arabian consumers.
KSA Demographic Data
The country has a population of 34 million people spread across five and a half million households. A third of the population are foreign, with the majority of the population living in urban lifestyles in cities and 1 million people living in settlements. The median age of the population is 30 years old, though the country on the whole is aging.
There are high literacy rates in Saudi Arabia and low levels of unemployment (especially for men at just 3.3% of the population). The main business sectors are services, industry and agriculture. In 2018, the GDP per capita was over $20,000, which is coupled with low to no taxation.
KSA Geographic Data
Saudi Arabia is known to have policies that are aimed at uplifting Saudi Arabians before foreigners, along with stricter rules for foreign investment in comparison to other countries in the region. Vision 2030, however, is a regional strategy to develop the country beyond its oil trade. This strategy reduces some of the restrictions and involves governmental support.
Saudi Arabia is recognised by the World Bank as being one of the wealthiest countries in the world. This is in large thanks to oil traide. It accounts for three quarters of the country's exports and they are the largest crude petroleum exporters in the world.
In order to hone in on the geographical information, these are the key facts of the country's main cities:
Mecca: The holiest city in Islam which attracts millions of pilgrims (of all ethnicities and income levels) each year.

Riyadh: The capital city of KSA and also the largest, with a high concentration of middle and upper classes. This is therefore the largest market in the city and great for digital marketing.

Jeddah: Situated in the west of the country, this is a city to try out new concepts on the generally less conservative inhabitants.

Medina: The second holiest city in Islam which also draws in pilgrims and tourists, though there are also 1.5 million residents.

Dammam: Located on the east of the country by the Gulf, where it is frequented by visitors to other countries in the GCC.
KSA Psychographic Data
Saudi Arabian consumers value high quality - this means that they are less consented with quantity purchases and are willing to pay premium prices if deemed justifiable. International luxury brands are therefore highly favoured. Trust is a defining factor, as it is closely linked to loyalty, a quality that these consumers are known for having. When it comes to online searches, jobs, education and football are among the highest Googled topics.
With that being said, culture and religion go hand in hand and understanding this is key to achieving success in the region. Islam therefore influences both society and business in the region, with the largely Sunni population of muslims following Islamic laws and values. Businesses therefore need a strong understanding of Islam and the way in which the religion's pillars influence consumers. Businesses need to steer clear of causing offense. For instance, consider the following influences based on the five pillars of Islam:
Salah: Businesses close three times per day for three of the five daily prayers performed by muslims.

Shahada: Referring to the belief in Islam, the government guards citizens by guarding them from offensive or contrary information (eg blocking websites).

Zakat: The act of giving charity, which all muslims do each year.

Sawm: Fasting occurs during the month of Ramadan each year and during this period, ad spend increases along with shopping for the festivities once daily fasts are broken.

Hajj: A pilgrimage required of able muslims during their lifetime, which sees exponential increases in demand for various goods during this time of the year in Mecca and Medina.
KSA Behavioural Insights
As with other Arab countries, there is a strong mall culture in KSA, where consumers head to purchase food, fashion and electronics. Based on the wealth of the country, consumers in Saudi Arabia have significant buying power, and can be seen as selective, savvy, discount-oriented, multi-channel or brand loyal shoppers.
Ecommerce is a developing sector of sales, with more people adopting online shopping. Much of the online shopping is paid for using cash wallets or cash on delivery, which is important for businesses to note.
Internet usage is prominent, as is the widespread use of mobile devices. Online marketing is therefore being noted as the future of marketing, with decreasing ad spend going toward TV and print advertising. Mailed marketing is also not prominent in the area. If you would like to go the traditional marketing route, consider newspapers, radio and outdoor ads.
Social media in this region is among the highest in terms of growth and sharing content. This is mostly in Arabic, with the most popular channels being YouTube, Twitter, Facebook and Snapchat.
The most popular internet sites include Google, Sabq, Amazon and Argaam. Many businesses opt to register on Maroof, the government's verification website which seeks to decrease online fraud. If you are going to advertise online, opt for Google Ads as they hold the vast majority of all search engine marketing. Also note that SEO is dominant in Arabic, as most of the searches are conducted in Arabic and English content usually has translations available. The online marketing space in Saudi Arabia is budding with opportunity thanks to a low number of competitors and low PPC advertising costs to match.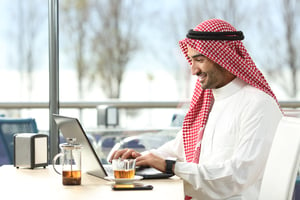 There you have it: the demographic, geographic, psychographic and behavioral codes to unlock the great spending power of Saudi Arabian consumers. With this in mind, you targeting will draw people to your brand successfully.
Need help getting started? Contact us at Nexa.