The digital landscape is changing and we are entering the age of the Metaverse and Web 3.0, a connected virtual world. Soon, we will use this space to socialize, work and learn, taking our day to day lives to a new online level. This kind of virtual world includes investing and making money, just like in the real world, and real estate is just as valuable online as it is in the real world.
There are two prominent and respected online spaces dedicated to virtual real estate, these being Decentraland and Sandbox.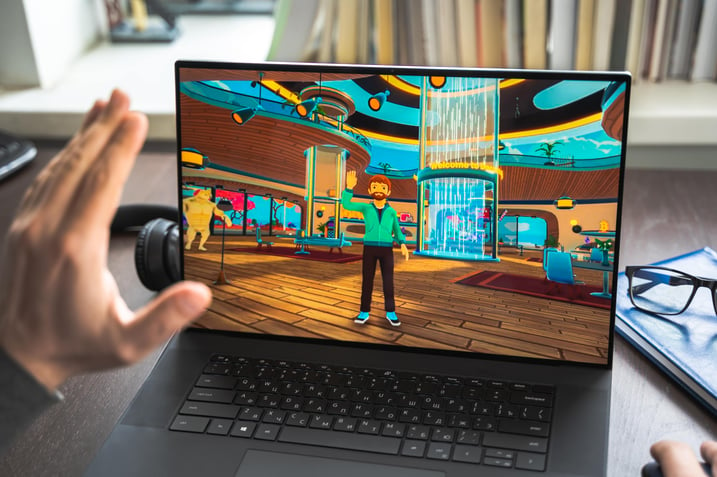 About Decentraland
Decentraland is the pioneer of real estate and property in the Metaverse and was launched in 2017. This is a completely immersive 3D metaverse and focuses on allowing users to purchase land or plots within the virtual universe. The land itself features an array of virtual experiences including casinos, concerts, games and art galleries.
About The Sandbox
The Sandbox was first founded in 2012 and functioned as a 2D mobile game however, in 2017, the 2D game migrated to a 3D game and was built on the Ethereum blockchain. In 2018, the company was acquired by renowned Hong-Kong based software company Animoca Brands, and it has now become one of the most respected and popular metaverse platforms available.
Both Decentraland and The Sandbox offer real estate and property opportunities for investors. However, there are some differences between the two platforms that need to be considered when making an investment decision.
Before we dive into how much it costs to buy land in these metaverse platforms, let's take a look at the difference between the two.
The Difference Between Decentraland and The Sandbox
Decentraland is an Ethereum-based virtual world and users are able to explore and profit from their own content and applications. The Sandbox is also built on Ethereum and players are able to purchase or rent homes in this environment. This highlights the decentralized nature of the platforms; however, their blockchain technology is what distinguishes these two metaverse universes.
Decentraland allows its users to purchase land which is a non-fungible digital asset. This is done via an Ethereum based Mart Contract or Ethereum cryptocurrency. The platform was built on the Ethereum blockchain and allows ownership of lands to be recorded as digital assets.
In contrast, The Sandbox uses blockchain technology to ensure user-generated content and several land plots can be combined to create an estate. It is also important to note that it is dependent on the creativity of its users or players which makes it an unlimited space.
Every property portion in Decentraland is a Non-Fungible-Token (NFT, ERC 721) and this means that it is one of a kind and can never be recreated - just like real estate in the real world. And just like the real world, Decentraland provides buyers with the option of getting a mortgage on the land.
What is great about this is that anyone, across the world, is able to purchase, lease or sell land peer-to-peer at any time and this can be done on the Decentraland Global Market or through Opensea.
As all activities and purchases are processed through Ethereum, once you own your land token, you formally own the plot of land.
But how much does it cost to buy land in Decentraland?
90,601 lands are available in total including 43689 private land parcels, 33886 district land, 9438 streets and 3588 plazas.
Each land covers 16m x 16m square spaces, previously it was 10m x 10m.
The highest ever sale of land is 2,000,000 MANA - MANA is Decentraland's ERC20 fungible cryptocurrency token - the lands are purchased and sold with respect to MANA.
The average price of land has gone up from less than 500 USD to more than 3000 USD.
The cheapest land in Decentraland costs 3487 MANA.
You are able to purchase land The Sandbox LAND sales which can be found on the Map of The Sandbox website. All the dates of the set sales are announced well in advance so as to allow you time to prepare for your land. However, you are also able to purchase second-hand on a third-party NFT such as Opensea.
The currency used on the platform is $SAND and you will need this for all your transactions when it comes to Sandbox's marketplace and purchasing ASSETs and LAND.
But how much does it cost to buy land in The Sandbox?
The Sandbox consists of 166,464 plots of land that are available for purchase at a minimum of 3.2 ETH which is about $9900.
The Sandbox has a governance token referred to as $LAND and this is what the NFTs are purchased with.
The price of the coin is around $4.75.
In January 2022 a regular plot of land in The Sandbox sold for $30 000.
In general, LAND continues to increase over time and it is important you keep an eye out for any opportunities for purchase within the space.
Investing in Digital Land
One of the key opportunities for businesses looking to create a presence in the Metaverse is the purchasing of land within platforms such as The Sandbox and Decentraland. Owning these digital assets presents additional opportunities from building an actual presence that represents your brand to renting your asset out to others or simply holding onto your investment in the hope of an appreciation in value as the popularity of the metaverse increases.
As with most emerging technologies, there may be some risks associated with this kind of investment however, the virtual world is the future of the internet and it is important you educate yourself on the possibilities within this ever-expanding space.
For all your Web 3.0 insights, speak to the Nexa team of experts and discover more about the virtual world and the business and investment opportunities that await in this new-age landscape.