Stripe is a global technology company that builds economic infrastructure for the internet. The business primarily offers payment processing software and application programming interfaces for eCommerce sites and mobile apps.
Stripe's technology-first approach to payments and finance is what has set it apart as one the best payment gateways available today. It offers products that power payments for both online and in-person retailers and also offers technology to help businesses beat fraud, send out invoices, issue virtual and physical cards, manage business spend and get financing. Millions of companies across the world, from startups to Fortune 500s, use Stripe's software and APIs to accept payments, manage their businesses online and send payouts.
Stripe is renowned across the globe for being a payment gateway leader and has recently announced its first expansion into the Middle East, having opened offices in the UAE.
Ammar Al Malik, Managing Director of Dubai Internet City commented on Stripe's launch in the UAE, having said: "We are delighted to welcome Stripe to the region and believe it will play a key role in cementing Dubai's position as a global tech and talent hub. Fintech is at the heart of digital transformation. It is an engine of growth accelerating digitalisation across many knowledge-based sectors. Stripe's expansion to the UAE strengthens Dubai's status as one of the world's leading destinations for tech-enabled businesses. Its arrival also bodes well for the growth and acceleration of the digital economy and this move will allow Stripe to take advantage of the many opportunities this young region has to offer. As the leading technology district, we look forward to continuing to work with global brands to support the technology ecosystem as we have done over the last 20 years."
Now, businesses operating online in the UAE are able to use Stripe to accept online payments, mitigate fraud, make payouts and expand to reach customers across the globe. This important announcement also means that global businesses already using Stripe are now able to make their products and services available to a UAE consumer base.
Previously, accepting online payments from the UAE required heavy and arduous processes that would take time for businesses to complete. Now, with Stripe in the UAE offering a secure and quick online setup, businesses have easy access to the economy of the internet.
With the news that Stripe is now available in the UAE, let's take a look at what a payment gateway actually is and how this technology can transform your online presence into a well-received online shop.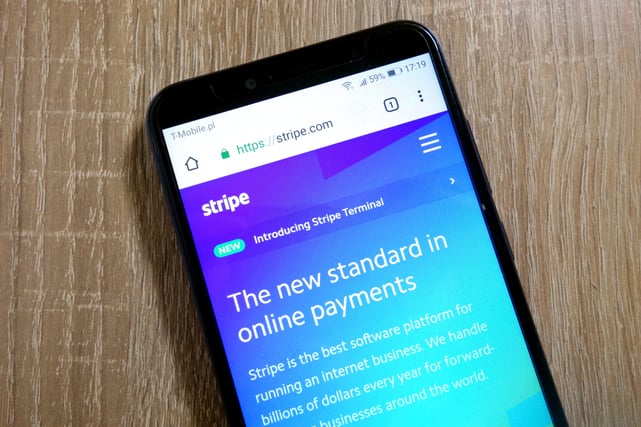 What is a Payment Gateway?
A payment gateway is a merchant service provided by an eCommerce application service provider that authorizes credit card or direct payments processing for online businesses and online retailers.
Essentially, a payment gateway acts as a third-party between customers and merchants that securely receives money from customers and sends it to a merchant's bank account. A payment gateway is, at its core, a virtual point-of-sale terminal that is located in most retail stores.
Using Stripe for Your eCommerce Business
With Stripe being at the forefront of payment gateway technology, and now having expanded its offices to the UAE, let's take a look at Stripe's pricing structure, supported shopping cart platforms and available payment methods.
Stripe Pricing Structure:


As of June 21 2020

, the Per Transaction Cost (Per Transaction rate is the percentage of total payment amount plus any additional amount) is 2.9% + 1.10 AED.




Stripe offers standard pricing for the handling of online credit card payments. The company charges the same rates we see with companies such as PayPal – 2.9% + $0.30.



When it comes to

Stripe's pricing structure

it is important to note that it is relatively inexpensive. The platform is easy to use and your business is even able to build your own eCommerce environment with Stripe's API. If you don't have developers working on your website, Stripe allows you to partner up with one of many eCommerce platforms to build a store but please note that this does often come at an additional cost. We feel this is important to add as Stripe is cost-effective for the end user in all regards.
Stripe Supported eCommerce Shopping-cart Platforms:
Stripe is supported by a variety of top eCommerce platforms including:
Shopify
Woocommerce
Magento
Bigcommerce
Opencart
Squarespace
Webflow
Available Payment Methods:
Stripe is supported by a variety of payment methods including:
Visa
MasterCard
American Express
Discover
Maestro
J.C.B.
Apple Pay
Google Pay
Alipay
Microsoft Pay
Visa Checkout
Masterpass by Mastercard
What makes Stripe so popular is that it is easily integrated with your current website and its integration options include:
Stripe Checkout: Redirect customers to a stripe hosted payment page
API Integration
The above offers greater insight into how Stripe can seamlessly integrate with your business - and save you money.
Stripe in the UAE
The UAE has a booming digital economy and now businesses operating online in the UAE can use Stripe to accept online payments. The benefit of bringing Stripe to Dubai is that there are a lot of local businesses that haven't yet been able to globalize. Stripe has the power to help these businesses grow and therefore resonate with investors. It is also important to note that according to the International Trade Administration, the UAE's eCommerce market is forecast to be valued at $27.1 billion by 2022. And Stripe is propelling these statistics forward at a rapid rate.
Now that you have greater insight into Stripe, you know what to consider when choosing your eCommerce solution.
How We Can Help
At Nexa, we understand how your customers work and move through the digital landscape and will work with you to create the ultimate eCommerce site for your business and your consumers. We are able to tackle the most complex and the most simple sites, and will scale them as your business grows. We are also able to create these websites using the payment gateway of your choice.
We'll also help you to get the most out of your website by providing best-in-class (and award-winning) marketing strategy, campaigns, and social media exposure that will increase your chances of success. If you don't have a clear marketing strategy yet, we can also help with that.
If you are looking for a Dubai based digital agency to assist you in the process of eCommerce development, contact the Nexa team today.