Marketing technology, commonly referred to as MarTech, is a range of software solutions that are used by marketing teams to support business objectives, drive business growth and improve innovation within an organization.
A MarTech stack refers to a collection of these technologies that work together to improve marketing operations throughout an organization. The goal of MarTech is to make time-consuming processes more streamlined and efficient to better objectives and accelerate business growth.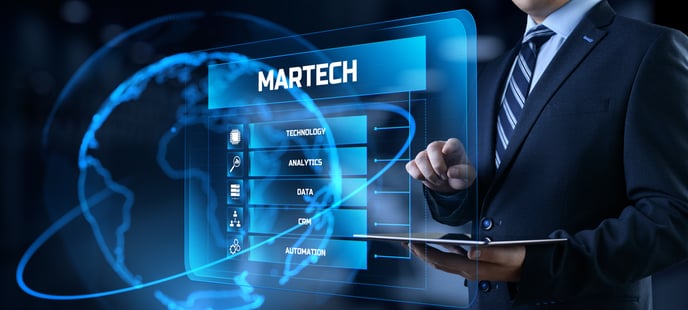 Why You Should Invest in a MarTech Stack for Your Business
Marketing technology is evolving every day, and with new software being introduced to the market, it is important that you stay ahead of the game and take advantage of this technology before your competitors do.
You see, the reason so many businesses are investing in MarTech is that the benefits of a MarTech stack are vast. By creating a marketing technology stack for your business you will be able to see how integrated all your systems and platforms are and how they have the power to enhance the entire customer experience, driving more sales and customer loyalty.
MarTech gives marketing teams the opportunity to understand the entire customer journey from start to finish - and beyond. By integrating your platforms and systems you will be able to view the customer journey on a holistic level and track every customer touchpoint - and who doesn't want that?
Another benefit of MarTech is that it helps your team market smarter. By understanding the entire customer journey (as stated above) your team is able to evaluate strategies, streamline information, and automate processes which make for a better customer experience and of course, this leads to more sales and greater customer loyalty.
At the end of the day, if you want faster and smarter marketing then MarTech is the right choice for your business.
Where to Start When Building Your MarTech Stack
With so many choices available on the market, it is important you have an understanding of your business goals and learn how each technology is able to help you reach those goals. Once you understand this, you will be able to add to your MarTech stack and build your marketing department's efficiency and better your bottom line in the process.
The kind of business you have will certainly impact the kind of technologies you choose, as some may serve your objectives more than others. When putting together your stack you need to discover which technologies would be foundational for your business and build from there.
Let's take a look at the different types of marketing technologies available today:
Advertising Technology: This falls under quite a large umbrella as advertising technology refers to software and systems available to help in Search Engine Marketing, retargeting and ad tracking software. A Customer Relationship Management (CRM) system should be able to cover all of the above in a single location.
Customer Relationship Management: CRMs have the ability to align your sales, marketing and service teams. A strong CRM such as HubSpot, will track all your customers and prospects and provide your teams with insight into how your marketing campaigns are driving them through the sales pipeline.
Content Management System: This technology powers your website, blogs and landing pages and is designed to engage your prospective clients and consumers - guiding them effectively through the sales pipeline.
Experiential Marketing: This is a form of event marketing and refers to virtual events, webinars and online conference technology. In the new normal this kind of technology is vital for marketing purposes and with MarTech of this magnitude you are able to manage and optimize your events effectively.
Insights and Analytics: Marketers need to have access to data in order to measure the results of their marketing activities. Many marketers already have website analytics and are able to track their efforts from a third-party application or tool. However, MarTech has the power to place all your data and analytics in a single location and can collect data from your website, social media, email campaigns and more - and all of this is done automatically. This kind of insight allows you to track individual prospective clients and guide them through the sales pipeline based on their interests and where they are at in the buying cycle.
The above are just a few elements that make up Marketing Technology.
If you understand your marketing objectives you will quickly be able to pinpoint which marketing technologies will form the best foundation for your marketing stack. The best place to start is to find a technology that encompasses all of the above and more - and one that can scale with your business as you grow.
It is important to note that Customer Relationship Management platforms such as HubSpot offer all of the above solutions in a single platform. This makes the process of scaling up your MarTech stack easier and more efficient. And efficiency and ease of use are what make MarTech, Martech.
The Wrap Up
The days of having to manually segment our marketing efforts based on individual channels of communication are behind us and the future of marketing lies in easy-to-use, easy to integrate, and powerful Marketing Technology.
Marketers can look forward to a future in which their MarTech platform of choice offers a central location through which to distribute, direct and adjust every aspect of their marketing strategy. This will lead to a system that allows marketers to provide the most consistent brand message, targeted marketing, personalized campaigns - and a great return on investment for clients.
If you are interested in learning more about how you can use MarTech to better your business, contact the Nexa professionals today.