The World Expo 2020 was set to be held in Dubai from October 2020 however, due to the rise of the COVID-19 pandemic, the Expo 2020 Dubai has been rescheduled for October 2021 - April 2022.
World expos have become unrivalled in their scale, size and duration and are the largest scale platforms for education and progress, serving as a bridge between governments, international organisations, companies and citizens - and the Dubai expo is set to do all of this - and more.
Still staying true to its original name "Expo 2020 Dubai," the event will be the first World Expo to be held in the Middle East, Africa and South Asia region, will span over 173 days and is set to welcome +- 190 participating countries. The theme of the Expo will be "Connecting Minds, Creating the Future" which is ideal for todays' economic, socio-economic and social climate. While this is the main theme of the event, there are three sub-themes that will have their own pavilions at the Expo, with these themes being: Opportunity, Mobility and Sustainability.
With over 190 countries participating in the event, over 200 participants, speakers and exhibitors, it is important that all those showcasing their innovations are able to successfully market themselves to Dubai and the world. This brings us to the question - how do international exhibitors find a specialist Dubai marketing agency to partner for the Expo 2020 Dubai?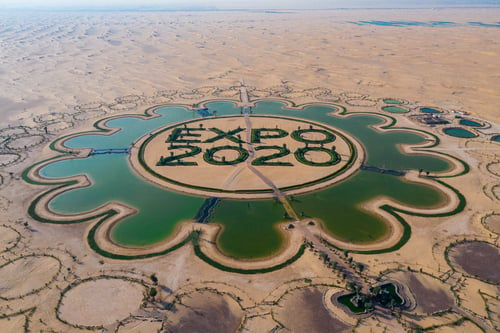 Finding a Specialist Marketing Agency in Dubai
Dubai is one of the world's fastest growing technology hubs and this has led to enormous growth in digital marketing and marketing agencies in the bustling metropolitan. According to statistics, the UAE has well over 853+ pure digital marketing agencies and that does not include the agencies that offer public relations, or traditional marketing as a service.
As you prepare for the Expo 2020 Dubai, you will need time to write blogs, create a website, distribute press releases, reach your target market, create campaigns and engage with individuals who will be at the event. You will also need time to monitor your campaigns and results, and amend them as you move forward. Time and expertise is what is needed to achieve all of this, and if you are not from Dubai, you will need even more time to understand your Dubai audience, create English and Arabic content and cater to the Dubai audiences specific needs.
Digital marketing, PR, content creation, and Arabic SEO (to name a few marketing requirements) are specialties that need to be developed, designed and implemented by professionals and this is where a strong Dubai marketing agency comes into play. You will want to partner with a marketing agency that has experience in Dubai, and throughout the world in order to help you achieve your expo goals, reach your desired KPIs and get your brand message to the global masses.
So, that takes us to the next question - how should you go about shortlisting prospective agencies in Dubai? Below, we outline some of the fundamental aspects you should take into consideration when selecting the ideal Dubai marketing agency for your brand at the Expo 2020 Dubai.
What to look for in a Marketing Agency in Dubai
As you begin your search for the right marketing agency in Dubai, keep the following 3 key factors in mind:
1 - Trust:
Marketing and digital marketing is consistently evolving and changing with the tines and you need to work with an agency that you trust will stay up to date with the latest trends - while keeping you informed of these trends. This means that the agency you choose to work with should be an innovator in the industry, just as the World Expo is dedicated to innovation, so too should the marketing agency you choose to partner with.
2 - Value:
You need to make sure that the agency you choose is able to provide the highest quality service while being able to measure and track campaign results. An agency needs to be able to measure results, present these results to your team, and prove their value through these results.
3 - Transparency:
Your agency should always be upfront with you regarding pricing, services, KPIs and goals. Some agencies will only tell you what you want to hear, so make sure you ask the relevant questions before you sign into a contract with an agency - you do not want to begin working on a shaky foundation.
Now that we understand what three key factors to look out for when it comes to deciding on the right agency for your business, let's take a look at what you should consider when shortlisting your agency.
Know your Goals and Objectives
Marketing comes with a myriad of channels to choose from, from social media marketing to lead generation and Public Relations. Before you even begin shortlisting agencies for the Expo, you need to recognise what you want to achieve from the expo itself. This is why it is vital that you identify your marketing goals and your motives. Essentially, ask yourself what you want out of the expo, i.e.: do you want more leads from the expo? Are you looking for investors? How many leads do you want and in what period of time do you want them? Do you want brand awareness and feet through the door? How many visitors would you want at your stand?
Once you have this understanding and vision, you will be able to make a more informed decision when choosing an agency to best represent your business for the Expo 2020 Dubai. If you have a clear vision of what it is you want out of your marketing efforts, you will be able to make a clearer, more defined choice when choosing the agency to represent your business.
Do the Relevant Research
Before you even set up a meeting with a marketing agency, make sure to do the relevant research - and this does not mean that you simply type "Best Marketing Agency Dubai" into the Google search engine. You need to investigate agency websites, social media pages, and read up on available customer testimonials and take a look at portfolio work that is available on a website.
A good marketing agency will have an easy to navigate website, well rounded social media platforms, and high quality online content. Basically: if a marketing agency is offering Search Engine Optimisation services, they should have a strong search engine presence online.
Support and Dedication
Once you have done the relevant research you will begin reaching out to the relevant agencies. It is important that you choose a marketing agency that is transparent and open with you, and shares their everyday marketing insights with your business.
A professional marketing agency in Dubai will not just implement a campaign without running it by your team, they should always take you through the process to ensure you understand why and how the campaign will work for your business - an agency should be able to tell you where your money is going and what you will get out of it. If an agency says that they cannot do this for you - move on and move on quickly. It is also important to note that an agency should offer you support in the form of an account manager, this person will be your point of contact to ensure your questions are answered at all times. If they do not have this kind of workflow in place, then your business may get lost in communication.
Service Offerings
A well rounded marketing agency should be able to offer you any marketing tactics within the marketing space. For example, social media marketing is a great way to engage with expo attendees but if an agency cannot offer you lead generation and website build alongside social media marketing, there is no value in working with them.
In order to get the most out of your expo marketing campaign, you need to find an agency that offers professional marketing in all forms. By working with a turn-key agency, you will have a variety of options when it comes to scaling up your marketing strategy for the event, during the event and after the event.
Value not Price
Yes, price will play a role in your final decision however, it is important that you do not choose the cheapest option for the sake of cost-saving. Your aim should be to find an agency that offers high quality marketing services that are a business "asset" as opposed to a cost - that means that the services offered will provide a measurable return for your business.
When you choose your marketing agency, make sure to get clear details regarding what can be expected from your campaigns, and find out how to best plan your finances around your campaign expectations. Marketing agencies should always be able to show you a return on your investment through advanced reporting and analytics - and if this is done by a specialised agency, you will watch your expo presence soar. For example, Dubai marketing agency Nexa ensures that all their search engine optimisation processes are intricately measured and clients are able to see their return on investment through in-depth data collection and analyses.
In Conclusion
These are just a few things to look out for when finding the best digital marketing agency in Dubai. Take your time, do the relevant research and find an agency that will partner with you to ensure your Expo presence is a success.
What we can do for you
Founded in 2005, Nexa has helped hundreds of organisations from small startups to large multinational businesses providing high-quality digital marketing services. As a digital marketing company based in Dubai, and with years of experience in the marketing industry, we can help you market your business and your message during the Expo 2020 Dubai. Our mission is to help drive growth for forward thinking companies and we will combine innovative marketing, sales and service technology and strategies to maximise your business opportunities.
Contact the Nexa team today and marketing your business for the Expo Dubai 2020