Dubai, the UAE's largest city is known to be a playground for entertainment as well as a thriving business hub. It is a pioneer in smart city adoption, facilitating the thriving of businesses in accordance with the 4th industrial revolution. With the technology, infrastructure and opportunity at your fingertips, your business is able to experience growth and expansion within the market.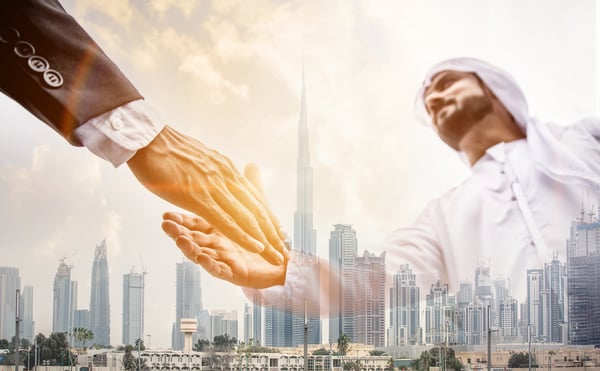 Business Growth in Dubai
Dubai is an emerging market and growing economy. It also fosters foreign investments and business diversification, making this a popular market for businesses looking to grow. In fact, the most predominant businesses are SME's, with many new startups being registered each year.
Businesses are supported by the government who have liberal trade policies, friendly taxation policies and strong capital flow. Since Dubai and the Middle East at large, are trying to diversify their markets beyond oil trade, some of the other top industries are tourism, aluminium materials & products and fashion.
Location wise, Dubai's Port of Jebel Ali is a gateway for businesses between Africa, the Middle East, Europe and Asian Pacific countries. It is a busy port for shipping, situated in the Jebel Ali Free Trade Zone. Some of the top commodities that pass through this port include cement, PVC, flour, clothing and food (fish, meat and dairy products). In addition to this busy port, Dubai is home to one of the world's main airlines as well. The Jebel Ali port presents opportunities for any business looking to take advantage of Dubai's geographical position as the gateway to both Asia and Africa.
Demographically speaking, Dubai has an incredibly diverse population, representing a large number of expats of nationalities from various parts of the world. English is widely spoken and the growth of industries matches the growth of the city. For instance, all of the activities involved in developing this world class city have been popular, including construction, engineering and consumer goods production. There are also a host of service providers in the region whose expertise lies in business development services, finance, education and ehealth sectors. Growing industries include pharmaceuticals, IT (both software and hardware technologies), electronics and tourism.
Expanding your business to Dubai and the UAE
Since Dubai is known for both business and pleasure, it is a popular destination for MICE (meetings, incentives, conferences and exhibitions). This has helped to develop both the business and tourism sectors of the city. Hosting and attending such events are important for networking, which is important for growth in this region as corporate relationships can be highly beneficial and valuable for businesses. If you're not sure where to begin, this is a good starting point as a means of exposure.
When you're getting ready to expand your business, ask yourself this: What is the next stage in my business strategy? This will give you direction in terms of how to best expand your business. After all, there are various ways to grow your business. These are some of the options to consider:
New location(s): Consider expanding your business by opening in a new location to expand your reach. This does not have to be brick and mortar - ecommerce is a promising developing sector in the region.

Partner up: Expand to new markets and locations without having to deal with the hassle of operating another business by franchising. Alternatively, form a strategic alliance with a complimentary business so that you can both grow together. You can also merge with such a company or acquire them.

Diversify: You can expand your product or service offering by including new valuable additions to your range.

New market(s): If you aren't yet trading or operating in Dubai, this could be a great way to grow your business's presence and market share. It will also expose you to new, larger target audiences. One of the best ways to reach new audiences in Dubai is with social media marketing and lead generation.
Dubai has 'Free Zones' which are areas that foreign businesses can operate with full ownership of the company, without having to pay income tax. There are restrictions to this - those businesses can only operate in that specific location. These zones are divided into sections based on the business type and activity being carried out. Each zone has its own compliance procedures and costs associated with it. The other option for expansion in Dubai is to apply for a mainland licence, allowing you to operate anywhere in the city, however you would then be required to adhere to certain taxation policies.
Tips for businesses looking to setup in Dubai
Dubai is a culturally Muslim city, so certain ethics and behaviours prevail
Decision times are lengthy
Meetings in person are important for networking
Verbal agreements are valid and valued but are not legally binding
Dubai facts
1st government to use blockchain technology for all transactions
1st in best rated city to live and work in according to a 2020 Insead Alumni survey
3rd in global ranking for the Agility Emerging Market Logistics Index 2020
6th best city according to Resonance Consultancy's World's Best City 2019
8th best on the Global Financial Centres index 2019
Dubai is a perfect market to enter for growth or expansion if you're already there. With a lot of promising opportunities available to businesses, you can reach new frontiers. All you need is adequate market research, business strategy and consistent implementation.
Chat with us at Nexa, Dubai's leading digital agency. We can provide guidance, along with tailored solutions and support for your business.