It's been a while since we've posted an article on our blog on search engine optimization, or as it's more commonly known, SEO. After all, when it comes to digital marketing, SEO has always been like insurance in that nobody really wants it, but every business most likely needs. The question is, that in 2020, do businesses still really need SEO in the same way that we needed it perhaps four or five years ago?
The landscape has changed, but has user behavior?
When it comes to marketing your businesses, marketers have a multitude of digital options available to them. From Google advertising and social media campaigns through to email marketing and even Account Based Marketing, the possibilities feel endless. So where does SEO fit in terms of order of importance in todays marketing world? In order to answer this, as sensible marketers, we should always reverse-engineer this thought process and start with the customer and their decision making and buying behaviors.
Has customer behavior changed in the last 5 years?
With the wealth of information available today, how has this impacted the way that customers research online? When we're looking for a product or service, where/who is it that we go to first for help? There's an argument today that we trust our peers more than any other [online] resource with social media making it easier than ever to ask for recommendations related to a specific product or service and this may certainly be the case for local services such as plumbers or gardeners or even hotel recommendations.
But there are times, where we simply aren't as well connected to be able to source referrals for business related transactions especially for businesses that provide niche products or services. In scenarios like this, when the need arises, most people still go straight to their laptops or mobile devices and type in a search in Google. And the numbers support this. In 2019, there was an estimated 2.4 trillion (yes, trillion!) searches conducted on Google. Compared to 2018, this saw an increase in search volume by approximately 10%. Despite the growth of social media usage, search volumes are clearly increasing and there's a good chance that your sales prospects are searching for businesses like yours on Google right now!
Ok, so it seems that Google Search is still important, but is it really that important? Here's a real-life story!
I guess this depends on each business or at the very least, the industry you are in but as we've seen, Google provides intent based search results, which is why more of us conduct a Google search query whenever we're in the market for a new product or service. As the goto resource for product and service providers, it's essential that businesses have 'some' visibility on the search engine if they are interested in generating new business enquiries and sales opportunities.
At a recent business meeting that I attended, I listened to one of Nexa's account managers explain a client's Pay Per Click report to them. The report focused exclusively on Google adverts that we had been running for the client - a global B2B industrial air conditioning supplier.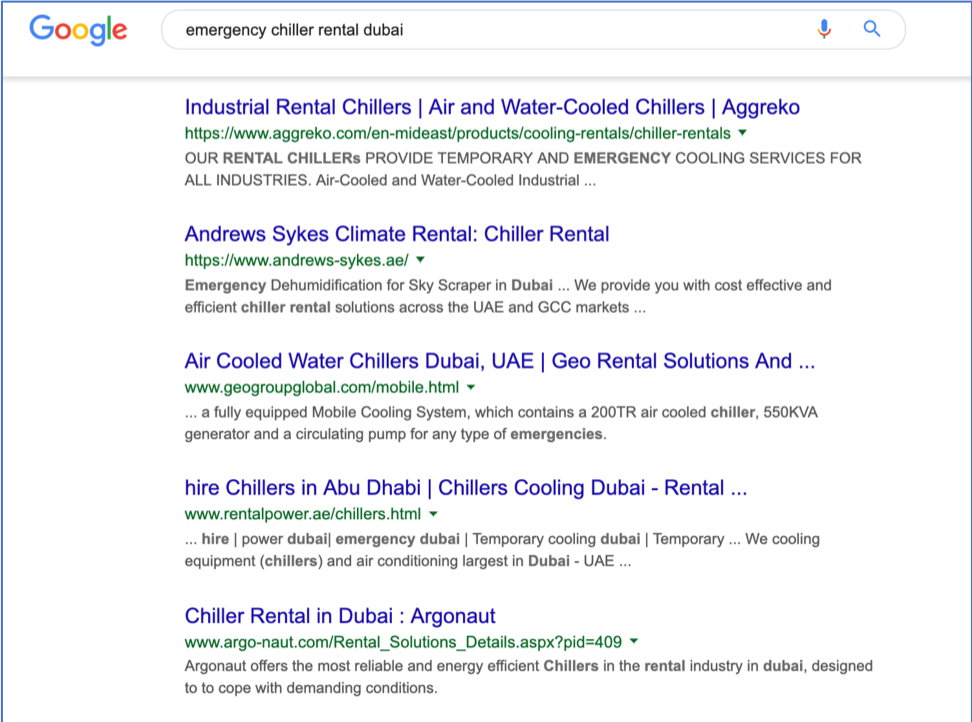 Within the report, we had shown the client that we had achieved an average click-through-rate (CTR) of 8% from the Google campaigns that were being run by our team. For context, the global CTR for Google Adverts is just 2%, so the account manager was quite pleased with what was being reported as was the client. While these results were positive with lead generation at an all-time high for the client, there was one question that needed to be asked and so I asked it:
"It's great that we're achieving 8% CTRs for this campaign. But given that you're a niche company and that there are very limited searches for your type of service (in this case we were promoting Emergency Chiller Rentals - see image above), but what about the 92% of searches that aren't achieving a click - surely this needs to be addressed as we're clearly not maximizing opportunities?"
The client understood this immediately, and I explained that there are multiple reasons as to why more people (the remaining 92%) were not clicking on their ads. A few of these are below:
Most Google users have trained themselves not to click on the paid adverts, which are typically placed at the top of a search results page.
Most Google users place greater trust in the organic search results that are placed in the top 5 positions on the page. In fact over 72% of clicks on a search engines results page can be attributed to the top 5 positions. (See image below)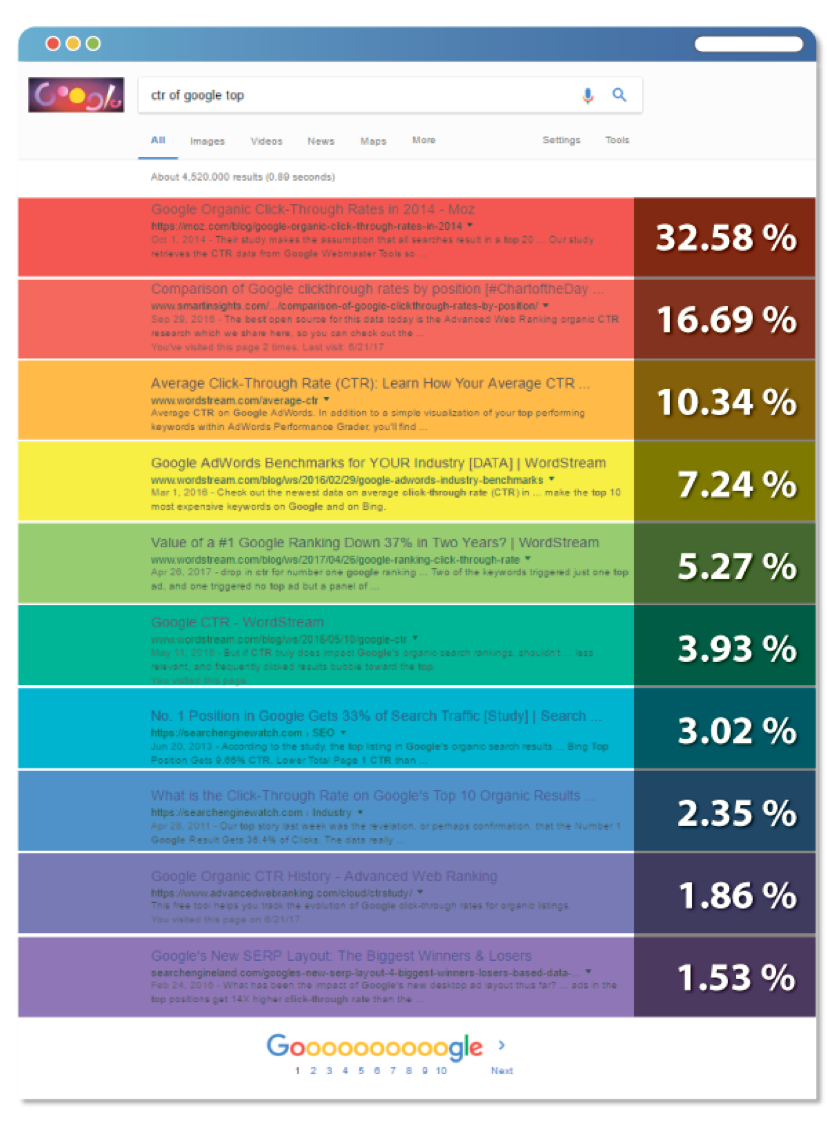 Finally, we explained that a more impactful strategy will be to focus on organic search placement, with a goal of penetrating the top 5 positions within 3-4 months in order to gain a larger slice of the clicks on offer.
In other words, we recommended that the client focus on a clearly defined SEO strategy to drive much greater revenue opportunities based on the data that we had analyzed and the client agreed.
While this is just one small example of how SEO could positively impact ROI, the underlying story suggests that data plays an important role in determining whether SEO is required for your business in 2020, or not. If your click through rate from search advertising is just 5%, ask yourself what the impact would be in you could somehow attract more of the 95% of lost clicks that are currently going to high-ranking competitors.
If you're unsure of the answer, we can help. Simply complete the form on this page and we'll get back to you.