Many believe telesales to be a marketing tactic of the past; one that has no place in the digital age. However, when combined with digital transformative platforms and methodologies, telesales can be one of the most effective tools in the real estate sales arsenal.
You see, telesales is no longer about cold calling unqualified leads and casting too wide a net. Today, thanks to digital technology and lead scoring data, your sales team is able to track leads as they move through the sales pipelines and reach out to sales-qualified leads, at the right time, with the right message. Essentially, digital transformative tools combined with digital marketing tactics will guide a lead through the sales pipeline, and once identified as sales-qualified, lead contact information can be passed on to real estate representatives who are then able to make a qualified call.
And this kind of strategy ensures only the best possible sales results.
In this article, we take a look at the power of telesales for real estate when combined with a strong Customer Relationship Management and lead scoring strategy.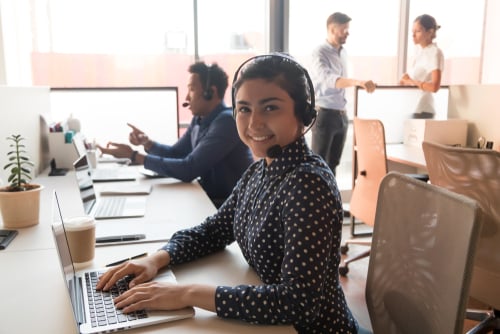 Customer Relationship Management for Real Estate Sales
Above, we mentioned the importance of digital transformative tools to better real estate sales and Customer Relationship Management (CRM) software takes the lead in this regard. A CRM provides businesses with a centralised contact management solutions while streamlining the deal and sales pipeline. The software is infinitely more powerful than any spreadsheet and leaves little room for error, missed leads and disorganization.
What a CRM can do for your real estate business:
Respond to leads immediately through automation and personalization. This can be done with automated emails and even website chatbots.
Centralize all your lead data and contacts. By storing your leads, lead communication and deals in a single pleace, everyone on your team knows where to find what they are looking for and this diminishes the chance of double work or missed opportunities.
Know who to call and when is the best time to call. A CRM will provide insight into your leads based on digital marketing information (from social media and website engagement to email communication) which will provide you with insight into when a lead is ready to be contacted by a real estate agent or representative. You are also able to schedule follow ups and create a calendar through the system so as to never miss a meeting or call.
In Summary: With a CRM such as HubSpot, you are able to capture, manage, nurture, track, analyse, and measure your real estate leads as they make their way through the sales pipeline. And once the CRM system identifies that a lead has become sales-qualified, your telesales team will be informed. This means that you are only phoning leads that want to hear from you as opposed to traditional (and frustrating) telesales of the past.
But, how do you qualify leads for telesales through a CRM? Let's take a look.
Lead Scoring for Real Estate
Lead scoring is a methodology that is used to rank prospective clients against a scale that reflects the perceived value of each prospect to the business or organization. This kind of scoring is made up of a variety of factors and can include: job position, social media followers (to see the engagement with your real estate business), location etc.
Through a CRM like HubSpot you are able to put together the ideal lead scoring model for your real estate sales. Your lead scoring model should consist of the following factors and scores to ensure you keep track of your leads as they make their way through the buyer's journey.
Before you begin your lead scoring strategy, it is vital that your marketing and sales teams are on the same page at all times. Your marketing team needs to understand your ideal buyer persona in order to tailor digital marketing campaigns to reach them effectively. These campaigns can be created, implemented and tracked through your CRM which ensures the best possible sales results.
Lead Scoring Strategy:
A lead scoring model is a specialized and analytical system used to evaluate the quality of your leads. Essentially, points are given to a lead based on a variety of factors including their industry, level of interest in your business and related qualities associated with previous high-value clients and leads. Thanks to Customer Relationship Management systems (CRMs) such as HubSpot, this model is made easy due to online data collection, automation and audience segmentation.
A lead scoring model or system is designed to help your team quickly and efficiently identify sales qualified leads versus low quality leads that aren't that interested in what your business offers (also known as low priority leads).
Together, your marketing and sales teams should consider what elements make up a marketing qualified lead or a sales qualified lead and put together a lead scoring ranking strategy.
The process of ranking for lead scoring:
Lead Scoring Threshold: The point value of when a prospective client is recognised as sales-ready.
Explicit Lead Scoring: Assigning points to a lead based on specific qualities such as demographics and characteristics.
Implicit Lead Scoring: Assigning points to a lead based on their behavior and engagement with your business.
Negative Scoring: Removing points from a lead score based on characteristics or behaviours that imply a lack of interest in your business.
Score Degradation: Tracking stagnant leads.
Regular Refinement: Amend your model to suit the evolving needs of your target audience.
By tracking and ranking your leads, your marketing and sales teams are able to identify leads that have moved from the awareness stage through to the decision making stage. Once a lead is identified as sales ready, your telesales team can make the relevant call, at the right time, to ensure greater results.
Essentially, a Customer Relationship Management system and lead scoring model, combined with a telesales strategy makes for the perfect real estate sales machine.
Telesales and Real Estate Sales
When used correctly, it is clear that telesales can be the element that gives a necessary nudge to convert a real estate lead into a client. But in order to make this successful, you need to do is re-think your telesales strategy so that it is more aligned with digital transformation technology. This, combined with strategic digital marketing and sales pipeline management can provide your real estate business with the boost its been looking for.
Need experts to take care of your Real Estate CRM, Lead Scoring and Telesales needs?
Nexa recently acquired a stake in Pipeline - A Business Development specialist that operates a lead-generation focused call center run by telesales experts. With this partnership, Nexa and Pipeline's combined offering means that clients can engage an award winning digital marketing and lead generation agency and have a dedicated telesales operation that can qualify each lead within minutes of being generated. The end result is that clients receive only verified sales leads, reducing the loss of valuable sales time allowing sales teams to focus on closing deals and generating revenue.
Book a session with us at Nexa to learn more about this partnership and how we can help your business to sell better.