On 13th June 2016, it was announced that LinkedIn, the so-called professional social network was to be acquired Microsoft, the software giant.
For a company that still operates at a loss, albeit with annual revenue of $3 billion, the deal, which is worth $26.2 billion in cash, represents tremendous shareholder value. While journalists and technologists have seemingly different views on whether the acquisition will be a success or not, one question remains - why did Google not make this move for LinkedIn?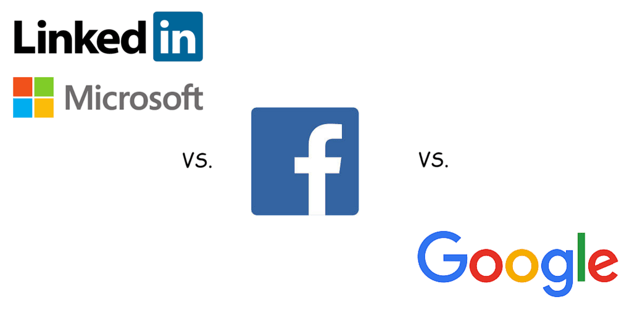 For almost a decade, Google have (unsuccessfully) tried to become a dominant player within social media with failures including Google+ amongst others. Very early on, Google understood the importance of social networking both in terms of staying relevant as a business but also the impact on the business of knowing and understanding even more about internet users across the globe. Google is still the undisputed king of the internet, with almost 100% market share of search engine use in many countries around the world. Earlier this year, Google's parent company Alphabet overtook Apple as the most valuable company in the world in terms of market capitalisation. There is no doubt that Google still needs to become a dominant player within social networking, so why is it that it's Microsoft we're talking about today and not Google as the acquirer of LinkedIn?
Has Google missed a trick here?
I've been quite vocal about how I think LInkedIn and specifically its advertising platform has been mismanaged by its management team. When a company has the level of resource, quality of data and access to virtually every business in the world, I can't fathom how two-thirds of their revenue comes from recruitment services. The opportunity that LinkedIn has to provide publishers and advertisers with access to professionals is unmatched. Perhaps the best way to understand this is to imagine how Facebook or Google would monetise the same data that LinkedIn have.
From virtually a zero base just a few years ago, Facebook now generate over $18 billion in advertising revenue - revenue, which is created by leveraging the power of data that Facebook owns. Facebook has tried to learn more about our professional lives, but the fact that user accounts can be made private combined with the general perception that Facebook is not a professional network (in the same way that LinkedIn is) means that users are less likely to share details of their employment with their Facebook friends. On LinkedIn, this is clearly not the case and there's an argument that LinkedIn possibly has more accurate information about a company, it's size, areas of specialisation and expertise than most governments or chambers of commerce. This data should have been leveraged within a smart, self-service advertising platform that offers genuine value for money for its customers. What has been created has too many limitations and imvolves a reliance from the LinkedIn sales team to sell premium advertising solutions. In other words, LinkedIn has yesterday's advertising platform in a market that's moved on.
This is where Facebook and Google really separate themselves from any other competitor. In a recent internal study, we found that advertising on LinkedIn works out up to 20 times more expensive on Facebook for a similar campaign - and with weaker return on investment. Both Facebook and Google provide highly cost effective advertising platforms that provide value and more importantly, return on investment for advertisers to the extent that many businesses exclusively invest in Facebook, Google or sometimes both for their entire marketing activities. Why LinkedIn isn't a part of this equation is purely down to their management team's lack of execution in developing a advertising platform and dynamic pricing model that's comparable to their competitive set.
So while Facebook continue to grow their data with smart acquisitions including Whatsapp, Google have seemingly missed an opportunity here to become a social networking force while gaining insights on 433 million professionals and direct access to countless businesses (who could be cross-sold other Google products and services) by not acquiring LinkedIn, which makes me think that something else is happening behind the scenes. Microsoft has openly spoken about access to LinkedIn's business users to promote Microsoft products and services. If that was their sole objective, they could have just used LinkedIn's advertising platform to reach this audience. That said, and for the reasons mentioned above, perhaps spending $26.2 billion is less hassle than navigating through LinkedIn's advertising platform. Who know?
Is Google secretly plotting a move to acquire Twitter? Did Microsoft seemingly pay over the odds for LinkedIn in preparation for Google acquiring Twitter, in order to remain a force within this growing sector of technology? Whatever happens next will be fascinating. But one things for sure, I'm going to stock up on some Twitter shares and hopefully enjoy this story play out.
For media / press enquiries, please send your request to support@digitalnexa.com