The MENA Search Awards recognise the expertise, talent and achievements of the professionals within the search industry (SEO, PPC and content marketing) in the Middle East & North Africa. Nexa won the award for 'Best Integrated Campaign' against strong competition.
Amit Vyas, CEO of Nexa, said "We're thrilled to have won this award, which was only possible because of the hard work of our team, the integration of different internal divisions and a supportive client happy to listen to our suggestions and allow us to implement these as part of the campaign."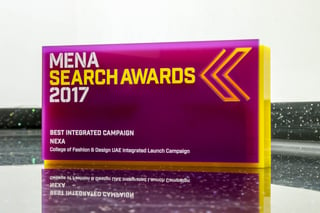 This award category recognised a campaign that has achieved outstanding results through an integrated campaign using a variety of both online and offline activity. Nexa was granted the award for its work with the College of Fashion & Design, a brand-new university launching in the UAE. The challenge was to create awareness, trust and credibility in a higher education brand that has no previous history using a fully integrated digital marketing campaign. The campaign focus was centred around content and inbound marketing with social media, search (organic and paid) and marketing automation (email, workflows and lead scoring – all powered by HubSpot) being integral in targeted content distribution. Education is a highly competitive sector in the GCC Region and the launch of a new university with no local or international history or credibility is highly challenging. Within just 3 months of launching the integrated digital campaign, the university was well on its way to achieving its aggressive targets in terms of student numbers and revenue. In addition, there is already a healthy pipeline of students ready to enrol for future courses and programmes.
Prof. Abhilasha Singh, President and CEO of the College of Fashion & Design, added "We are consistently impressed by the quality, prompt services, design ideas and persistently optimistic attitude of team 'NEXA' in delivering marketing solutions to us and facilitating our marketing strategy. We can see the difference in our brand awareness and sales results ".
Nexa were also shortlisted in two other categories 'Best PPC Campaign' for an intensive short term campaign aimed at driving students looking for information about studying abroad to our client's website, and 'Best SEO campaign' for a campaign with one of the largest exhibition companies in the region.
The winners were announced at Jumeirah Beach Hotel in Dubai on Wednesday 10 May 2017