As the digital space grows and evolves, 2022 is set to introduce change in the eCommerce industry. From artificial intelligence to smarter automation and augmented reality, there is a significant shift that is happening and one that speaks to the "new normal" of the past 2 years.
With these shifts and advancements, many eCommerce businesses have to adjust to a new way of doing online business - and the big eCommerce sites are setting the way. Amazon, the world's largest online store, is an example of how businesses have had to adjust to the "new normal" of the past two years. When the pandemic first hit the world went online and same-day delivery became almost impossible. Amazon had to consider a new way of doing things so they introduced "Amazon Scout." Amazon Scout is an electric and fully automated delivery system that rolls down the street and delivers products right to a customer's door. This is the kind of delivery method that is becoming a part of our society and is setting the standard for the new year when it comes to eCommerce services.
Obviously, Amazon is a giant in the eCommerce space and businesses are unable to keep up or meet this kind of technological development. However, there are other transformative and accessible eCommerce solutions that you need to set your sights on in 2022.
Let's take a look.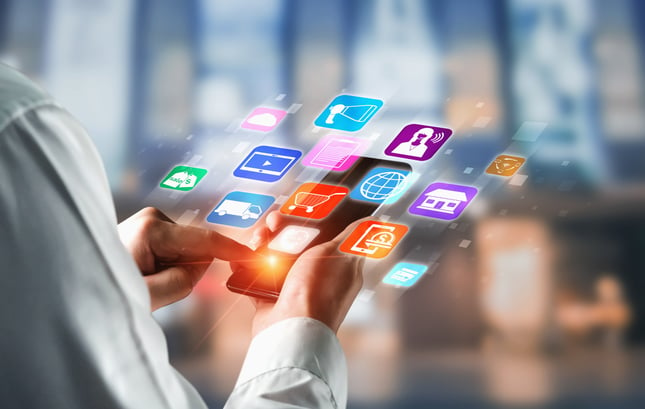 4 Important Ecommerce Trends for 2022
1. Chatbots for Improved Customer Service
For all eCommerce businesses, big or small, customer service is vital. Dealing with customer queries effectively is just one part of the customer service picture - solving those problems is another. Very few businesses actually have the resources to hire a team of customer service representatives and this is where affordable AI comes into play.
Advancements in Chatbots have simplified the way customer service works and by integrating chatbots into your overall marketing, sales, and customer service strategy, you are sure to keep your customers happy throughout the entire buyer's process.
A chatbot has the power to:
Collect lead data
Collect survey feedback
Answer FAQs
Make product recommendations
Inform users about current sales
All of the above facilitates greater communication between the user and the eCommerce business, helping streamline processes with personalized responses according to user queries.
2. Voice-Enabled Search
With automation and AI reaching new levels, consumers have become accustomed to ease of access and this has seen the rise of voice-enabled devices. These kinds of gadgets make it easier for users to browse online and voice-search activated apps such as Siri and Alexa have been directing this trend into the mainstream.
Voice-enabled search is set to become a $4 billion business in 2022 and voice shoppers are expected to increase by a massive 55% in 2022. As an eCommerce shop, voice-enabled search provides an opportunity to employ voice optimization strategies for keywords and key phrases that will suit your search queries and it is important you investigate this strategy so you don't get left behind.
3. Virtual Reality Shopping
Visiting an online shop saves you a lot of time and a lot of effort, however, there is sometimes a gap between what you see online and what you get when it's delivered. There are memes dedicated to this, that's how common it is. This is where virtual reality becomes important, you see Augmented or Virtual reality fills this gap and betters the entire buying experience by showing you what your product looks like in reality and how it can fit into your everyday life.
By implementing VR across your eCommerce site, you give your buyers insight into your offerings and instill trust. In fact, 71% of consumers state that they will shop online more often if brands use VR as part of the shopping experience.
According to a recent study, it has been estimated that over 120 000 stores will be implementing Augmented Reality on their eCommerce stores to ensure a better customer experience.
4. Omnichannel Shopping Experience
Focusing on one channel for selling your products is great and it keeps your customers coming back for more; however, by only using one channel you are limiting your chances of reaching more clients.
With Instagram shopping and TikTok shopping becoming part of our daily lives, it is important you spread your shopping experience across platforms to make sure your audience is able to purchase from you in their own time and where they are online. In fact, 37% of online shoppers are using social media as a way to research products and brands and they are beginning to purchase products directly through these social media platforms.
The key in implementing omnichannel marketing is knowing where your target audience is present online, and reaching them with the right message, at the right time, to encourage purchase. Learn more about using Social Media for eCommerce purposes, here.
The Wrap Up
Transformative technology, AI, and automation play a massive role in the online space and it is important your online store keeps up with these advancements. If you want your customers to keep coming back for more, then you have to make sure you implement processes that keep up with the times.
Create and Grow Your eCommerce Business
Nexa works with numerous businesses to help them develop their online stores. We'll help you navigate this digital landscape and take care of all the technicalities for you. Let's grow your eCommerce business together. Book a quick meeting with us to learn more about what we can do for you.