For Private Schools in Dubai and the UAE, there's an interesting change in market conditions that is forcing many institutions to rethink their business and marketing strategies. An increase in the number of quality schools, especially for younger children aged between 4 and 11, has meant that for the first time in recent memory, schools are in danger of witnessing decreased student numbers.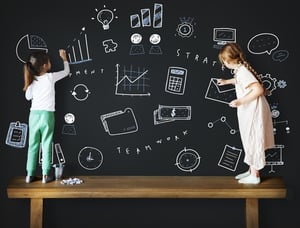 While this isn't an ideal scenario for schools, for parents, this is a welcome development and not just because of a wider choice for their children. Increased competition may also have a positive by-product of increasing standards as schools start to fight harder to not only attract new students but also retain them. The financial impact for parents may also be a positive with some schools already having reduced school fees for this academic year and others following for next.
But are schools currently focusing on the wrong thing?
It's clear that cost is often an important determinant when making a purchasing decision and this may also apply for parents when choosing the right school for their children. But is this the only determinant? Probably not.
When was the last time you made a purchase of something, when there was a cheaper alternative? I'm guessing it wasn't too long ago. Businesses often make the assumption that reducing prices will increase sales but in reality this doesn't often occur and there's good reason for this.
A price reduction may raise the question of whether the product was previously overpriced. If a parent believes that this was the case, how likely are they to (a) think of this move as a positive move and not a necessity for the school to survive in its current state; (b) trust that the school won't raise prices at the first opportunity and (c) will the price reduction mean that there will be a reduction in quality? All of these are valid questions, that would need a convincing argument from schools, to satisfy a doubting parent.
It's clear to see that a simple price reduction can create more questions from parents and despite the positives of this, can create potential negativity.
So what more can school's do to attract more students?
When market conditions are tough, we often ask our clients to focus on aspects other than price to differentiate themselves from their competitors and ask them to consider both financial and non-financial aspects as part of this exercise. The below is a list of possible differentiators:
Financial Considerations (other than price)
Payment Terms
Flexible but structured payment plans
Loyalty / sibling discounts
Non-Financial
Unique selling points (eg Curriculum, Awards, History etc)
Facilities (eg Computer labs, sports facilities etc)
Education Partnerships (eg Apple, Google, Lego, National Geographic etc)
Parent satisfaction
Community programs
Showing that they care and have a strong desire to attract a child
While parents care about the cost of education, they probably care more about the quality of education that their child receives. Price is obviously a factor, but if a school makes a strong, compelling argument to a family as to why their child will be better off at their school than any other, most parents will take note and strongly consider the proposition on offer. The decision to enrol a child into a school is a big one. Most parents that I know (me included) are petrified of making the wrong decision, after all, it's only our child's futures at stake! In essence, this decision is probably more of an emotional decision than a financial decision.
So, how can Schools attract new students?
Our research and experience within the education sector suggests that schools should have a clear focus on the things that really make a difference to parents by creating easily accessible content that can be consumed by parents. Content can be created in multiple formats:
Leaflets and flyers
Downloadable E-Guides available of your website
Blog articles
Short videos
Infographs
We know that each parent has concerns and consequently, many questions are asked to prospective schools. By keeping a track of the types of questions asked by parents, schools can begin to get a deeper understanding of what matters most to them, especially when it comes to deciding if their child should attend a specific school. If collected efficiently, this data can be a valuable tool for schools if content is created to help answer these questions and subsequently allay any fears that a parent may have.
How do Parents see this content?
The growth in popularity of online marketing and social media marketing have opened up a vast amount of marketing possibilities for schools. Social Media platforms such as Facebook, Instagram & Twitter can also be used as content distribution channels allowing schools to share the content they create to highly specific and targeted audiences.
In addition, much of this content can be hosted on a school's websites, which in turn has digital marketing benefits. Search engine optimisation (SEO), for example, is based on a website having new and fresh content on a regular basis. Websites that regularly add fresh new content will increase their chances of ranking at the top of search engines such as Google.
Collecting Data from your Website
Once your website contains content-rich information that is valued by parents, it's essential that you have the ability to generate online leads from them. This isn't as easy as it sounds and we often come across websites where contact forms are either not in the right place, or do not collect the type of data that a school needs.
It's important that this data is stored in a secure and manageable way so that your admissions team can access this and add notes in an efficient way. Try to avoid using non-intelligent data collection tools such as Excel or Google Sheets, where information can be lost or become difficult to track once a high volume of data is entered.
Looking for support for your school? Our team works with schools, universities and educational institutes across the GCC region and actively help increase student admissions, enrollment and overall visibility using best-practice digital marketing tactics and strategies. We also help schools and universities implement CRM tools that help them manage parent data and inquiries and support communication activities via email and SMS.
For more information, complete the form on this page.