Businesses the world over were hit hard by the outbreak of COVID-19 in 2020. This is particularly true for consumer packaged goods manufacturers, with the industry experiencing an abrupt loss of foot traffic and wholesale distribution coming to a standstill. With these losses, brick and mortar businesses had to quickly amend processes to survive. You see, brands that relied on storefronts to connect goods and services with consumers had to consider an omnichannel strategy to accelerate a direct-to-consumer (D2C) approach.
By focusing efforts on D2C, these brands are able to connect with consumers via online channels and in turn, reignite growth that may have been stunted during this unprecedented time.
Before we take a look at how top brands have started to turn to D2C tactics, let's define the D2C business model.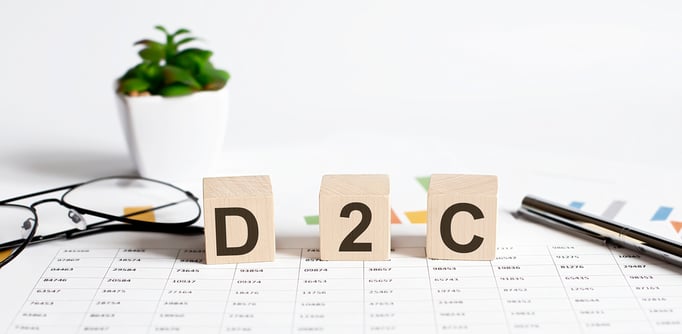 Defining D2C
Direct-to-consumer (D2C) companies manufacture their products and distribute them directly to buyers without relying on retail stores or related middlemen. This strategy allows companies to sell their products at a lower cost than traditional consumer brands and maintains end-to-end control over the manufacturing, marketing and distribution of products.
D2C brands are different to traditional retailers as they have the freedom to test distribution models and don't have to rely on retail stores for customer exposure. This is why well-positioned start up companies are able to compete with some of the largest retail brands and in the time of COVID-19 and with the shift in buyer behaviour - D2C is fast becoming the go-to business model. In fact, according to eMarketer, "87.3 million people ages 14 and older in the US will make a purchase on a D2C platform, up 10.3% year-over-year. Meanwhile, spending will grow 12.7% to $203 per buyer. By 2022, the number of D2C ecommerce buyers will reach a milestone, at 103.4 million."
So, with the above in mind, how can you benefit from shifting your business model to D2C?
4 Benefits of Shifting to a D2C Business Model
1. Getting to Know your Customers on a Personal Level
With a D2C model in place, brands are able to connect with their consumers on a more personal level. This helps brands understand consumer expectations and create marketing, sales and service strategies to reach these expectations and better the bottom line.
With a D2C Model brands will learn about their customers from a variety of touchpoints including:
Point-of-sale
Digital channels of communication including: email, social media and live chat
After delivery
By understanding and learning about the consumer experience and expectations, you are able to amend your processes to suit their needs. With this data at hand, you are able to streamline processes which leads to increased sales and customer retention.
2. Brand Loyalty, Brand Ambassadors and Brand Control
We live in the age of instant communication and the last thing a brand wants is for past clients to complain about their experience online. By providing a service that is catered to individual customer needs, you are able to have control over perceptions of your brand and create loyal brand ambassadors who will recommend your service to their friends, family and colleagues.
It is also important to note that by cutting out the middleman, you also have complete control over the entire buyer's journey and have the ability to guide consumers through the sales pipeline on your own terms. From an online shopping platform to packaging and marketing, your brand is in complete control with a D2C model.
3. Access to Customer Data
When you market and distribute your products via a middleman, you are not equipped with accurate data regarding your customers. With the help of Customer Relationship Management tools and data collection, you are able to understand the entire customer journey in greater detail and use this information to inform future marketing campaigns as well as sales and service processes.
4. Greater Speed to Market
As you have greater insight into the consumer via up-to-date data, you are able to detect changes in consumer behavior. This ensures you are better equipped to respond to the market needs without having to coordinate with outside distributors.
The above are just a few benefits of D2C that brands have noticed and some of the top brands in the world have started shifting their efforts towards this model. One of these brands is the one and only Coca-Cola.
Big Brands Making the D2C Shift
When COVID-19 hit the world at an alarming rate, restaurant attendance slowed down, theatres closed and buyer excitement around events outside of their homes hit an all time low. With this, brands such as Coca-Cola were hit hard and the brand even reported depressed revenue with its Q3 earnings of 2020. Coca-Cola, being the brand giant that it is, decided it needed to shift its efforts and conversate on D2C sales to improve earnings.
CEO of Coca-Cola, James Quincey noted that the company saw strength in its grocery and eCommerce offerings (essentially, "at home" offerings) as these worked with the shift in consumer behavior. Quincey explained this shift saying, "We have been winning share in at-home channels, and that's going to set us up for emerging stronger and being in a stronger position, even though mechanically in the short term, we lose share."
With Coca-Cola's shift to D2C, many other brands have taken note and re-strategized their efforts to suit the changing needs of the consumer.
Other brands that have turned toward a D2C model include: Heinz, PepsiCo and Nestle. With the ever changing dynamic of consumer behavior it is safe to say that many brands will be making this shift. So, how do you go about re-adjusting your marketing and sales strategy to suit this new model?
Now that we have a greater understanding of the benefits of D2C, let's take a look at how you can use marketing to better your D2C efforts.
Marketing Best Practices for D2C Businesses
If you are looking to take a D2C approach to your business, then it is important you understand these best practices when it comes to marketing, informing and reaching your target audience.
As you move toward a D2C business model it is important you establish your brand voice. This is because many consumers will not yet be familiar with your brand on a more personal level and you will need to establish trust and create familiarity. In order to establish your brand's voice, outline your company goals and values and ask yourself the below questions through this process:
Who are you as a business?
What does your business stand for?
What is your mission statement?
How can you change and better the lives of your customers?
By answering these you are able to establish your brand's voice and ensure that your brand message resonates with the consumer.
If you want your D2C business to be successful, it comes down to understanding who your audience is, where they are online, and how you can better their lives with your product or service. When defining your ideal audience consider the following:
Demographics
Location
Careers
Socio-economic status
Buying habits
Online platforms
The above are just a few examples of what you should consider when defining your audience. Once this is done you are able to create buyer personas (representations of your audience) for your target audience, which helps you create personalized campaigns for specific segments of your audience.
Your website is the face of your business and is the first touch-point between your brand and the consumer. This needs to be central to your marketing strategy and it is vital you create a website that comes with an easy user experience, is optimized for the search engines and provides useful content to inform your audience. Remember that all your marketing efforts are designed to drive your audience to your website and convert them into leads - so never let this one slide.
When creating or updating your website consider the following:
Clean design
Easy navigation
Responsive design
Optimized content
Quality content
By updating or creating a new website you are able to drive more prospective clients to your brand and convert them into leads.
Personalize the Consumer Experience
D2C is all about the consumer and reaching them where they are at in the buying cycle. This is why you need to focus on personalizing the entire experience for your audience. A Customer Relationship Management platform such as HubSpot is able to help you create a streamlined, personalized digital marketing strategy that reaches your audience at the right time, in the right place, with the right message. This is when automated and personalized email marketing also becomes important (a CRM is able to help you create segmented email campaigns to reach your audience at the right time).
How you can personalize the buying experience for your audience:
Using personal names in emails
Creating targeted ads through social media platforms
Created re-marketing ads through social media and various digital platforms
Optimizing your content for the search engine results to ensure your audience finds your brand when they are actively seeking your product or service
Personalization is vital for brand success and is especially important when it comes to D2C businesses. If you provide your audience with a seamless and personalized experience, you are sure to build trust and establish brand loyalty that in turn, drives growth.
Essentially, your marketing efforts come down to understanding the consumer and tailoring your marketing strategy to suit their needs and wants. It is vital you meet them at where they are in the buying cycle and measure your results - and a CRM such as HubSpot is able to help you do this with ease.
The Wrap Up
Today's consumer enjoys having personal relationships with their favourite brands. By cutting out the middleman you are able to establish and build these relationships. Consider the consumer in every decision you make as you shift toward a D2C approach, from strategy and branding through to marketing and sales.
With big brands like Coca-Cola and Nestle moving toward D2C on a greater level, it is clear that D2C is part of the new-normal and this path needs to be considered by brands looking to grow with the times.
Contact Nexa today for all your D2C strategy requirements, from marketing to sales processes and beyond, we have you covered.