A localization strategy is a tactical marketing approach that a business takes to address customer behaviors, purchasing habits and overall cultural differences in each country they function in.
When an organization enters a foreign market they can be faced with challenges that they would not experience in other countries. By developing a localized marketing strategy for each country (or even city) they function in, they're making sure to provide the same level of service the customer expects from local businesses. This takes away any sense of alienation a customer may feel and cuts through any cultural barriers that may come to the surface unintentionally.
But before we dive into the pros and cons of using a localization strategy for business growth, let's take a look at what goes into creating a localization strategy.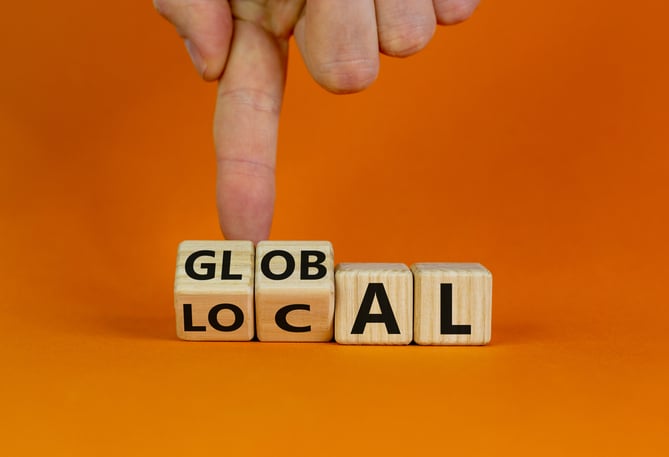 What Makes Up a Localization Strategy?
There are a variety of elements that make up a strong localization strategy and these include:
1. Web Marketing:
Some audiences may prefer mobile browsing while others prefer desktop and this could impact your web design and development strategy.
High quality content marketing is vital and local SEO and content translation fills the potential engagement gap between a business and its audience.
Domain structure consistency is important to maintaining a strong global brand presence.
2. Purchasing Preferences:
Purchasing behaviour varies in each country and should be based on local buying preferences, payment options and of course, currency.
Some countries prefer to use credit cards as a payment method while others prefer different payment gateways.
3. Be Part of the Community:
Stay abreast of current events and assist communities in times of need.
Seek out days of importance and put these in your social media strategy.
Help the community in a way that is genuine.
4. Localized Apps for Mobile Audiences:
Of course, translated content for your website is a big focus of a localization strategy but you need to focus on creating unique content for mobile devices and apps too.
Creating localized apps can be a plus as they offer a unique opportunity for business growth. In fact, app development is especially important in markets where mobile growth is on the rise - such as Africa and the Middle East.
5. Social Media
Make sure to keep up with social networking trends in individual markets.
Social channels such as Facebook and Twitter may be popular on a global scale, but local networks should be used where appropriate.
An example of this is China's social networking site Qzone. If a business wants to succeed in the Chinese Market they will need to build a presence on this network.
Essentially, find out where your target audience in the country are mostly located online - and develop a social presence where they are at.
6. Technical Components:
We have mentioned content translation but localization is more complex than simple translation. There are technical and nuanced components in language that need to be considered when putting together localized website and social media content.
Other aspects of your digital marketing that need to be considered include website layout, design and even font size.
All the information and content that you present on your social media and website needs to be presented in a way that feels natural and familiar to the specific market.
The above are just a few parts of a localization strategy for business growth. Today, it is no longer enough to have a specific brand identity. You need to speak to your audience like you know them and can relate to them - no matter where they are in the world.
This means that your business can no longer send the exact same campaign to every region or country they operate. In fact, a survey conducted by Common Sense Advisory recently found that 87% of European consumers won't make a purchase from an English-only website.
With the above in mind, you may think that this means you will have to create separate online collateral for every region you operate within but this is not the case. The best brands are using technology to launch localized campaigns and this digital innovation is simplifying the process.
But, is a localization strategy viable for business growth? Let's take a look at the pros and cons of creating a localized strategy for business growth.
The Pros of Localizing your Marketing for Business Growth
Relevance Builds Trust
As stated above, language can be a huge barrier between a brand and its audience. If you fail to run marketing campaigns in your customers' mother tongue, you are alienating them from your brand. Powerful marketing campaigns also go deeper than regional language and should be based on cultural norms and relevant topics. This is why you need to embrace technology that gives your local teams the ability to create regional adaptations of campaigns within the global brand guidelines, of course.
By allowing marketers to make regional changes for local customers you are making your brand relevant, building trust and ultimately, driving more sales - helping you grow your business better.
Relevance and Trust Increase Value
HubSpot recently conducted a study which states that businesses who provide personalized content to their customers will benefit in a 19% increase in sales compared to businesses that send out a one-size fits-all campaign.
This speaks to the value that is added via relevance. Relevant content drives a greater response from your local customers and builds trust - therefore increasing the value of your business on a global scale.
In order to accomplish this, you can invest in a content distribution platform that allows your marketing team to instantly access campaign templates for each location. Technology and digitization plays a crucial role in a localization strategy as it makes the princess simpler, effective and more efficient.
The Cons of Localizing your Marketing for Business Growth
Mistakes Matter
Localization cannot be done half-heartedly. If you make a mistake, be it on the basis of cultural or language, it can have a negative impact on your brand. In an ideal world, every business would be able to produce content that is relevant to audiences in each region, however this can become a challenge.
Therefore, in order to avoid creating campaigns that can fall short of the mark, you need to look for a distribution or content platform that can help ensure regional customization without compromising the integrity of your brand. This means you should work with a team and or platform that is able to approve processes so that every bit of content is created to a high standard.
Technology Meets Teamwork
We keep reiterating that a content platform is vital for the success of a localization strategy however this cannot exist without a team of local experts or local marketers. What these platforms can do however, is help you run a tighter, more streamlined operation which in the end - saves you time and money.
This platform should be made available to your marketing teams, which ensures hands-on involvement and betters your investment in the long-run.
The Wrap Up
The benefits of creating a localized strategy far outweigh the cons. But, without the right technology and the right team, your local strategy can quickly go off brand which can result in some severe consequences.
If you want to use localization as part of your business growth strategy (something that is becoming increasingly vital in today's highly personalized consumer journey), you need to invest in the technology, digital transformation and strong teams in order to launch well coordinated campaigns.
With this approach, you can be sure that your campaigns will be relevant, build trust and improve your bottom line - all while remaining in-line with your brand identity.
If you are looking to localize your business strategy in 2021, contact Nexa today. Our team of experts will ensure that your localized campaigns are designed and optimized for business growth.