There is a misconception that all online videos are the same. That is: they all cost the same, have similar outcomes, and provide the same kind of brand exposure. Many people also believe that online videos are easy to execute and can be done through a decent i-phone and editing app. This is not the case when it comes to video production and web-based marketing videos. The quality of online videos, particularly those that are designed for brand awareness and lead generation purposes, easily match (or even upstage) the quality of traditional TV commercials.
Today, video production for online marketing is one of the most effective marketing tactics available. Video is exceptionally valuable and has no signs of slowing down any time soon - and with online audiences expecting only the highest quality online videos, marketers have had to adjust their production value and creativity to suit the expectations of the consumer. With this in mind, different types of video production have emerged in the online space and are created for every stage of the buying cycle, from the awareness stage to the purchase stage.
In this article, we take a look at the different types of video production available to your business.
The Types of Video Production Available For Your Marketing Efforts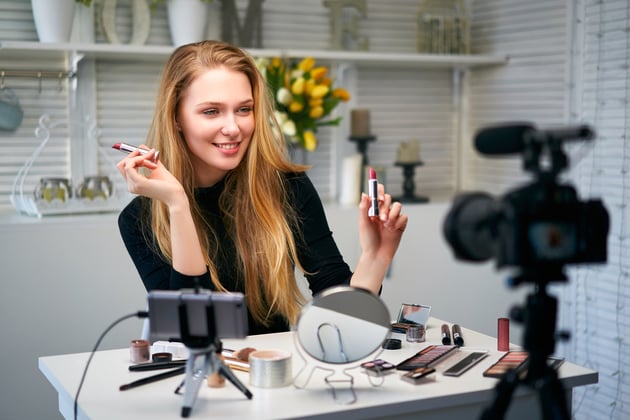 As stated previously, there are a variety of video production options that you can use for every stage of the customer journey, from the awareness stage through to the purchase decision stage - and beyond. Below, we take a look at the kinds of videos you can use to attract, engage and delight your audience.
Video Production for the Awareness Stage
Branded Videos: These are videos created to build trust with your target audience and inform them about your business and its offerings. However, these kinds of videos are also designed to drive the viewer to action and this helps support a variety of marketing goals including customer education, lead generation and customer experience. A branded video should share the values of your brand in a relatable way to build customer loyalty and these kinds of videos are the basis of your video strategy going forward. These videos can be used across all online channels including social media and your website. As the branded video marketing landscape continues to shift and evolve one thing remains constant: when used well, branded video is a critical component for a successful marketing strategy in today's digital world and has the power to drive sales, increase brand awareness and improve customer retention.
Corporate Videos: Often used to promote and raise brand awareness as a whole, corporate videos are also used in a business setting and serve many different purposes. Corporate videos can include customer testimonials, investor presentations, live web castings and interviews with company leaders and employees. Corporate videos are about strategy and creativity. They are no longer the dull, talk straight to camera videos we became accustomed to in the 90s and early 2000s. By providing your audience with eye-catching, relatable and informative corporate videos you are able to build trust and get your message across effectively.
Social Media Videos: We all know that social media marketing is vital to brand awareness and business success. And one of the best places to consume videos online is through social media platforms. This is the most engaging form of content and allows your target audience to interact with your brand. These videos should be designed to be shareable, meaning creativity is essential, from animated videos to product reviews and brand introduction video content. Social Media videos create brand awareness and can be strategically targeted to your specific audience. This means that you are able to nurture prospective clients and in turn, turn them into leads. This is done through strong call to actions that direct your viewer off your social media channels and to a specific landing page that is designed to collect customer information which can be used for remarketing and email marketing purposes. This kind of strategy should be a part of all the above videos in the awareness stage - and this leads to videos for the consideration stage of the buyer's journey.
Video Production for the Consideration Stage
Gated Videos: One of the most effective tactics for lead generation in the consideration stage is "gated video." This means that your video that has been shared to social media (for example) can only be viewed in its entirety once the viewer clicks through to a landing page and they fill in their information. This helps with the lead generation process and allows your marketing team to use this information to drive the viewer further through the buying cycle. These kinds of videos are usually how-to guides or demos and offer valuable information that will better the viewers life in one way or another.
Interactive Videos: Interactive Videos are the future or video marketing and are all about engagement and of course - interaction. A video production company will create strategic and interactive videos that are smart, dynamic and highly personalized and help with brand lead generation and conversion. By adding interactive elements to your marketing and sales videos you are driving engagement by prompting viewers to take specific actions. When hotspots are clicked, actions can take place. Examples include more information being provided, moving to a different segment, changing or customizing the, conversing with characters, exploring the content from different angles, or shopping online. These kinds of videos create consumer trust and of course, guide the viewer through the buying cycle.
Video Production for the Decision/ Purchase Stage
Shoppable Content: These kinds of videos feature specific products and use embedded links to allow viewers to click and purchase said product without having to even leave the video. This format helps brands replicate the experience of visiting their website without having them leave the social platform that they are currently active on. Today's consumer is all about instant gratification and by streamlining the purchasing process, you are guaranteeEvening more sales.
Personalized Sales Videos: Once a lead becomes sales qualified, your sales reps have the opportunity to provide the face-to-face "sales" experience without being physically present (this is especially important in todays world). By providing your potential customer with a highly personalized video that lends a face to the business and a face to the name, you are able to instill trust which converts to sales. The production on these videos is quicker than all other forms of video content creation, while offering great results.
The above outline the types of video production available to your business, with each type helping you drive the customer journey and better your bottom line.
This is just the tip of the iceberg when it comes to video production and other kinds of video include:
Animation
Event Coverage
eLearning and Training Videos
Commercials
YouTube Videos
Content Series Videos
TikTok Videos
and much, much more.
The Wrap Up
There are a variety of video production opportunities that you can leverage to better your bottom line. Video has the power and potential to drive growth within your business and is an essential part of digital marketing in today's world.
How We Can Help
As a profession video production company, our clients are privy to a complete service offering, from strategy to production and marketing. Without this, you'll be producing videos that get lost among the noise online. Our goal is to plan, create and share content that is seen and fulfils its purpose.
Contact Nexa for all your video production services today.