A business consultant is an expert advisory to your business. Through their analysis and guidance, businesses can improve their operations both internally and externally. They are there to offer knowledgeable advice with the goal of helping your business to succeed by solving problems. Here's more on what they do, why they do it and how hiring one could help your business.
There is an age old saying that knowledge is power. In the case of business consultancy, this is certainly true. Consultants can be a useful resource of expertise, whether the business is big or small, or starting up or established. The key ingredients of a successful business consultant are drive and experience. They are passionate about their industry knowledge and well-versed in the application of it.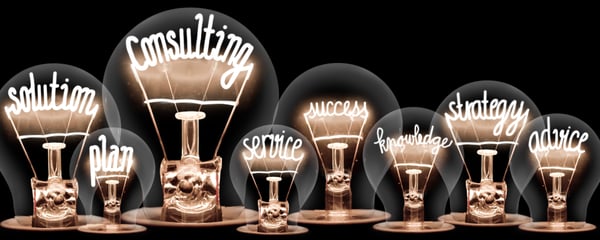 The role of a Business Consultant
The role of a business consultant is to provide solutions that will enhance the value of a business. They can guide you to a positive position, assisting with cost effective solutions, optimal techniques, funding, attainable goal setting strategies, best practice advice and the redevelopment of your business plan, for example.
Most industries can benefit from consultants and their knowledge covers the business operations as a whole, rather than honing in on a specific function. That being said, most consultants will have a particular niche that they are passionate about and adequately equipped to solve problems in. Consultants are successful in areas they have mastered, so working with the right one will provide your business with a wealth of helpful insights - they are selective about the clients they work with based on this.
Based on the role, the consultant will likely spend half of their time at their office and half of the time on-site at the business they're working with. This will ensure that they are informed by first-hand insight when gathering information and also a solid presence when the recommendations are implemented.
The Consulting Process
The first step of a business consultant is to

collect data

and information - anything that is relevant will do. There will be a lot of information to go through, and based on their analysis they will be able to identify problems and opportunities.
A 'diagnosis' is made once your business has been evaluated and then there will be a

feedback session

. During this meeting, a consensus needs to be reached regarding the findings and constructive critiques.
Recommendations are made and once agreed to, the proposed changes will be implemented. This process is facilitated and supported by the consultant. Once all is said and done, the potential for success has been set and will then be monitored closely by all involved.
Prerequisites
To be a business consultant, a market with client potential is needed. There are other requirements that may need to be taken into account, including:
Licences (region specific)
Qualifications (to demonstrate your expertise levels)
Organisational skills
Networking
Goals (for the consultancy services offered, as that in itself is a business)
Benefits of a Business Consultant
Accountability: Each business function will be assessed and critiqued. This will hold them responsible for their contributions up until that point and beyond, with measures put in place to

ensure

the successful implementation of the changes for ongoing success.
Expertise: You are able to hire a knowledgeable person who can share valuable insights and perspectives that will improve your business. This will guide their ability to identify patterns and provide you with winning solutions.
Objectivity: Bringing in a business consultant will offer a different perspective from someone who is an industry expert. Setting aside biases will push your business to perform better and the outsider can be a useful and necessary part of influencing staff who are set in their ways or in a rut.
Teaching: Business consultants may be required to train your staff on certain techniques or concepts, which will upskill your workforce collectively and gear you towards success.
Opportunities: Opportunities for new ventures may be identified, as well as the breathing in of new life into your existing business. An important skill which helps to achieve this is through the creativity of the consultant.
Business Consultant Rates
The rates are often market related, so whether you're looking to hire a consultant or are interested in becoming one, request quotes from competitors to determine the standard rates. In addition to this, the rates are determined by the expenses the consultant would have, covering anything from office space to a team of consultants and administration assistants. However, it is more so based on the expertise and the value of the time. Along with a standard quote, one needs to account for the possibility of other expenses which might arise once the working relationship begins.
The rates are often calculated in the following ways:
Hourly rate
Retainer (monthly fee for specified hours of work)
Project-based fees
Is it time for your business to hire a business consultant? With their expertise and advice, your business can benefit in a holistic way through improvements that lead to growth and success.
For more on Business Growth in 2020, download our E-book.
Book a meeting with us at Nexa and allow us to take your business to new heights.