When it comes to building e-commerce websites, one of the questions we get asked by our clients is "What is the difference between WordPress (or WooCommerce) and Shopify?"
While both platforms allow you to build a well rounded online store, they are also very different. Here we will take a look at the primary distinctions between the two platforms from installation, to user experience to the capabilities and functionalities offered.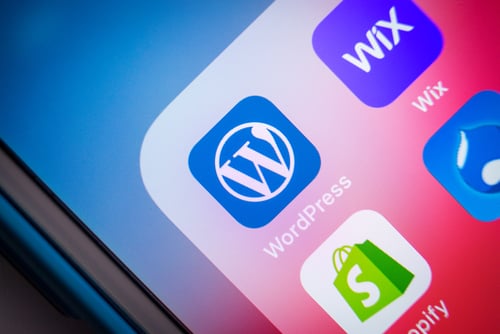 Below, we take a look at both options in order to help you figure out which is better suited to your online store.
About WordPress
WordPress is an open-source content management system written in PHP and is paired with a MySQL database. To put it simply, it is a web publishing software that anyone can use to design and create their own blog or website. WordPress was released in 2003, and has evolved to become one of the most popular and respected publishing platforms available. WordPress can create everything from simple blog sites to comprehensive e-commerce websites.
When it comes to WordPress for e-commerce, the below features apply:
WordPress is an all-encompassing software. The platform allows you to build any website, so long as you can handle the technical set-up. This involves installing the software, installing plugins, a theme or a custom design HTML, and then most importantly, installing an e-commerce plugin that makes it possible for the site to handle all online store operations.

Depending on the customisation you want to add to your site, website building skills will be required when putting your e-commerce site together using WordPress. This is because the build may require professional coding and designing skills to ensure its functionality.

WordPress software is free and all you need in order to use it is to sign up for a web host and buy a domain name. Once this has been done, you can begin your WordPress journey for as little as $5 a month.

WordPress is also built around content and because of this, it comes with great content management features.

It also offers thousands of themes to choose from when designing your site, you can find free and paid themes on the site.

Because WordPress offers plugins it comes with a lot of extension possibilities that can add to the functionality of your e-commerce site.
WordPress (WooCommerce) for E-Commerce
WordPress is a platform that has been designed for just about any possible website. However, e-commerce is a very specific and complex kind of website, and is completely different to a standard website or blog.
Wordpress has a plugin called WooCommerce, that provides all the e-commerce features that are not built within a normal WordPress installation.

WooCommerce is the ecommerce part for Wordpress, and a lot of people do get confused. Depending on the skillset of the developer, there are a lot of functions and features that you can customise to your needs, visually and from a business perspective.

E-commerce sites are built differently and serve a different purpose to your standard website. To break it down simpler, WooCommerce, allows you to sell products online, have an inventory, collect payments online and also track shipments. The main benefit with using WooCommerce is that it has all the bells and whistles of e-commerce, but the added advantage is that you can customise it to your needs.
Wordpress allows you much more freedom in terms of design, functionality and features visually on your site and even behind the scenes. You will require a web developer and designer to help you get what you want, but the end result will be exactly what you want.
About Shopify
Shopify is a subscription software service that provides you the opportunity to create a website and use a shopping cart solution to sell, ship, and manage your online store products. The service gives you easy access to an admin panel that allows you to add products, process orders and enter relevant data.
To put it simply, it is an e-commerce platform for online stores and retail point of sale systems.
When it comes to Shopify, the below features apply:
Shopify is an all in one ecommerce tool. The platform allows you to build a fully functional e-commerce site from scratch, and this can be done without the help of a designer or developer.

No coding or developer skills are required when using this platform and building your site.

Shopify is a paid platform, and you can pay anything from $29 to $299 a month, and this also includes your hosting.

You are able to sell whatever you require on the site, from goods, products and services to digital products.

There are 100s of online store designs to choose from on the platform, some are paid while others are free.

Every new site on the platform will receive a custom subdomain for free.

The platform offers 24 hour support.
The Main Differences between WordPress and Shopify
To put it simply, the primary difference between WordPress and Shopify is that WordPress is stand-alone software that you need to install while Shopify is an online service.
To use Shopify, all that is required is to signup and create your account. Once this has been done, you go through to a setup process and your e-commerce store will be up and running.
In order to use WordPress as an e-commerce platform, a few more steps are required:
Buy a domain and a web hosting account

Pick a theme plus the plugins you require to take care of your SEO and social media integration, etc.

You will need a plugin like WooCommerce that provides you all the features required for an e-commerce site. (These features are not immediately build into WordPress)

A configuration process will then take place, this requires your store details, preferred payment gateway integration and your services and products and this can take a bit of time to complete.
There may be a lot more steps to setting up a WordPress account, but this platform is renowned and trusted for a reason.
So, which e-commerce platform should you use?
When you should choose Shopify over WordPress
Shopify is specifically designed to help anyone create an e-commerce site. The site is great for those who have no coding experience, but still want to create an accessible online store.
The primary benefit of the platform is that it helps you begin the process of your web build quickly and allows you the opportunity to serve your customers soon after.
Another benefit of Shopify is that you don't have to be completely familiar with what is required for an e-commerce site. This is because it helps you set up all the necessary elements such as inventory, shipping settings, tax, etc. It is essentially designed as an all in one e-commerce solution and does most of the work for you.
When should you use Shopify?
You do not have a website and you want to launch your online store as quickly as possible.

You are not familiar with design and coding and you are unable to hire an expert to assist.

You are looking to integrate your online shop with your brick and mortar shop.

The learning curve on Shopify is much easier that Wordpress.

A lot of features are available 'out of the box' if you're using Shopify – such as themes, e-commerce features and payment gateway integration.

Hosting is included with the product (with WordPress, it is additional).

With Shopify, you don't have to worry about the technical aspects of maintaining your site; as it is hosted on Shopify's own platform, it's all taken care of.

Shopify is largely responsible for the security of your website. In contrast, with Wordpress you will have to do it yourself.

24/7 support is available for Shopify (via email, phone and live chat).

Shopify is probably a better option than WordPress for users who need an chic but simple website, and created quickly.
When you should Choose WordPress over Shopify
WordPress is a well-respected website development platform and is capable of running every kind of website. However, WordPress may be better suited to a more experienced user. When creating your e-commerce site using WordPress you will need to be familiar with PHP files, coding, and more.
However, thanks to WooCommerce being a WordPress plugin, the features you require for your site such as shopping carts, online payment gateways, product catalogues, etc, will be available to you. And it is very important to note that this particular plugin is free. Learn more about WooCommerce, here.
So, when should you use WordPress?
You already have a WordPress website and you understand the platform. This is because WooCommerce uses the same admin panel for your orders and products, so there is no extra learning that needs to be done.

You already have an existing WordPress site and you want to minimise costs.

You want to create a highly customisable website and you are familiar with coding or are able to hire a coding expert.

You can build any type of site with WordPress; it's a more flexible platform than Shopify.
A much wider range of templates is available in WordPress than in Shopify.
WordPress comes with a more sophisticated content management system which, unlike Shopify, facilitates content versioning and archiving.
A vast range of plugins - paid-for and free - is available to help you add functionality to your WordPress website. Although you can also add functionality to Shopify sites via apps, there is a more limited range to choose from.
You have a greater range of options when it comes to e-commerce in WordPress than in Shopify.
On a WordPress site, you have more control over your content.
WordPress is a better option than Shopify for creating multilingual or 'multisite' projects.
In Conclusion
The main difference between WordPress and Shopify is that WordPress is stand-alone software that you need to install while Shopify is an online service.
Please note that the descriptions above are an oversimplification of the platforms and the best thing to do is contact a digital agency that specialises in e-commerce and they can guide you when choosing what platform will best suit your specific e-commerce requirements.
At Nexa, we work with both open-sourced solutions or custom code your e-commerce platform for you, depending on the size and scale of your business.
If your business requires a highly complex and customised solution, we have the skills to create this. Customised stores allow for a great deal of scale and can be built to suit your specific needs, with no technical limitations.
Want to see how much your e-commerce website will cost? Click here for our Website Calculator.