A consultant can be just what your business needs. The question is, which type is right for your needs? There is a range of different consultants on the market since there are various specializations within this field. Here's a guide on determining which is best for your business, allowing you to achieve optimal results.
Types of Business Consultants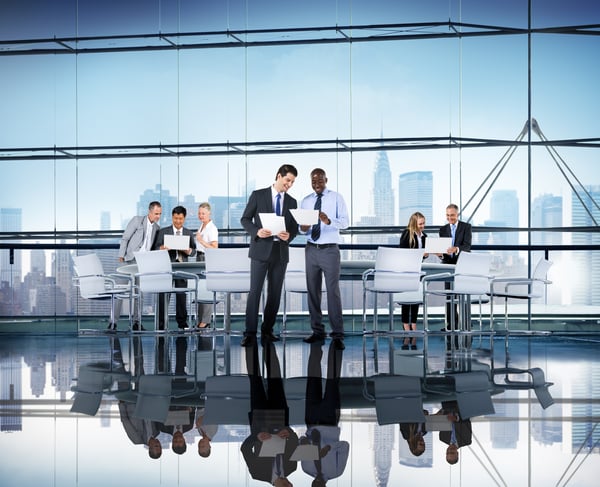 Strategy Consultant
The strategy consultant focuses on high-level functions that deal with your business's overall strategy. It includes your objectives and the systems to achieve them, by working with top-level management, such as the stakeholders, directors and CEO. This type of consultant is right for your business if you need to refocus your business plan or find better ways to manage and operate your business overall.
Management Consultant
These are business consultants who help your business with management and organizational guidance. This includes the strategy and implementation of the advice given. This type works best for businesses that need a hand in overseeing challenges currently faced by the company, as affected by all levels of management.
Operations Consultant
To improve the operations within your business, these are the consultants to call on. They will assist you in improving your performance and making your internal chain better. Their work is more hands-on in introducing new processes, whether that applies to sales, marketing or production. They can help you reduce costs, enhance your efficacy, and improve your business's productivity and service, for example. This may extend to other business functions, though for in-depth overhauls and assistance with these, it is best to consult with specialist consultants for that particular function. This is the best option for businesses who have their strategy sorted but need to improve their functioning.
Financial Consultant
These advisory consultants advise businesses about their finances using analytical processes. This type of consultant's specialities includes profit management and working to restructure, capitalize on or protect the business's bottom line, guide your business in terms of its taxes, and risk portfolio management. They usually form part of accounting agencies applicable to your business's region and are certified professionals. If your business can't hire a full-time finance manager or your department needs to be refreshed, this is the right consultant.
Human Resource Consultant
Consult with HR specialists for issues relating to this department within your company. They can assist with organizational changes and management, as well as all areas related to your employees. They can introduce training and systems that build your company culture and recruitment processes. If you need to change the employee structures and internal organization, this is the right consultant. HR consultants are also great to deal with conflict resolution and ensure employee satisfaction. Their roles can extend to ensure you are compliant with labour laws.
IT Consultant
For all things related to technology, IT consultants are there to assist. Improved software can help boost your business's productivity and operations. They can help you to develop and implement the necessary technology to ensure your company operates optimally. This extends to apps and websites, with cybersecurity issues forming a crucial element of this role. Most businesses have digital requirements and can benefit from data analysis and troubleshooting.
Marketing Consultant
Marketing is one of the most widely used consulting services. It is an essential part of a business and includes a broad field of work, which many companies need help with. This includes everything from campaign and content creation to paid advertising and lead generation. These consultants provide in-depth research on your audience segments to improve your customer reach and resonance. They will develop and implement a strategy that is designed to increase your conversion rates and customer retention.
Legal Consultant
These consultants step in at times when you need a lawyer. This allows you to have legal representation and advice on an as-needed basis for assistance with delicate issues such as disputes or regulatory matters.
Social Media Consultant
While social media consultants tend to fall under the marketing consultant category, in some instances, you need help with managing your business's social media specifically. This includes strategy, content creation and community management. Having a presence on these networking platforms is vital in today's business environment, especially with the recent introduction of social shopping. If you need this for your business, call on this consultant who will know their way around all of the necessary apps and algorithms.
Sales Consultant
Sales consultants are all about helping your business increase its revenue. Whether its skills training or transformation to your sales processes, the goal is to drive sales and improve the customer experience. These consultants will set targets and implement the best ways of reaching them. If your business needs assistance in optimizing the pipeline process, then hire this consultant to improve your leads and deals.
PR Consultant
A PR consultant helps a business to manage its perception. If you need to build or transform your brand image, this is who you need to call on. They will handle all public relations needs, from media mentions within their networks, to creating campaigns and partnerships. They can also help you form the branding identity of your business, from the design aspects to the tone and voice. These consultants will also put into place a crisis management plan and handle the communications for your business.
In Summary
There are various types of consultants, including:
Strategy

Management

Operations

Finance

HR

IT

Marketing

Legal

Social media

Sales

PR
You may need to call on a few of the above for optimal results within your business. For more information on finding the right consultant for your business, chat with us at Nexa. We currently advise companies around the world when it comes to Sales, Marketing and Business Growth requirements.