The goal of corporate video production is to provide content that delivers the right message to your target audience in an engaging and informative way. The key is to create content that captures the interest of the viewer and converts them into loyal customers.
Corporate videos offer a way to communicate the core message of your brand and they are able to stir interest and deliver messaging that resonates with your target audience, driving further engagement and communication. But what exactly is a corporate video?
A corporate video's purpose is to drive product, service or brand content, informational videos and internal communication. Essentially, your corporate video is based on your particular objectives and is produced with the viewer in mind. Today, with the rise of digital marketing and online content, corporate video has become a powerful tactic for marketing and business growth.
In this article we will discuss the importance of corporate video production and how it can help your business grow by increasing leads and sales.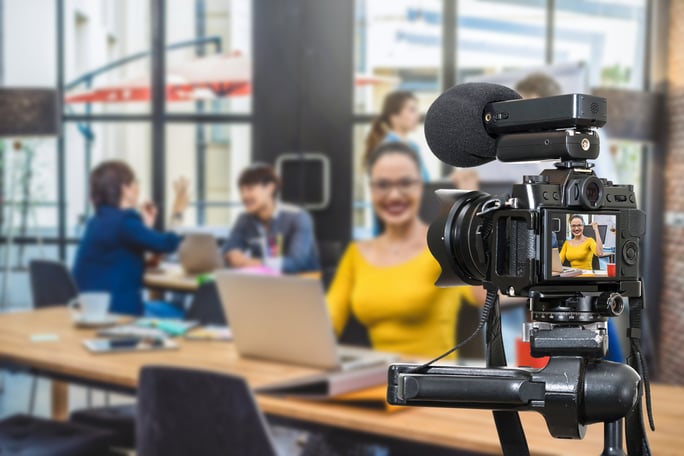 The Ever-Growing Importance of Corporate Videos
Online videos have changed the way consumers engage with brands and content in general. In fact, according to a study by Tubular Insights, adults state that they are 39% more likely to share a video than text-based content on their social platforms.
Corporate videos have become a vital communication tool for businesses, helping them deliver their message in a meaningful and memorable way while engaging with their desired target audiences. By creating compelling, informative, professional and personalized video content and distributing it across your social platforms, email newsletters and website, you are giving your business a voice, a face, and you are more importantly engaging with your consumer - building trust and ultimately converting leads into loyal customers.
Not yet convinced?
A study by Unbounce concluded that corporate videos are actually 52x more likely to show up on the first page of the Google search results and consumers are 4x more likely to watch a corporate video than read a blog post or read through a web page. This means that consumers are actually engaging with your content, which means greater brand awareness, lead generation and sales. What more could you want?
Need more convincing? Let's take a look at how corporate video actually helps your business grow, and is not simply a vanity spend to make your brand stand out online.
How Corporate Video Can Help Your Business Grow
Corporate Video Production Increases Conversions
By placing a well-produced, informative and engaging corporate video on a landing page, you are able to increase conversion rates. In fact, a study conducted by eyeviewdigital.com reported that corporate video can increase conversion rates by an astounding 80%.
The benefit of video, if not its greatest benefit, is the fact that it gives viewers the opportunity to engage with your company on a personal level. Through visual storytelling you are able to convey who you are, the value you offer, and how you can help your target audience. This is more than just merely reading text - it is able to project tone of voice, emotion and evoke emotion within the viewer. By creating this dynamic and personalized relationship with the consumer, you build trust and it is this trust that leads to greater sales and continued business growth.
Corporate Videos increase click-through rates
We mentioned previously that sending corporate videos via emails is a great business tactic. It has been proven that by using video-based content in emailers, you can experience a 200% - 300% increase in click-through rates.
You may be wondering if email is still a viable marketing tactic and we can tell you that it definitely is. Not only is email marketing measurable, it offers more engagement and helps with audience segmentation. A study by CRM powerhouse HubSpot also stated that 46% of today's online consumers prefer receiving content through email and it is still one of the best marketing tools available to businesses today. The problem is that emails can quickly become lost in our inboxes and video now offers a way to stand out from the crowd.
When adding video to your emailers make sure to have strong call-to-actions as this will help you gain greater leads and better your bottom line. It's all well and good to get your audience to view your videos - you need to remind them to take a specific action.
This is why it is vital you work alongside a professional video production company who can assist you in your video marketing efforts as well as strategizing, conceptualizing, organizing, filming and editing.
Corporate Video Increases Website Traffic
As stated previously, videos are more likely to be picked up and trusted by Google which means they are more likely to show up on the first page of the Google search results. A study by Wyzowl stated that by placing corporate videos on your landing page, you can see an 80% increase of time spent on your website which in turn, helps with your Search Engine Optimization rankings. This is proof of just how powerful video content is becoming in today's digital age.
So, how does this help with business growth? Reaching the first page of the Google search results will ensure you grab the attention of an audience who are actively seeking your services before they even find your competitor's content. This is why it is important that you get ahead in your corporate video production before your competitors do. By directing high-quality traffic to your website through higher search engine rankings, you will convert high quality leads which results in greater sales and of course, business growth.
The Wrap Up
Above, we went through just a few of the reasons corporate business production is effective for business growth. What is important to note is that this growth is measurable and you are able to see your return on investment through analytics and reporting.
If you are looking to develop powerful corporate videos for your business, it is important you entrust your video initiatives to a professional, creative, and experienced video production company.
Corporate videos are the ideal way to showcase your brand, service, product or event, but your video won't necessarily project your story if it is not produced with the right strategy, passion and vision. If your selected production agency doesn't take the time to understand your vision, audience and goals, the content they create will undeniably get lost in the online noise and your brand will quickly lose its voice.
How We Can Help
A professional production agency is able to share your brand experience effectively through the art of motion and storytelling.
Our approach at Nexa is to fully understand your business objectives, your target audience and what it is you want to communicate to your audience. Once we have an understanding of your brand we carefully craft a plan to produce a video that delivers your desired results.
By taking the time to understand your message, audience and goals we are able to bring your voice to life through visual storytelling, ensuring that your content doesn't get lost amongst all the other online noise. We will create a video that cuts through the noise and reaches your desired audience effectively, grabbing their attention and leaving a long-lasting and measurable brand impression to drive business growth.
Contact Nexa today for all your corporate video production requirements.