Did you know that even though it is the 4th most used language online, less than 1% of the internet's content is in Arabic? And those websites that do provide an Arabic translation setting often have their brand names, descriptions, and overviews still in English, while the little bit of Arabic that is offered is usually interpreted poorly.
This might not seem like a big deal as the largest eCommerce consumer markets are situated in predominantly English- or Mandarin-speaking countries, like the USA, Europe, and China. And with English being the most studied language in the world, it's easy to assume that non-English speaking markets know enough of the dialect to get by. However, you'll be remiss to follow this train of thought.
The Arabic eCommerce market is an untapped goldmine of opportunity that is only growing bigger with each passing day. This article will explore why advertising in Arabic is an absolute must for your eCommerce store if you plan to target consumers in the Middle East.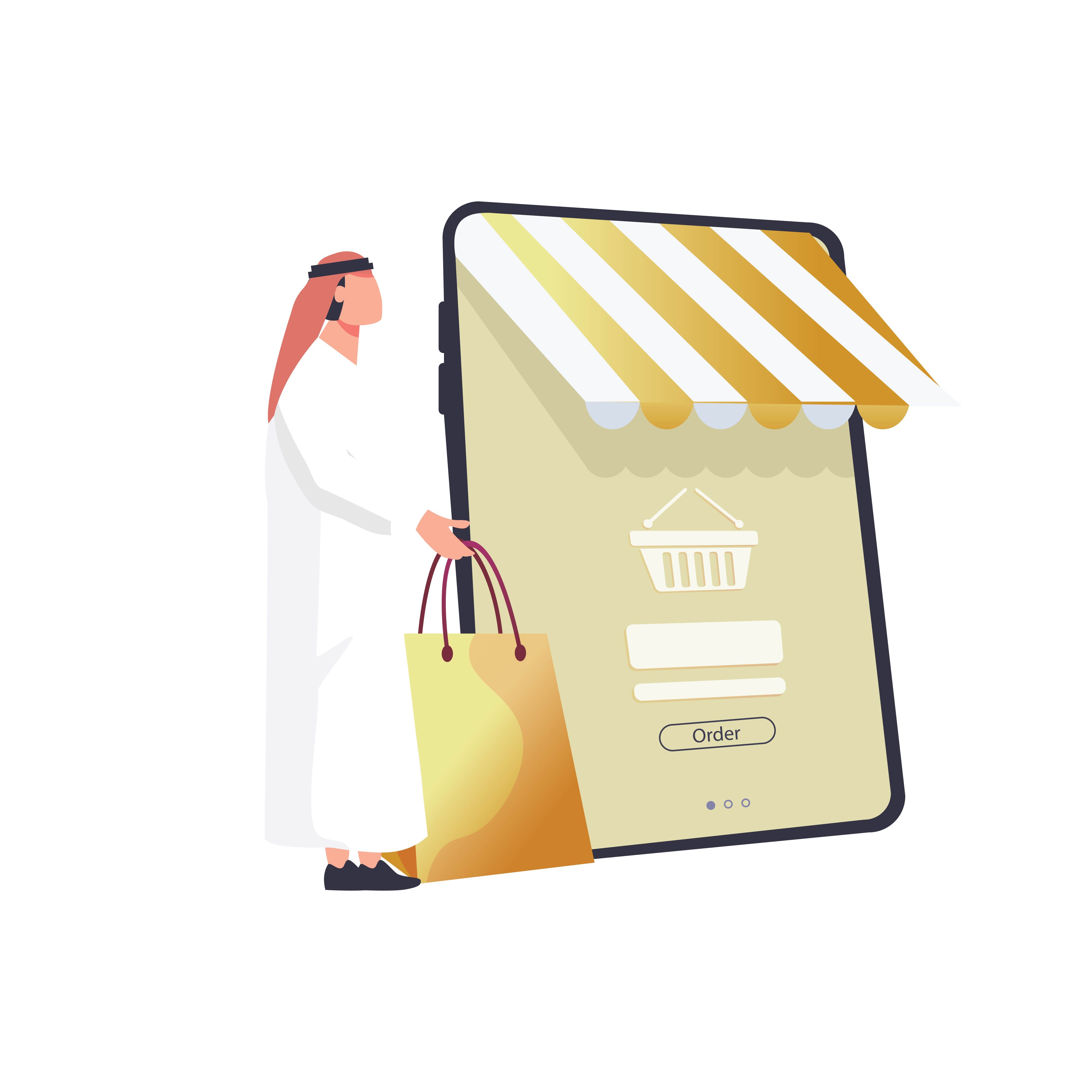 Is There a Need for Arabic eCommerce Content?
Big brands and smaller ones alike in the retail sector were hit hard with the onset of the Covid-19 pandemic. This gave way to a massive boom in eCommerce as retailers shifted their focus and marketing strategies to their online stores to compensate for the large losses incurred by the full lockdowns and global economic recession.
Now that the global crisis is slowly passing, online stores are still going from strength to strength. This is why it's more important than ever to ensure your eCommerce marketing strategy is solid on all fronts – and that means ensuring that your advertising efforts are meeting the expectations of Arabic customers regarding Arabic content and localization.
As we mentioned earlier, most global and regional eCommerce websites serving the Middle East, specifically the Gulf States, do not provide proper or accurate Arabic advertising and content. And as a result, millions of Arabs are prevented from having a unique online shopping experience that is tailored specially to them.
To put this in perspective, 420 million people speak Arabic worldwide, making it one of the top 5 languages spoken across the globe. By not prioritizing Arabic content when targeting Middle Eastern audiences, companies are losing out on millions in potential profit.
Furthermore, it's worth noting that Arab nations have the lowest level of English proficiency in the world, with the UAE being the most adept in the region. Additionally, Google dominates 97% of the market share in Arab countries.
What does this mean exactly?
Well, put simply, it means that businesses no longer have the luxury of avoiding Arabic advertising and content. Being visible in customers' native language is an absolute must if you plan on penetrating the market in the Middle East. An added advantage is that the online Arabic audience is still young and developing, unlike the English and European markets, with low competition and vast amounts of high-quality data available to mine for effective strategies.
So, Why Is This Important?
Naturally, most people want to use their own language when using the internet, as it allows them to navigate and understand websites easily and better find what they're looking for, which ultimately contributes to the overall customer experience. Research shows that approximately 88% of online shoppers prefer to buy products using their native language, so it's vital for businesses operating in the Middle East to provide an Arabic language experience for their customers.
The need for Arabic marketing is becoming increasingly crucial by the day as the last 10 years have seen a significant spike in the number of Arabic-speaking people using eCommerce stores. Statistics show that Egypt alone represents 20% of the online Arabic audience, while KSA holds 12% and the GCC countries together account for 22%.
The Arabic market is filled with endless potential that is ripe for the picking – all you need to do is start creating attractive, relevant content and advertising in Arabic that Middle Eastern consumers will enjoy reading, interacting with, sharing on social media, linking to from their websites or even writing about in other articles. It's as easy as that to reach the screens of the most economically powerful in the region.
What to Keep in Mind When Creating Arabic Content
When choosing to extend your internet reach into Arabic, you'll need to invest in delivering content in an engaging manner that is accurate in translation and primed for SEO. In addition, offering a full Arabic version of your website will help your business grow your Arabic-speaking audience online. Furthermore, optimizing your Arabic website for search – including finding the right keywords – will maximize the results of achieving more traffic, leads, and conversions.
In other words, it pays to have an effective and solid language and cultural strategy in place within your digital marketing strategy. Proper, high-quality local language translation and SEO optimization are efficient and accurate means to ensure that you are fully engaging with customers by providing culturally relevant messages. In turn, this will yield better results for your company on a year-on-year basis.
To capture the native market in the Middle East, you need to ensure that you meet the unique requirements of the Arabic language when creating eCommerce advertising and content. They include the following:
Pay careful attention and consideration to domain names, web server configurations, URL structure, page layout, and the translation of content by a native Arabic speaker when developing the Arabic version of your website, advertising, and content.
It is important to never use auto-translation tools, as poor-quality translations lead to high bounce rates. Therefore, it is essential for native Arabic speakers to translate your content.
Be sure to include spaces between the coordination and the word so that search engines recognize it as a new word.
Watch out for words that carry the same meaning in Arabic as this will influence the size of the audience you reach and negatively impact the amount of traffic to your website.
Carefully consider words with Hamza when using them in paid campaigns, as Arabic speakers don't include Hamza when searching online. This highlights the importance of the use of both variations.
When targeting a specific audience, particularly the youth, it is advised to use the Arabic language spoken online, like Arabizi. Targeting people who use Arabizi is a smart move as there is little to no competition in this area.
Related: Which eCommerce Platform is Best for Your Business?
Need help with your Arabic marketing strategy?
Speak with us at Nexa and take the first step to begin creating high-quality, optimized Arabic content and advertising for your business. We provide a range of content marketing solutions that include the creation of Arabic content. Don't waste any more time and start crafting your Arabic eCommerce marketing strategy today.