If you're targeting an Arabic speaking market, marketing your business in Arabic is a no brainer. This goes beyond simple translations - it requires its digital marketing strategy for success. Here's how to break into the market effectively.
Opportunity to market a business in Arabic
Arabic is the fifth most spoken language in the world. Despite that, there are only a minute number of businesses who cater to these markets in Arabic, the mother tongue and preferred language in many cases. The MENA region is varied and budding with opportunity, with much of the marketing in Arabic in its infancy stages. From Egypt to the wealth within the GCC, businesses are presented with a unique opportunity.
Google is the dominating search engine, and smartphone usage in the GCC is exceptionally high. Therefore a business needs to cater to these needs. Over and above this, there are three different kinds of Arabic spoken, with marketers often relying on the modern standard version, or Arabizi, a form developed for internet purposes.
To grow your audience in these regions and indeed to even reach them, you need to do more than translate. You need to develop a strategy that especially meets the needs of these audiences. Your website will need to have design features that allow for the right to left style of the language, and the content you create should be explicitly developed, rather than straightforward translations. Poorly translated content will not bode well for your business with both the search engines and your audience.
Your website will also need an Arabic related URL and keywords suited to these audiences. One important word when it comes to catering to Arabic markets is that of localization. This is crucial as Arabic speaking audiences are very different from one another. They have their dialects and cultures which need to be catered to on a highly targeted basis.
The Arabic marketing strategy
As we mentioned, having a specific strategy is essential. This will mimic the format of standard strategies; however, there are specific nuances to take note of, namely:
Market research: In-depth research to determine the personas you'll be targeting is key. This will also lead you to the platforms that will be best suited as marketing channels. For businesses targeting Arabic audiences, this step needs to be thorough and detailed to meet needs and satisfy consumers adequately.
Competitive analysis: Another division of your research should fall on your competitors. Knowing what they are offering and how they are doing this will set the scene for the industry norms and indicate which gaps exist for you to fill. Take note of whether they offer a fully translated page and social media channels that are exclusively Arabic.
Marketing ethics: Religion is a crucial factor in many Arabic speaking countries. Honouring the related customs and culture is paramount. This also influences the marketing ethics, which often goes against Western norms, for instance, in the primary selling 'sex sells' tactic.
Networking: While spaces for Arabic marketing are open online, one should also consider the traditional ways of doing business in these regions. Networking is one of these aspects, where relationships are held in high regard. Working with influencers and industry leaders can help establish this for your brand.
Insights: Marketers in these regions will need to troubleshoot their marketing strategies and efforts continually, adapting where necessary and being sure to customize their offerings. Though this method of trial and error may take time, it is required in a developing market.
Search engine optimization: There are many opportunities for businesses to grow their reach with Arabic SEO organically. To do this, keyword searches in Arabic will be a factor, as well as developing a content marketing strategy that is original. It is of great benefit to businesses that there is currently little competition, though this is ever-changing and needs to be taken advantage of ASAP.
Paid marketing: One of the fastest ways to grow your business in the Arabic market is through paid advertising. Take your campaigns and boost them with search engine marketing and social media marketing. This can increase your reach with a relatively small budget. Be sure to apply the localization ideals here too, with location-specific content and budgets.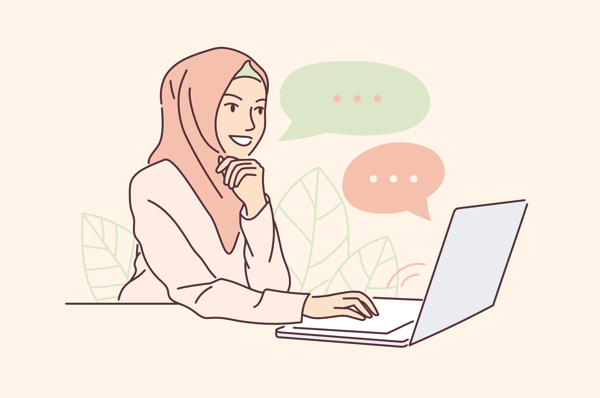 Arabic language facts
Arabic speaking countries have a collective GDP of $2.522 trillion
Other forms of Arabic include classical and colloquial
Arabic is the official language in over 20 counties
Arabic is the fourth most used language online
The MENA region consists of 420 million Arabic-speaking people
Digital marketing in this region is key since it has higher than average rates of internet and smartphone usage
There are ample opportunities open to businesses when it comes to marketing in Arabic. From a budding market to the potential to provide your audience with more in-depth understanding, connection and experience, you can grow your brand favourably.
Work with a specialist agency
We at Nexa offer so much more than Arabic translations. We can help you reach the MENA audience, which we have spent the last 15 years working with. We've got your business covered from all digital marketing perspectives. Book a session with us to get started.