The COVID-19 crisis is far from over as it continues to unfold, shift and change every day, but one thing is clear, your business needs to build swift resilience and embrace new tactics in order to survive this trying time.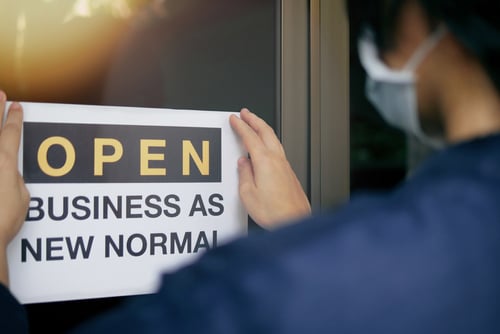 COVID-19 has forced a new reality throughout the world, and we have all had to isolate yet try to remain connected to work and clients. This has put us all in an unprecedented position and has been a great source of vulnerability and stress. In order to survive, businesses and organisations have had to adjust and become agile, adapting to business model changes extremely rapidly. Businesses have learned that they need to be more dynamic, perhaps even more fluid in terms of decision making than they were previously. Some businesses have realised the need to fast-track their digital transformation strategies in the knowledge that the internet provides them the ability to operate their business even when physical operations were not possible.
There are clear lessons that have been learned over the last 4 months, and we need to use these lessons constructively in order to move forward in business.
So, what have we really learned about businesses during this time, and what can we take away from these lessons?
Crisis Management and Swift Decision Making is Necessary
Certain countries such as Taiwan and Mongolia responded exceptionally quickly to the pandemic as they have been through similar crises before. These countries immediately mandated the wearing of masks, put rigorous testing procedures into place and implemented contact tracing as soon as possible. What we can learn from this is that if you already have a plan in place for an emergency, you can quickly adapt to an emergency and prevent things from getting out of control.
Businesses and organisations need to be prepared for anything and right now the world is still unaware of how bad the virus will get before it gets better. At this time, businesses need to take an in-depth look at their continuity and crisis plans, and build strategic plans for any possible situation. Leaders also need to look at decision making processes and how these can be optimized for the benefit of the business.
In many cases, decision making has radically shifted and decisions that executive teams would have made during the normal course of business differ from those they have had to make during the COVID-19 pandemic. What makes the pandemic situation unique is that unlike other crises that have a shorter or more predictable duration, this pandemic has an extended and uncertain duration. To deal with this, enterprises must revisit their core competencies. Determine what the core organisational competencies are, and decide how to leverage those to continue to generate revenue while also considering safety, continuity and resilience.
What we have learned is that crisis management is essential, and decision making needs to happen quickly and once you have a crisis management strategy in place and understand all possible avenues you can take during a crisis, then your decision making becomes easier.
As stated above, having a crisis management plan in place is vital, but your planning should not just be focused on specific risks. You need to be able to adapt to anything - nobody was able to see the extent of COVID-19 but businesses that did have flexible plans proved themselves more resilient than others.
The lesson? Be prepared for anything and be prepared to make swift decisions.
Crisis Communication is Essential
Businesses were blindsided by the COVID-19 pandemic, and they quickly learned that crisis communications teams were essential. During times of such monumental crisis, communication with business partners, employees, stakeholders and customers become absolutely critical, but if this is not done correctly, it can become a major issue - miscommunication during a crisis can quickly become detrimental.
In the age of instant communication and social media it has become easy for messages to get confused and muddled and therefore clear roles and processes need to be followed, and in order to stick to this, key crisis communication spokespeople need to be trained.
The lesson? Communication is key and it is imperative that this communication is consistent in its messaging.
Go Digital and Automate
The current crisis has proven just how big a role automation and digitisation has in business as it enables agility and quick responses to unforeseen circumstances. This is more than technology and encompasses a completely new process framework, one that allows for rapid response to changing situations. By putting a fully rounded digital strategy in place, you are able to implement new processes with ease, stay in touch with employees and customers, and keep your sales running smoothly.
An example of this is the need for Customer Relationship Management software (CRM) in businesses. This is a system that companies can use to manage interactions with their customers and potential customers, and is a tool that is used for sales management, contact management, productivity and more.
Basically, this kind of system has the ability to coordinate customer data and ensures conflicts and human error do not occur during the sales process. A CRM system helps in closing faster deals by facilitating quicker and more efficient responses to customer leads and information. Customers get more convinced to turn their inquiries into purchases once they are responded to promptly, and this is particularly important during times of crisis.
The lesson? Swift communication with customers and salespeople is important, and this can all be done digitally and online through CRM systems.
In Conclusion
The key lesson for companies is that they need to build resilience into the core of their business - this should be in their business' DNA.
Business leaders need to act quickly and decisively to any possible change that may arise and should be able to recover quickly from disaster if they have communication, digitisation, automation and planning in place. Once a business puts all of these tools in place - they can expect long-term business sustainability.
Business has changed. Communication has changed. Customer expectations have changed. It's time to acknowledge the impact that COVID-19 has had on our lives as we rebuild and normalise.
Contact the Nexa team today and put strategies in place to ensure business growth as we head into the new normal.