We live in the digital age and with constant technological and online advancements being introduced to the world every day, many business owners are left wondering whether or not blogs are still relevant in the digital marketing space. Many business owners are asking why blogs are needed when we have powerful and highly targeted social media platforms such as Facebook, TikTok, and Instagram readily available to reach target audiences. Of course, these kinds of questions are valid and have their place, however, blogs will never be dead and play a vital role in online search queries and social media sharing.
Blogs are not dead, they have just been remastered to suit the digital generation.
The Evolution of Blogging
A decade ago, business blogging was used as a way to help websites rank quickly in search engine results. Businesses would spam blogs with certain keywords and key phrases to ensure Google and related search engines would automatically rank a website for the use of those words. Today, keyword stuffing is known as "black hat SEO" and search engines will immediately flag your website as spam if they pick up on these black hat tactics.
Today, blogging is about sharing helpful and expert content that adds to the reader's life as opposed to being designed to get someone to a website and try to force an immediate purchase on them.
Today, blogging is used as part of the buyer's cycle as opposed to the entire buyer's cycle and this is where inbound marketing reigns. Inbound marketing is a modern strategy that makes use of a variety of "pull" marketing tactics, from blogging and search engine optimization to social media and personalized email marketing. This methodology uses digital tactics to attract, engage and delight potential customers through the buying process and ultimately direct them to make a purchase when they are ready to do so.
Blogging is one of the most effective tools in the inbound marketing approach and in fact, a recent study by Data Box states that 68% of marketers find blogging even more effective than they did 2 years ago.
Now, the internet is full of blogs and you may be asking yourself how you can make an impact and stand out in the digital noise when it comes to your business blogs. The key is to amend your approach to the modern-day consumer and create value.
Let's take a look at how you can use blogs in 2022 to grow your business better.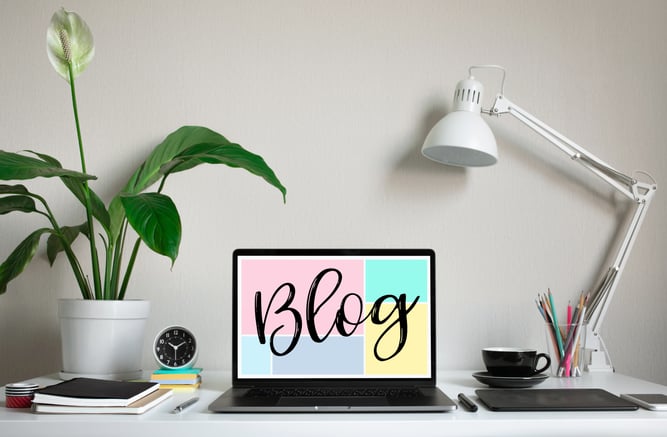 Blogging for Business Growth in 2022
Today, blogging is about quality over quantity. In the past businesses would push out blog after blog to ensure consistent keyword ranking. This is a big no-no in today's digital-savvy world and no one wants to land on a business page that pushes out irrelevant and repetitive content for the sake of clicks. If this is something you have been doing as part of your digital marketing strategy, you can be sure that your target audience will quickly click off your website and find another site more suited to their needs.
With this in mind, your blogs and blog topics need to help the consumer and add to their life in one way or another. This means that you need to create blogs that answer questions and provide important industry insight to help the consumer along their purchasing journey. Thought-leadership blogs and e-books play an important role in this kind of blogging strategy as they help your business establish itself as the industry expert which ultimately builds trust with the consumer - leading to greater sales and continued customer loyalty.
Take time to write blog posts and talk with (not at) your customer in order to build dialogue around your industry, products, and services. The modern consumer is smart and also has a limited amount of time and they expect fully rounded answers to their questions. Your blogs need to answer these questions if you want to position yourself as a trusted brand or business.
2022 isn't about getting as many blogs out as possible in order to rank higher in the search engine results, it is about answering customer questions in order to gain customer loyalty which in turn, helps you rank higher in the search engine results.
In Summary: Make sure your blogs serve a purpose, answer a question, and guide the consumer to make an informed purchase decision.
As stated previously, the modern-day consumer expects instant communication and instant gratification when it comes to accessing the information they require. This is not only because we are accustomed to quick online searches, it is also because time is limited. If you want to get your point across and keep your audience engaged with your content, you have to make it easy for them to consume.
Make sure that your blogs are easy to skim through and that you separate your content into short paragraphs and make use of headers. Headers help direct the eye to certain sections of your content that your viewer is interested in learning more about.
Lists and bullet points are also a great way to provide quick information and then make sure to summarize your content so that a viewer can skip to the important points if their time is exceptionally limited.
In Summary: Your blog content needs to be designed in a way that makes for easy and quick reading to ensure the viewer can easily access the information they require.
Blogging takes time and effort, especially if you are publishing valuable content that the reader is looking to engage with. As Inbound Marketing is about making use of multiple platforms to direct the reader to make a purchase, blogs should be re-shared on your social media to drive more traffic to your website. However, you also need to make sure you continue the conversation with your readers once you have shared your blog post to your social platforms. There is nothing more damaging than sharing a blog and not responding to comments by your readers.
If you stay silent and do not engage with their take on your blog or answer any follow-up questions they may have, you are immediately alienating them from your brand and they will quickly turn to your competitors to feel appreciated and heard.
In Summary: Always respond to your followers and readers. This not only boosts your website and social media engagement, it builds relationships and develops brand loyalty.
Gain Leads through Blog Content
Lead generation is the lifeblood of any business and it is important you use your blog content to fuel your lead generation efforts. This means you need to have strong calls to action on all your blog content. And your calls to action must be designed to collect valuable lead data.
Have a subscription button, create a lead magnet or add a lead form to your posts. All of these elements require the reader to fill in certain information in order to read more or find out more about your product or service offerings. This is vital in the blog creation process because lead data allows your marketing team to craft personalized email marketing or remarketing campaigns to help drive further lead nurturing and of course, sales.
In Summary: Blog content is not only about informing and engaging your audience, it is a strong lead generation tool that has the power to drive a lead through the buying process.
Delving deeper into your content has a variety of advantages with one of them being Search Engine Optimization (that is: helping you rise up the search engine rankings.) In fact, according to digital marketing and SEO specialist Eric Enge, "We tracked the SEO performance of a number of different sites. The sites that provided exceptional depth in quality content coverage literally soared in rankings throughout the year. Sites that were weaker in their content depth suffered in comparison."
The above shows us that blogging in 2022 needs to be about quality and this quality lies in expanding your blog topics and creating a variety of content based on a strong pillar page. Keywords are still important in SEO but by creating in-depth posts, you are ensuring greater SEO success.
Expand on your blogs by:
Creating a single, long-form pillar page on a specific topic and then developing blogs that branch off from the pillar page. These blogs should delve into specific sub-topics related to the pillar page.
Crafting long-form content that provides an opportunity to explore a topic
Creating in-depth e-books based on your blogs. These e-books should be downloadable and require your audience to fill in a lead generation form in order to access the content - this adds to your lead generation strategy while providing a space to extend your blog content.
Writing how-to-guides and ultimate guides on a specific industry-related topic.
In Summary: By expanding on your blog topics, you have the power to increase your search engine rankings, engage consumers, and generate leads for your business in 2022.
The Wrap Up
Blogging is an ever-evolving digital marketing tactic and it is important you keep up with the times in order to achieve the best results from your blog.
At Nexa, we know that consistent and informative blog and article content has the power to drive traffic to your website, engage your audience, build brand trust and convert leads into sales. Our team of experienced content writers will create blogs and articles that speak to your target audience and drive them to action, helping you improve your bottom line.
Contact Nexa today for all your blogging and content creation needs.