B2B marketing is witnessing an exciting revival of its marketing strategies as digital marketing opportunities increase. Digital means of communicating your business's message is the best and most cost effective way to reach your audience directly. Here's how your business can get started with digital marketing to increase leads, lead quality and sales.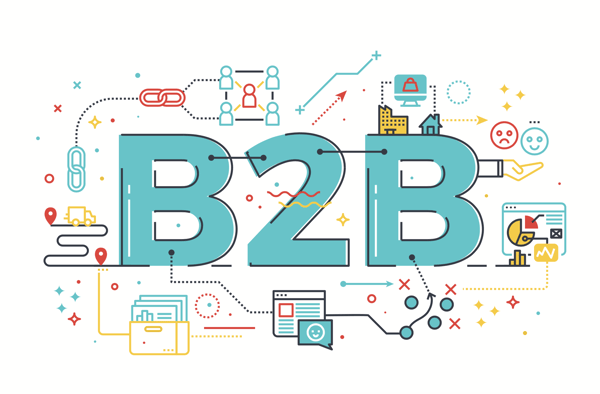 Content marketing
B2B marketing values content marketing over advertising. This is primarily because your audience, whether that's institutions, other businesses or wholesalers, have a need and desire to be educated. In order to achieve this, one needs to be armed with content that is helpful.
The content should be delivered based on snippets of the expertise available at your disposal, so that you are showcasing the abilities of your business and the value which you can provide. Focus on having a strategy in mind - your content should be planned from topics to optimisation and scheduling.
You should also consider the drivers of this information. Consider the resources at your disposal, from social media platforms to your website and email database. In order for the information to be useful, one needs to ensure it is received and received well, which requires you to determine the best method of sharing that content, i.e. infographics for easily digestible content or long form blog articles for more in depth knowledge.
The style of the content is important too. Developing a style guide for your business will ensure that your business has a clear brand voice which is standardised. Though you are communicating with other businesses, the style should still be engaging. The overuse of jargon and formal language can create barriers which can hinder your relationships.
Social media
Social media is a tool which can be highly beneficial in generating leads for your business. Get in touch with your niche as this is crucial for building relationships and community. Included in this community are your employees, who can become advocates for your business. This is highly favourable for your business as it shows how your business is valued.
Develop SMART goals when deciding upon your social media strategy, as it takes careful planning in order to maximize the rewards available on each respective platform. This is also a great way to keep an eye on your competitors and monitor developments and happenings in your industry.
A business should aim to leverage their work through social media by showcasing what they are busy doing and achieving. It is an opportunity to demonstrate your expertise, engage in Q&A's, provide service and support, share valuable information and to communicate your values and company culture, all of which resonate well with other businesses. Importantly, the content shared should be original and of the highest possible quality.
B2B Digital marketing
Consider the journey of your audience just as you would if it were B2C marketing. The two main goals of B2B marketing are to create awareness and instil consideration. Awareness comes from leads and becoming an industry leader, while considerations are the keystone for developing and nurturing relationships.
Account Based Marketing (ABM): ABM allows you to target your audience more acutely, resulting in better business adaption and restructuring. It garners a higher return on investment compared to other marketing activities by better equipping the sales and marketing teams through alignment. This improves their capabilities, inspires long-term growth and increases revenue.

Optimise: Optimising content requires a concerted effort to ensure that your content receives the optimal levels of engagement. It will assist you by increasing the leads you land and is a way to continuously produce relevant content.
Multimedia: This is all about the ways in which you share your knowledge. While social media is an important aspect of digital marketing, consider diversifying and reaching people by means of video content (suited to both your own sites and social media channels) and podcasts. By doing this, you are reaching more people and stretching the wealth of your knowledge by sharing it from different perspectives.
Personification: Develop a successful B2B marketing strategy by having a person-based approach by keeping the people at the business you're dealing with at the forefront of your interactions. This will help to develop closer connections through personalisation, which will further improve your relations. This should extend to all your business operations for secured repeat business.
Meetings: With remote work in full swing worldwide, it is easier than ever to schedule live meet-ups. This can be implemented from the start, with a short consultation via a video call. Another great meeting is through webinars, which allow you to share information that demonstrates your expertise. These kinds of interactions build relationships through reinforcement.
Call to Action: Ensure that your business has calls to action in place. You need to encourage your audience to take the next step in a manner that is easy and appealing to them. This can be in the form of contact forms, direct purchases online, invitations to join an event, downloads available and quotes. Once you have traction based on these, be swift in your response to keep the momentum going.
With the right attitude and outlook, your B2B digital marketing can assist your business in growing and achieving its objectives. The combination of content marketing and social media paired with the correct digital etiquette will create a marketing force to be reckoned with.
Get in touch with us at Nexa; we're here to propel your B2B marketing.