Instagram is the go-to social platform for visual escapism and inspiration. The entirely visual platform's primary purpose is to delight users and enable them to share videos, reels, and images with their audience.
Through Instagram, hundreds of millions of individuals share their life experiences through visual imagery and businesses have leveraged the successful platform to gain greater brand exposure.
Instagram is not just designed for personal use and offers what is known as "Instagram for Business." This is a profile designed to help brands and organizations get access to additional Instagram features such as analytics and the ability to run ad campaigns.
In this article, we take a look at how you can use Instagram to connect with your audience, make more sales and improve your bottom line.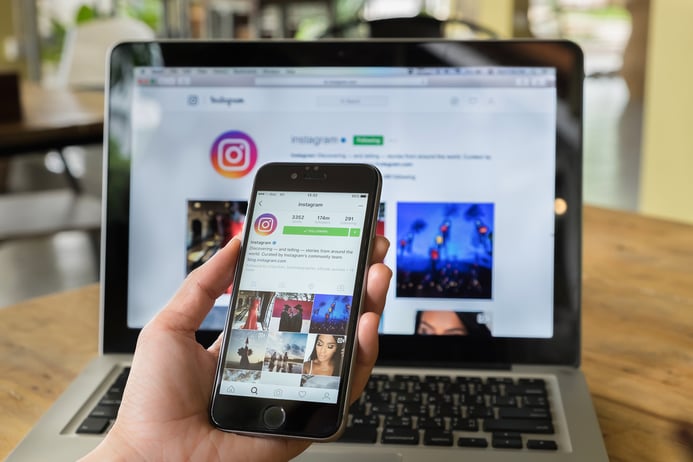 Top 10 Instagram Marketing Tips for Beginners
1. Understand Your Goals and Objectives
When using any marketing platform, it's vital that you understand your goals and define what you want to achieve through the platform. If part of your marketing budget is going toward Instagram marketing, layout your goals and objectives and ask yourself the following:
Do you want to:
Increase brand awareness;
Showcase company values;
Build a strong community; and/or
Make sales?
Once you define your goals you will be able to plan your marketing efforts with intention.
2. Know Your Audience
Just like any marketing campaign, you need to understand your audience and create the ideal buyer persona for your business. That is a fictional character representing a user type that would be interested in your business, brand, or product. Once you have your buyer persona in place, consider what content they are engaging with on Instagram and create a strategy that speaks to their needs and wants.
This does not only help when it comes to creating visual content and messaging, it becomes vital when it comes to creating targeted Instagram ads and promotions.
3. Enhance Your Profile
Think of your Instagram profile as your website homepage and use what is available to the best of your ability. You get a 150 character limit in your Instagram bio, a single webpage link and limited Call To Action buttons and you need to optimize these options to win over potential customers.
Step One: Switch your account over to a Business Profile, this option offers more features and allows you to track and analyze your content performance, expand your profile and sell products through the app.
Step Two: Make your bio matter! Your profile bio should tell your audience what your company does, what industry you are in, your corporate identity and tone of voice, contact information, and a link to your preferred website page.
Step Three: When it comes to choosing the link in your bio, make sure it serves your end goal. Does it take your viewer through to a landing page that collects lead data or does it take a user through to your e-commerce store? This comes down to understanding your end goal and creating a streamlined process to reach that goal. It is important to remember that you can consistently change the link which means it can align with your most relevant content and goals.
Step Four: When it comes to selecting your profile picture it is important that users instantly recognize it when they come across your profile. Choose between the following options:
Logo
Mascot
Logomark
Of course, this is all relative to your business and your goals and objectives. Essentially, you just want to make sure your profile picture is instantly recognizable and part of your overall brand strategy.
Step Five: Always take your Instagram grid/layout into consideration when creating your profile. Your audience will only see your recent posts when they click on your profile in grid form, this is why it's important you refrain from posting similar or repetitive content back to back. The goal is to always keep your page looking fresh and appealing.
4. Create Visually Appealing Content
As a visual social media platform, your Instagram posts have to look appealing. This doesn't mean you need to immediately invest in top-class equipment however, your photos need to be well-lit, well-composed, and sharp - no pixelated images here. If you are using animations or infographics, make sure they are crisp and easy to read.
But, what's more, important than sharp imagery is purpose. Your imagery needs to serve a purpose and provide the viewer with insight. Essentially, your content needs to be compelling. Having beautiful photos is one thing, but if they don't tell a story or entice the viewer to engage with your page, then your page will become stale and dull.
Here are some ideas for quality Instagram content to help your business engage with your audience and ultimately grow:
Give your followers or target audience some insight into your business by showing them your storefront, office, or manufacturing process. This gives your brand a personality and builds trust with your audience.
Text and Quotes that play alongside visuals - these make for shareable content.
Share content about your brand that your users share. User-generated content is powerful and it connects your brand to your target audience on a personal level.
Instructional or how-to industry-related posts are compelling and teach your followers about how they can achieve a goal - this adds value to the lives of your users and will keep them coming back for more.
Video content is an impactful social media marketing tool. Create 60-second visually appealing and helpful videos for Instagram. Your videos should empower your audience and provide them with shareable insight into your industry or brand.
Instagram Reels are taking the social media world by storm. This new feature takes inspiration from TikTok and allows you to create appealing, fun, easy-to-edit, and engaging video skits. Play around with this feature, take a look at what your competitors are doing with it - and make it work for you.
5. Write Appealing Captions
Yes, Instagram is a visual social media platform but this does not mean that your captions should be a second thought. Your captions set the tone of your content and should be used to show off your brand's tone-of-voice and corporate identity. Just like your visual content, your brand voice should be consistent across all your Instagram posts.
Instagram captions can be quite tricky because they can reach 2, 200 characters but you don't want to overload your page with too many words. The ideal Instagram caption would be 138 - 150 characters. If you do have a long caption, make sure that the first two sentences sum up the rest of the post, or entice the reader to read more. This is because the first two lines are what the user will see when they come across your posts. These two lines should make the user want to click "read more" to find out more about the message and purpose of your post.
6. Use Hashtags Strategically
Hashtags are designed to help you increase visibility and discoverability on any social media app. On Instagram, you have the ability to use up to 30 hashtags in any given post; however, you don't really want to do that. No one likes a "spammy" looking post.
Try to use between 4 - 8 hashtags on a single post and remember that if you use irrelevant hashtags, then the right target audience is not going to see your posts.
When selecting hashtags, do your research and find the ones that:
Are the most relevant to your industry and business. Take a look at what your competitors are using and leverage your hashtags off of those.
Find hashtags that are specific to your industry niche and to individual posts.
Never use spam Hashtags like #likeforlike or #followforfollow. These are spam hashtags that take up space and hold no purpose when it comes to creating a trusted brand presence online.
7. Engage with your Audience and Target Market
If you want your audience to engage with your brand, you need to engage with them too. Posting high-quality content is one thing, but it is vital you never ignore user comments. You should also engage with other profiles to build more online visibility, if you don't do this, your page will become desolate and will serve no real purpose.
Try to find popular industry-related accounts (not necessarily your competitors, but rather industry thought-leaders and influencers) and follow them and engage with them in a non-promotional way. This helps you share your brand tone-of-voice while subtly spreading your brand message and creating online awareness.
Always check to see if you have been tagged in a post. Once you have been tagged in a post, engage, share and use this content to your benefit. If you have been tagged in a complaint, respond swiftly and personably as this shows your brand cares about its customers and is willing to discuss any issues that have arisen in the purchase process.
8. Make Use of Instagram Stories
Stats released by Instagram show that businesses that share Instagram Stories are getting great results, In fact, a third of the most viewed Stories on the platform are shared by businesses. With this in mind, Stories should be a key part of your Instagram marketing strategy.
Remember that Instagram Stories disappear after 24 hours and you need to keep them more real and less curated than your regular Instagram feed. This gives you more of a personable brand feel and helps in building great relationships with your followers.
How to use Instagram Stories for your Business:
Tell a brand story: have a message or goal behind everything you share
Be quick: Make sure your message is conveyed in the first 3 seconds of your story
Provide value: Give your readers content that is valuable and can better their lives. For example: provide a link to a how-to guide or share a discount code with your audience via your stories.
Use a CTA: Don't simply rely on the "swipe up for the link" option when it comes to your Instagram story. Be specific and use a strong Call to Action that stands out.
Be Consistent: Keep your brand identity in mind at all times when sharing your Instagram Stories. Any inconsistency can create distrust and damage your brand's reputation.
9. Set Up an Instagram Shop
Your business profile also allows you to launch your very own Instagram Shop. This e-commerce feature provides your page with a "view shop" option and your followers will be able to tap through to your online shop at the click of a button.
There is also a "Shop" tag available on the Explore Page of Instagram and this offers a place where users are able to search for specific products to purchase from brands they engage with on Instagram.
You may be questioning whether or not this is a valuable resource however, 130 million Instagram users tap on shopping posts every month and this number is set to rise significantly in an age where online shopping is quickly becoming the norm.
10. Make Use of Ads and Analytics
Instagram Ads are a sure-fire way to reach your audience - if implemented correctly.
Just like Facebook ads, you will need to define your audience and target your ads based on the following criteria:
Location
Demographics
Behaviors
Interests
When it comes to Instagram targeting you are also able to upload custom audience targeting and lookalike audience targeting.
Remember that Instagram and Facebook are also able to link seamlessly together and you can share your Instagram ads to Facebook and vice versa. This expands your audience reach across both platforms and can benefit both your online profiles significantly.
At the end of the day, no matter how well you strategize and curate content for your Instagram profile you need to refine your strategy with analytics to ensure you receive only the best results. Instagram for Business offers in-app analytics to help you learn about what is working on your page and what needs to be improved upon. Keep an eye on your analytics when it comes to your ads as well as your organic posts.
Bonus Tip: Partner with an Influencer
Working with an influencer can help build your brand credibility while helping you reach the right audience. One of the most popular ways to work with an influencer on Instagram is to implement what is known as an "Instagram Takeover." This means that you invite an influencer to take over your page for a specific period of time which means they will be actively engaging with your current audience while inviting their audience to your page at the same time.
This is just one example of how to work with an influencer on Instagram however, you have to be careful when selecting the right influencer for your brand.
Learn more about partnering with an influencer in our blog: How to Work With Social Media Influencers
The Wrap Up
Social media continues to evolve at a rapid speed, heavily influencing how businesses communicate and engage with their customers. When used correctly, it can positively affect your brand's perceptions and be the driver of generating more revenue.
How We Can Help
Whether you're a B2C or B2B business, social media is a radical part of digital marketing. At Nexa, we offer a full range of social media services with a proven track record spanning 15 years, which marked the start of these pivotal platforms.