We live in the digital age and with the age of the internet comes instant communication and customer expectations. Today's customer is knowledgeable and skeptical while having greater expectations than before - the greatest expectation being that businesses care about them on a personal level.
Customer Relationship Management and Inbound Marketing powerhouse HubSpot understood that companies need to rework the way they engage with the modern day consumer. They knew that when companies align their success with their customers create delight, loyalty and respect from the people who matter most. And when this methodology is implemented correctly, companies grow better.
By understanding the growing needs of the modern consumer, HubSpot created a customer-centric model that has changed the way companies do business.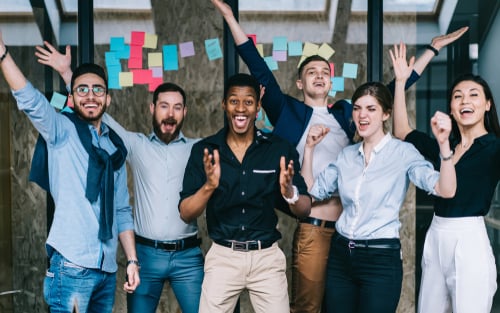 Introducing the Flywheel
Invented by James Watt, the flywheel is a simple wheel that is energy efficient. The amount of energy it stores is dependent on how fast it spins and the friction it encounters. HubSpot adapted the model of the Flywheel which explains the momentum your brand gains when you align your entire business around delivering an unbeatable customer experience.
Other models, such as the customer funnel, are based on customer outcome and nothing more. Essentially, these models end at customer acquisition - wasting all the energy you spent acquiring that customer.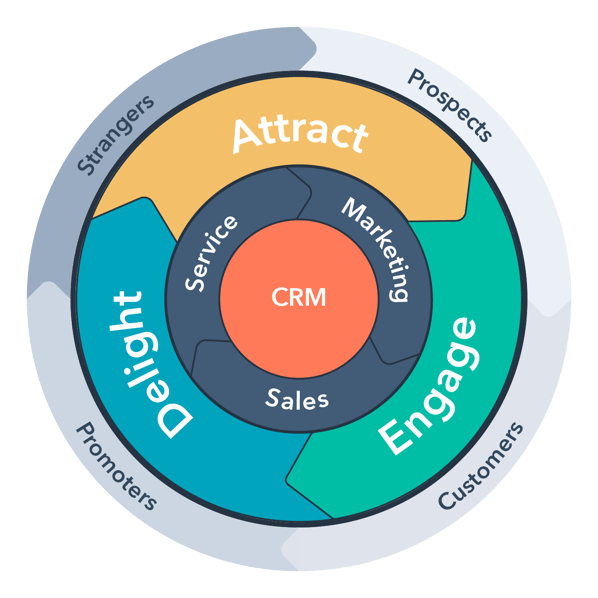 To show you what the Flywheel is capable of, let's first explain how it works.
How it Works
The energy your Flywheel contains to keep it moving depends on 3 elements:
How fast it spins
How much friction it faces
How big it is
The most successful businesses will adjust their marketing and sales strategies to address all 3 of the above elements.
With an inbound marketing strategy combined with frictionless selling processes, customer service and customer nurturing are all forces that can be added to the flywheel. Essentially, you need to focus on customer experience, which means your customers will recommend your business, which means you gain more customers.
Friction in the Flywheel can be caused by lack of communication between teams and customers, misalignment between employees and customers and misalignment between marketing, sales and service teams.
The more you increase your Flywheel speed and decrease areas of friction, the better you will grow your business.
However, one more element can be added to the Flywheel to ensure even greater success and that is focusing on employees within your business - not just the customer.
Expanding the Flywheel for Business Growth

The current Flywheel (as seen above) focuses on the customer experience, however, employees need to feel motivated and in sync with a company's goals in order to fuel the customer experience. In today's corporate climate, it is important that business values align with employee values. This means that effort needs to be placed on individuals within the company and focus needs to be placed on employee experience as well as customer experience.
While the Flywheel is valid for most businesses in that it highlights the importance of Sales, Marketing and Customer Service as a driver of business growth, we believe that that there is a missing component within the Flywheel and that is "People."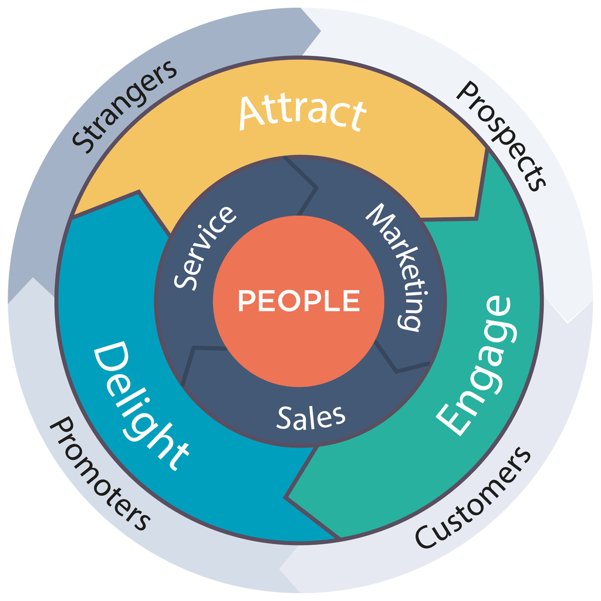 Not yet convinced? Take the following statistics into account:
As per the above, it is clear to see that motivated and happy employees leads to productivity, dedication and greater employee retention. With the above in mind, your employees are a key component to Flywheel success and it is vital you hire individuals who fit your business identity and are dedicated to contributing to the growth of your business.
Below, we take a look at 4 steps you can take to expand your Flywheel and grow your business internally.
1. Employer Branding
Employer branding refers to the perception future and current employees have your business. From a marketing and all round business perspective, it is important that you establish your business as reputable. By doing so, you are able to generate long term growth and greater success.
Just like the modern day consumer, potential employees are more knowledgeable and skeptical than ever before. Future employees want to ensure that a business is able to meet their expectations and values.
What Employer Branding Consists of:
Attracting candidates through unique value propositions and well strategized brand awareness
Retaining employees and building long-term loyalty
Creating a genuine and healthy company culture with current employees, including benefits
Making sure past employees leave with a positive attitude and where possible, provide testimonials for your organization
There are many digital marketing tactics and digital channels you can use to build on the above. For example: Social media provides a great way to educate potential candidates. Through these platforms you can share blogs specifically crafted for employer branding purposes, images of current employees, employee testimonials and build interest around your company culture.
By having a positive and trusting company culture, your employees become invested in growing your business, thereby improving the customer experience (see Flywheel) and increasing your bottom line.
Learn more about the benefits of Employer Branding here.
Once your marketing department has set up a strong Employer Branding strategy, it is time to focus on recruitment.
2. Digital Recruitment
As a digital society, businesses are open to recruiting staff from all over the world and expanding businesses has never been easier. And with this in mind, digital recruitment has become a highly sought after and proven HR strategy.
Digital recruitment is not as simple as posting job vacancies on online job boards and social media. Of course, these platforms play a role in the process, but digital recruitment requires a host of strategies and online tools that span the full recruitment process.
Digital Recruitment Consists Of:
Digital job board advertising (this includes platforms such as Indeed and LinkedIn)
Posting on career based websites
Using online assessment tools
Social recruiting
Essentially, your HR department needs technology to discover, attract, engage, analyze and select candidates to fill employee roles.
Once your HR team has set up the recruitment process, they need to focus on onboarding.
3. Digital Onboarding
As stated previously, virtual or digital recruiting is becoming the norm for businesses and companies need to create a smooth onboarding process to ensure success.
Traditional onboarding gives your new employees an overview of your business, values, company goals, and mission. Virtual onboarding eliminates the face to face factor, and offers new challenges that need to be overcome. Companies are now using HR and onboarding automation platforms to ensure consistent and repeatable processes across different teams, departments and locations. A benefit of this is that it reduces the administrative overhead and miscommunication that can often occur when trying to plan and coordinate multiple stakeholders, and processes in a remote setting.
Digital Onboarding Consists of:
Pre-boarding strategy
Structured socialization and personal connection
Virtual meeting tools
Alignment with company values
Employee feedback
Onboarding processes require technology and personal connection and with a strong strategy in place, you are sure to retain employees and create an aligned work environment.
Learn more about the digital onboarding process and related strategies here.
Once you have your onboarding process in place, it is time to focus on training systems to help new employees integrate with your company and processes.
4. Training Systems
Every employee contributes to the overall success of a business, but some business owners do not invest in this. Employees with limited jon scopes can quickly feel like a cog in the machine and those who may manage large teams can quickly become complacent. This adds huge friction to the Flywheel and results in business losses that can go unnoticed. So, how can this be amended?
Training can help employees learn and grow while giving them insight into how their job specs fit in the company structure, mission and goals. As a result, they will become more motivated, productive and excited about their job.
Training Systems Consist of:
Video tutorials
Online courses
Personalized workshops
Online webinars
Through the digital hiring and onboarding process, you will have hired employees that want to develop a career through your business. They want to advance and become essential employees and by offering training, you help them realise their individual goals. Upskilling employees through educational videos, online courses and workshops help them learn about new aspects of business, give them the tools to perform better and provide greater managerial skills down the line. This is why businesses need to invest in training and development.
The Wrap Up
The above steps contribute to the size and speed of your Flywheel, while reducing elements of friction within your organization. By adding the "people" element to your Flywheel, you improve all elements of the business while ensuring complete customer satisfaction.
The importance for the employer, employee and by extension the customer, this is an aspect of your business which should be developed and nurtured. Working with an agency is one of the best ways to achieve this. Contact Nexa to get started on expanding your Flywheel and creating processes to grow your business better.