All marketers require content production for effective marketing and campaigns. But what is the most efficient way for a business to create an ongoing flow of quality branded content? In this article, we're taking you through the pros and cons of hiring a content creator in-house versus partnering with an agency. Ready to find out which is the best fit for your company? Let's dive in...
The Content Needs for a Modern-Day Business
Once marketing strategies are developed for a business, the content to be used within the strategy needs to be created. This can take a variety of forms, whether its audio, visual or text. While it is possible to use creators or agencies on an ad hoc basis, this is an ongoing need that tends to produce better results when long-term working relationships are formed. In these cases, it comes down to hiring someone who can do the job for you as a member of the internal marketing team, or outsourcing those briefs to an agency.
Let's Start with Video
With video being the most predominant, in-demand and engaging form of content, your marketing team will need to create several videos for all of your social media platforms and channels as well as websites and other commercial purposes . This will require strategy, conceptualisation, planning, production and editing. Ultimately, whoever you work with will need to have the skills, ability and resources to perform all of those tasks in a timely, reliable and effective manner. The selected person or team will not just be producing great content but will need to ensure it meets the goals set out, from reach to engagement, perception and credibility, to name but a few.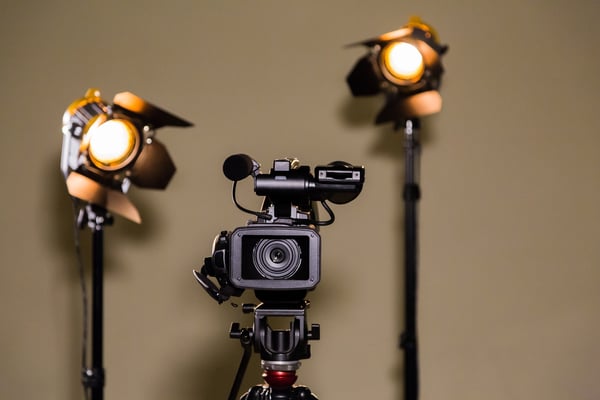 Get your Audience to Tune in with Podcasts
Podcasts are a great form of content to share with discerning audience members. While videos hold the top spot, podcasting is an easy second, as podcast audio can be listened to while people are on the move. They have a reputation for being filled with informative insights which are explained in-depth, making them a worthwhile venture which, when done right, can result in a loyal following. For an additional way to reach your audience and guests, while making your content stretch in a way that won't break the bank.
Textual Content
The written word maintains its position as king of content, with its ability to reach both customers and search engines. Businesses create and share the likes blogs, white papers and case studies for this very reason - and it works. Valuable content draws website traffic and has the power to both sustain your brand and increase your subscriber lists. This avenue is great for updates and longstanding content which showcases your business's knowledge and brand through adept storytelling.
The Essence of a Brand with Graphic Design for the Branding
There is no way getting around the need for a graphic designer. They manage all of the digital styling and visual aspects of your branding. They will often work with other areas of content, ensuring content is well-placed with appropriate imagery, for example. They hold the digital keys to your business's branding and will ensure it is consistently applied and optimised throughout your marketing activities.
In-house Creators
What's great about hiring someone in-house is that they will be part of your marketing team, and you can consult and interact with them daily. As an employee, they will also have an in-depth understanding of the brand. Their role will solely be focused on creating content for it; hence there is a total commitment to making the necessary content.
However, many in-house creators are few and far between - or at least, the good ones are. Why? Well, by nature, creatives are either working with an agency, freelancing or have built up a business as a consultant. This makes sense because content creators are specialists in a particular field or two, rather than producing a wide range. For instance, they may be photographers who can create some video content, though it is not their speciality or vice versa. As such, we'll delve into your options for working with freelancers and consultants, before expanding upon agency partnerships.
Working with a trusted number of freelancers is an option, as you can create an out-house team that regularly helps your marketing create content. They would, therefore be well acquainted with the brand and provide you with the benefit of ongoing services. However, freelancers are available to other businesses too. They may therefore not be available or able to take on the briefs you have for them. The marketing team will also need to manage these relationships with freelancers, ensuring that deadlines are met, and the content is of an acceptable standard.
Working with a contractor is another option since they will be able to work with you on a project basis, providing you with the advantages of a freelancer with the benefit of an in-house team member for the project's duration. If you need help with one specific project and your other content needs are minimal, this could be a good option for you. For example, you could work with a videographer on a contractual basis for a couple of months, during which you create all of the content you need for a couple of months in advance. The trouble with this is, a contractor is still only one person or a small team at most, who specialise in a particular field.
Agency Partnerships
Working with an agency provides you access to a team of specialists. When you form partnerships with an agency, they can become more than occasional consultants for your business. They will work with your brand closely to create all the necessary content. This allows for content to be produced as per your requirements. What's more, an agency knows the in's and out's of marketing, which can assist your brand.
You can work with an agency who has experience in your industry and who will work around your budget - which can provide you with more options at more cost-effective rates. They will have various team members form the crew and provide you with a finished product, managing all of the processes on your behalf. You will not have to worry about potentially missed deadlines or equipment issues. This will save you time and hassle while knowing the content is optimised and that there is the support that can extend beyond the delivery of the content if required.
That wraps up an overview on who a business can turn to for their content creation. While hiring freelancers and contractors is an option, based on the above, it is highly recommended that your brand works with an agency to get the job done.
Book a session with us at Nexa to discuss what we can do for you. We have years of experience and expertise, working with various clients on award-winning campaigns and projects.