Customer Relationship Management or Content Management System? Or both? Many people believe that a CRM and a CMS serve the same purpose, but in reality, these are two separate platforms that offer different marketing tools and benefits.
Today, business owners need to understand the differences between these two platforms and learn how both software's can work together to increase business growth.
Before we dive into the benefits of using both platforms together, let's take a look at their differences and what each platform offers.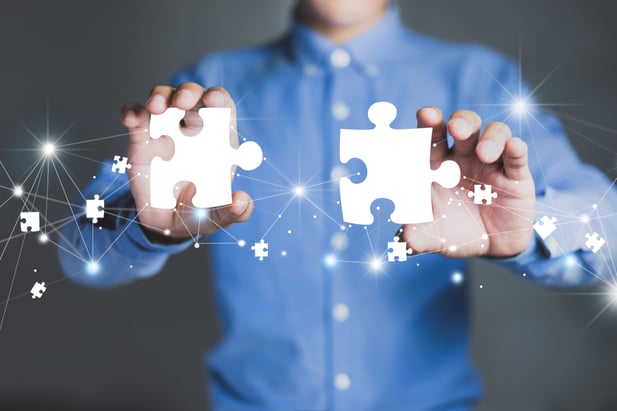 What is a Content Management System?
A Content Management System (CMS) is usually the first system businesses use when setting up their business. This is because a CMS offers a central hub for you to manage your online and website content. A website is the home of your business and a CMS will be able to keep your home in tip-top shape. That is: you want your "home" to be aesthetically pleasing, accessible and have space for everything you need to showcase.
A CMS comes with a variety of options for business owners. Through the system, you are able to either use a predesigned website template or you can create your very own design and customized website from scratch.
Key Features of a CMS
Web hosting: Store your website and data in your CMS or integrate it with another web hosting platform.
Domain names: Create a custom domain for your website.
Content library: Store all of your images, content and videos to publish on your site.
Site editor: Edit the layout or style of your site by using drag and drop functions or code.
eCommerce store: Create an online store or catalog of products and integrate a payment portal into your CMS.
The above are just some of the classing features offered with a CMS and as this technology is evolving, some platforms offer more advanced features.
What is a Customer Relationship Management Platform?
A Customer Relationship Management (CRM) system is one of the most transformational technologies the business world has ever seen. This is because a CRM is designed to align marketing, sales and service departments while creating the most streamlined processes to date. The software has the power to organize and manage lead and customer data, segment this information and use it to further marketing, lead nurturing and sales efforts.
Key Features of a CRM
Contact Management: Store lead and customer data including all contact details and social media accounts.
Lead and Customer Tracking: Track every interaction a customer has had with your business, from phone calls, emails and website visits to support requests and purchase history.
Lead Management: Segment, score and follow up on leads based on their engagement and interaction and the likelihood of converting into customers.
Email Management: Run personalized email campaigns based on your individual lead/customer to ensure they receive the right message, at the right time.
Pipeline Management: Track and manage the sales process at every stage of the buying cycle while assigning specific tasks or follow-ups with team members.
Analytics and Reporting: Gain performance data about customers and deals which assists in future marketing and sales predictions.
The above are just the most classic CRM features. The more powerful CRM systems also provide marketing automation and document management process solutions.
CRM and CMS platforms provide different services, as seen above. Most businesses begin their journey using a CMS and a CRM will usually come later (as the business grows and a client base is built.) However, many businesses are missing out on a great opportunity by separating the two platforms in their entirety. Each platform serves a purpose but if the platforms are strategically used together - businesses can expect extraordinary results.
Let's take a look.
The Importance of CMS and CRM Integration
Since your leads and customers engage with your website, your customer tracking system and data collection system need to interact with your website system. And this is why it is important that your CMS and CRM systems work together.
The Benefits of CMS and CRM Integration
A powerful CMS-CRM integration has the ability to funnel all website activity into your CRM for lead analysis, important insights and reporting purposes. With this tactic, you will be able to view how your website is performing alongside all your other marketing channels and related content strategies.
A CRM is only as good as the data it collects and this is why integrating a CRM into your CMS efforts is a necessity. When it comes to data collection and analysis - CRM is king.
A website offers a wealth of information for your business, with lead forms being one of the most important aspects of a website. Without a CRM, your lead forms will be emailed to your employees who will then have to manually input the data into a CRM or a database. This is one way to collect information but can lead to human error and missed opportunities. By integrating your CMS and CRM, you are able to capture this data in real-time and automatically transfer lead information into your CRM. This saves your business time and increases the value of the lead information as it is received and logged immediately.
By integrating your platforms you are creating automated processes that ensure your team members have instant access to all your customer information and no longer have to stress about misinformation or finding customer records. This seamless integration ensures your staff are always on the ball when it comes to following up with leads.
By automatically collecting website data about individual web visitors, your salespeople have greater insight into the viewer and this provides a more personalized experience in terms of remarketing and sales follow-up messages.
Having your CRM and CMS integrated, you significantly increase response time to queries. If someone fills out a lead form or has made a specific website request, your CRM can quickly identify the person or department that the inquiry should be sent to. This ensures greater customer service, increases brand trust and at the end of the day, leads to greater sales.
Websites are generally the first place of entry for your prospective clients and by capturing their online behavior and data, you are able to provide a more engaging user experience for your audience, guiding them through the sales process with ease. This is why CRM and CMS integration is becoming a necessity for businesses.
More Powerful Together Than Apart
When it comes to growing your business in the digital age, you can quickly become overwhelmed with the amount of software available on the market. With this in mind, these software's can sometimes work together to reach a greater goal and by having a CMS-CRM relationship at the heart of your marketing and sales strategy, you will save time, money and make more sales.
Looking to integrate your CRM and CMS systems?
Nexa is proud to be a Diamond-tiered HubSpot Partner and this places us in the top 2% of HubSpot Partners globally. HubSpot offers the most powerful CRM and CMS solutions and we are able to help you create the ultimate CRM-CMS integration for your business.
Contact us today for all your CRM and CMS requirements.