Before we dive into why and how you should implement digital audits for your business, let's take a look at what a digital marketing audit actually is.
A digital marketing audit is a document that outlines the digital marketing efforts and activities of a business. An audit should outline the results of your strategy or digital marketing plans and is made up of vital information to help your team define the value of your digital marketing efforts. This document will identify any possible opportunities and provide greater insight into your digital marketing performance.
Now that we have an understanding of what a digital marketing audit is, let's take a look at why you should perform a digital audit for your business.
Why you should perform a digital marketing audit
In order to have a successful digital marketing campaign, you need to understand your goals and set achievable KPIs. The only way to set achievable KPIs however is by investigating performance metrics on your digital channels. This is relevant to both organic and paid campaigns.
By performing a digital marketing audit, you are given a precursor to what needs to be achieved and what can be achieved. Whether you want to optimize an existing website or create a brand new one, a digital audit will be able to outline what you need to improve upon or amend.
Essentially, a digital audit provides a business with the following:
Gives you comprehensive insights into how your marketing efforts are performing across digital channels
Provides data that helps to Identify opportunities
Helps you set up a roadmap to better your digital marketing performance
With the above in mind, you may be wondering when the optimum time is to perform a digital audit for your business. Of course, timing is important in this regard and a business should perform an audit at the beginning of every year, and every quarter.
However, an audit should also be performed when:
There has been a change in Key Performance targets across the business
New management has been put in place
The business has taken on a new strategic direction
Now that we have an understanding of why you should perform a digital audit, and when is the best time to implement one, let's take a look at how a digital marketing audit is conducted.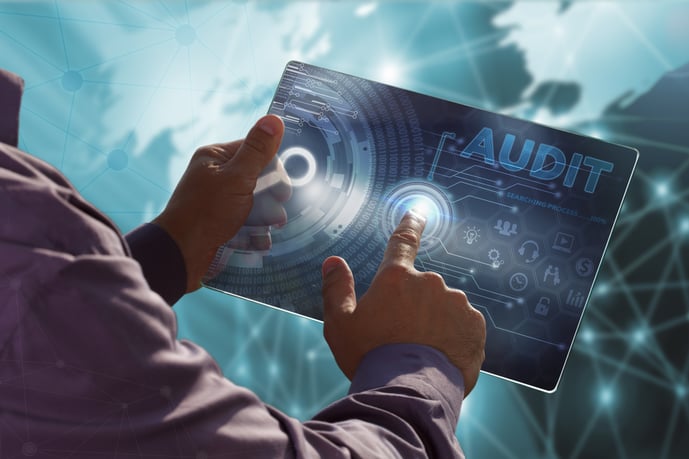 How To Conduct a Digital Audit: Your Complete Guide
When it comes to conducting a digital audit, the key is to be meticulous and comprehensive in your investigation. Through an audit you have the ability to collect data, examples and evidence to help you grow your business's digital footprint. This isn't as overwhelming as it may seem, there are plenty of tools available to assist you in your digital marketing audit process.
Below, we outline 4 steps you need to put in place to ensure a streamlined and successful audit:
Make Time: A full auditing process can take a long time to complete. Give yourself a decent turnaround time, somewhere between 2- 3 weeks. You can also divide the work among teams to ensure a timeous outcome. If you choose to work in teams, make sure to set up a collaborative document so that you are able to align efforts, processes and terminology across the document.
Identify Scope: How far back do you want the audit to go? It is always a good option to perform a 12-month audit. With this tactic, you can put together processes for an annual audit in the future.
Access to Accounts: It is important that all individuals involved with the auditing process are able to gain access to the required tools. Make sure that the tools you use for your digital audit are able to house all the individuals involved in the process.
Audit Tools: Tools are vital when it comes to putting together a powerful and trusted audit. Technology has come so far, and it is important you take advantage of this when collecting data and putting together your presentation. Plus, these tools are designed to save you time, reduce the chance of human error and help you put together a seamless presentation.
Now that we have an understanding of the steps that go into preparing for a digital audit, let's take a look at the account access you'll need to implement a successful outcome.
Digital Marketing Audit Account Access and Tools
In order to successfully identify the tools you'll need in your audit, you need to compile a list of the digital accounts you will need access to so that you can organize access for your team. Below are some of the accounts and tools you'll need access to when performing a digital audit:
Website Audit: HubSpot, WordPress or other Content Management Systems
Website Tracking and Analytics Audit: Google Analytics or related CRM/CMS solution
Search Engine Optimization Audit: Google My Business, Google Search Console or any SEO tool that is preferred
Social Media Audit: Native platform analytics or CRM system
Once you have identified the tools you will use in each part of your digital marketing audit, let's take a look at the auditing process itself.
There are a variety of audits you will need to perform in order to put together a comprehensive digital marketing audit and the best place to begin is with a website audit.
The Website Audit
The website audit is a great place to begin your full digital audit and there are plenty of data points you need to look at when putting together your website audit:
1. Website Traffic Audit
Your website audit should identify the success of your website in regards to traffic, that is: how users are finding your website, how they engage with your website pages and how long they spend on your site. So, what data should you be collecting and analyzing in this regard?
Consider traffic peaks and lows based on daily, weekly or monthly website visits.
Identify which website pages are the most viewed by your visitors and how these views are evolving.
Look at where your website traffic is originating from and which traffic source is the highest.
Collect information related to time spent on the site and whether or not there is a pattern related to this.
What does the bounce rate look like
If you have an eCommerce website take a look at the number of return visitors and pages per session.
All of the above provides your team with valuable insight into what is working and what needs to be improved - and how it can be improved upon. By looking at the data outlined above, you are able to dig deeper into the success of your website traffic and understand user behavior on a greater level. You will also be able to put together a Behaviour Flow that helps you map a typical journey through your website.
Once you have done this you are able to improve upon the journey to make for an even more streamlined user experience.
2. Website UX Audit
User Experience, also referred to as UX, relates to how a user interacts with a website. UX is made up of a person's perception of ease-of-use, navigation and website efficiency. Essentially, if a user has a bad experience on your website, you will lose customers and this is why UX is important in your auditing process.
When it comes to auditing your website for UX, there are a variety of qualitative and quantitative audits you can perform.
With the right tools in place you are able to:
Check your websites accessibility and W3C compliance
View data such as heatmaps (that is: outlining a user's journey across your website). A heatmap will help you identify potential UX issues.
If you have the right tools in place, you are also able to view session recordings and replay what pages users clicked on and piece together their entire user experience.
Qualitative analysis is about speaking directly to your target user and asking them what they think of your website and the website experience. Your team can reach out to your clients for insight or you can incentivize your audience to answer your questions by providing them with a discount or gift card. By taking the time to speak with a user, you are able to gain personal insight which will help you identify opportunities you may not have picked up.
Now that you have insight into the user experience, you are able to better the user journey by identifying areas that require improvement.
3. Website Branding Audit
As the name suggests, a brand audit is about conducting an examination of a brand's current position online and in the market compared to its competitors. Through a website branding audit you are able to determine your online presence and effectiveness in your industry. You may be thinking that the above website audit steps outline where you stand online, but a brand audit is different because it shows you how people (users) perceive your brand and your business.
Similar to qualitative UX audits, a brand audit requires you to speak to your consumers. You can do this by sending out polls and emails to your current customers.
Through a branding audit you are able to put together what is known as a "positioning" or "competitive" matrix. This is a mathematical tool that helps you define the essential elements of your brand's position on a platform. This insight will guide the importance of each element based on the competitive challenge a brand is faced with. For more insight into creating a positioning/ competitive matrix, click here.
Website Audit: The Wrap Up
The above outlines what you need to do in order to implement a successful website audit. A website audit will provide you with information regarding your website traffic, user experience and brand positioning. With this data, you are able to make amends where possible, and identify opportunities for growth.
The next step is performing a thorough Search Engine Optimization (SEO) audit.
The SEO Audit
An SEO audit will analyze your website presence in relation to search engine best practices. This kind of audit identifies the primary issues that are affecting your rankings in the search engines. And the first place to start is through content analysis.
1. Content Audit
The term "content is king" exists for a reason. High-quality website content is one of the most important parts of a website. This is because unique, helpful and insightful content organically increases your search engine result rankings. Your SEO audit will have to analyze all your website content to ensure that they are indexed by the search engines.
SEO crawler tools will crawl all the pages on your website to make sure they are up to date with these best practices. And you will quickly be able to pinpoint any issues relating to your content and content optimization.
2. On-Page SEO Audit
On-page Search Engine Optimization is made up of SEO elements including: meta description, word count, alt tags, image alt tags, headings, Schema.org structure data etc. This may seem like a lot of work but these aspects of a website are not difficult to check. There are a variety of tools you can use in this regard including:
Once you have completed these checks, you are able to identify what needs to be amended and what is working on your website. Ensuring your SEO efforts are up to date and in full swing.
3. Website Page Load Speed Audit
If a user visits your website and it takes too long for your website content to load, you can be sure they'll click off your site and visit that of your competitor. Page speed does not only affect bounce rates and traffic, it also affects your search engine rankings. This is why it is vital you implement a website load speed/page load time audit. The elements of a website that may affect your load time include:
High-resolution images
Videos
Too many plugins
Inefficient plugins
If your page load time is over 10 seconds, you need to identify what is adding to your load time and get rid of the culprits. Load time is essential for your search engine rankings - this is something you should never leave out of your digital audit.
4. Keyword Audit
By using a keyword tracking tool you will gain insight into what words your website is actually ranking for in the search engines. You can implement this audit by using a keyword tracking tool.
At the end of the day, you want your website to rank well for your target keywords and keywords that have a higher search volume. By identifying what is working and what isn't working, you can put together a content and keyword strategy to better your place in the search engines.
5. Broken Links Audit
Another element of your SEO audit is to identify any possible broken links across your website. You can do this by using a Website Link Checker. This tool should allow you to scan pages for any broken links - allowing you the opportunity to fix this immediately. You see, broken links will quickly affect your search engine rankings and this is something that needs to be fixed immediately.
SEO Audit: The Wrap Up
The above outlines what you need to do in order to implement a successful SEO audit. A SEO audit will provide you with information regarding your internal and external links, content optimization, and on-page SEO. With this data, you are able to make amends where possible, and identify opportunities for growth.
The next step is performing a thorough social media audit.
The Social Media Audit
When it comes to performing an audit across your social media platforms, you need to look at two primary elements:
Paid & Organic Performance
Earned Performance
1. Paid and Organic Social Media Audit
This audit will not take too long as you can use social media analytics tools to help you assess your paid and organic performance on platforms such as Instagram, Facebook, Twitter, LinkedIn and YouTube. Tools you can use for this include HubSpot. Social Status and Hootsuite.
When it comes to your organic social media performance audit, you should track your Organic Reach Rate. This will indicate how many individuals viewed your content organically. This metric allows you to benchmark content performance against each social media channel.
Other key metrics to add to your audit include:
Engagement Rate
Impressions
Monthly Growth Rate
Clicks
Total Interactions
Conversions
When it comes to auditing your paid performance on social media, make sure you have Twitter Cards, Facebook Pixels and Facebook Open Graph Tags in place on your website/s.
With these elements in place you will be able to view what is known as your "cost per" metrics.
Examples of Cost Per metrics include:
Cost Per Click
Cost Per Engagement
Cost Per Thousand
Cost Per Video View
Cost Per Conversion
The above will provide you with insight into how your social media campaigns have worked.
2. Earned Social Media Audit
Earned social media performance refers to public mentions of your brand on social media. This can be conducted using social media listening tools. These tools will pinpoint conversations and mentions regarding your brand by using keywords.
When you conduct your social listening, you need to discover:
Which social platforms are mentioning your brand the most?
What is being discussed about your brand?
Who is driving the conversation regarding your brand?
By implementing social listening you are able to learn more about how your brand is perceived. This will help your team understand the consumer in greater detail, and help you identify opportunities or make changes where needed.
Social Media Audit: The Wrap Up
By implementing a thorough social media audit you are able to identify any problems or opportunities related to your organic strategy, paid campaigns and target audience perception of your brand.
Now that you have completed all of the above, it is time to implement change across your digital channels.
Road-mapping Changes and Recommendations
Once you have all of the above information, it is time to build a digital marketing strategy based on your findings. Each part of your strategy or roadmap should be put together through key insights you learned in your audit. Once you have your strategy in place, you need to continually measure your key metrics and track your performance against the KPIs you have set up for your brand.
How We Can Help
As a leader in SEO, web development, social media and digital marketing, Nexa offers a free and instant website audit. In order to obtain your website audit, simply visit our website audit page, here.
Our free website audit will provide you with the following data:
Any technical issues that need to be addressed such as page load times.
Missing header information that will negatively impact your website.
Any content requirements based on the search terms are important for your business.
Website code analysis.
The current performance and user activity related to your website
Please feel free to download the report upon completion. If you have any questions relating to this, please complete the form on this page and one of our experts will come back to you.