The surge of direct-to-consumer (D2C) brands over the last year marks a significant change in the buyer's journey and the way brands do business. This disruption can even be seen with some of the worlds most established brands including Coca-Cola, PepsiCo and Heinz.
This explosion of business disruption took center stage during the outbreak of COVID-19 as many distribution companies and retailers had to close their doors and brands began searching for ways to reach the consumer without having to rely on the middleman. The online world offered an excellent opportunity for brands to stay afloat during this time and with digital platforms at the helm, brands turned to eCommerce for direct to consumer purchase.
But how do businesses make the D2C model work when the online space can be distracting and highly competitive? The key lies in understanding the your target market and consumers in greater detail than ever before. By leveraging social listening and customer data insights via Customer Relationship Management (CRM) platforms, brands are able to develop a powerful and trusted direct to consumer relationship which ensures their brand message resonates with the target audience.
What D2C has taught businesses is that building direct relationships with the consumer makes it possible to control brand representation and understand customer behavior at every stage of the buyer journey. By understanding the consumer, having data to predict behaviour, and driving the individual through the sales process - businesses optimize processes, save costs and ultimately increase the bottom line.
But, is D2C the future of business? The opportunities that present through this model certainly prove that D2C may, in fact, be the next-normal. Let's take a look.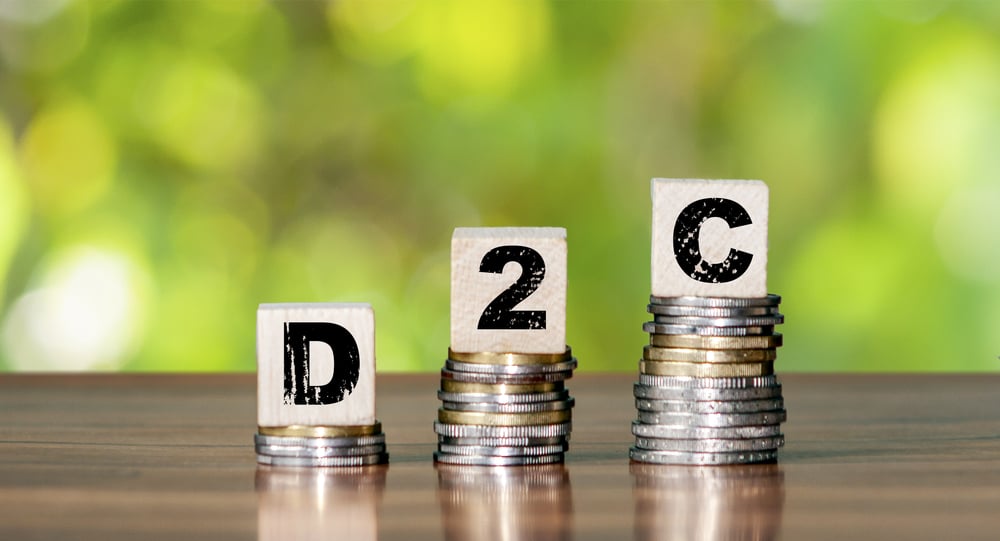 Direct-to-Consumer Business Model Opportunities
Today's consumer is more knowledgeable and empowered than ever before. They have the internet at their fingertips and can do in-depth research before making a purchase decision. This is why "specialism" has become important and brands need to provide a sense of authenticity when it comes to brand experience. Essentially, consumers want to feel seen and want to feel a part of the brand. And if you want to establish your brand as authentic and specialized, then digital channels are your starting point.
The new age consumer wants personalization, instant communication (via social media, chatbots and email) and a relationship with the businesses they choose to purchase from. But capturing these opportunities and building these relationships comes down to mastering the customer journey and customer experience.
By placing data-driven and personalized customer experiences throughout your business marketing and sales processes, you will achieve significant market growth, and this is why top brands are turning to a D2C model.
Below, we take a deeper look into the benefits that come with a D2C model and how you can optimise your D2C strategy to increase business growth.
The Benefits of a D2C Model and How to Make it Work for Your Business
There are a multitude of benefits that come by making the switch to D2C. With this tactic you are able to improve margins, develop brand awareness and brand advocacy, gain increased control over your market reputation and even have more control over brand packaging. All of this leads to increased customer loyalty and customer retention.
The D2C model allows brands to experiment with innovative distribution models or tactics. This covers everything, from shipping directly to consumers, to creating pop-up shops. This kind of innovation improves brand awareness while boosting lead generation - which, in turn, improves the bottom line.
Regardless of the D2C model you choose to take on, your success does ultimately depend on data-driven consumer intelligence to ensure you make the best marketing and sales decisions that are personalised for a greater buying experience. With data at hand, you are able to track potential clients, drive them through the sales pipeline, convert them into clients and nurture. This is where Customer Relationship Management platforms such as HubSpot, become a necessity - if you want the benefits of D2C then you will want to invest in a CRM.
The HubSpot CRM is a platform noted for its powerful features that enable brands to relate to their customers on a personal level, boost conversations, and improve revenues based on multiple interaction channels. At its core, HubSpot is an inbound marketing and sales software that helps companies attract visitors, convert leads, and close customers. The platform's tools can be used to host web and landing pages, create blogs and email sequences, and manage interactions with your leads and customers—all while analysing the success of campaigns and tracking user behavior. This is ideal for businesses looking to implement a D2C model.
You see, the greatest benefit of D2C is that you are able to understand the "why" behind your target markets behaviour and can use these insights to better your marketing and sales efforts across your business.
By using CRM platforms to track and monitor consumer behaviour via your D2C related digital touch-points you are able to:
Better serve customers and build deeper relationships with them
Differentiate your brand from competitors
Understand leads as individuals with different needs and expectations
Fine tune your service or product development, marketing, sales and service strategies
Selling directly to the consumer and monitoring them via a CRM makes it simple to acquire and analyse data. Today, leading CRMs such as HubSpot make it easy to collect customer experience data at every meaningful digital touch point and use this to gain actionable insights to close sales.
All of the above builds consumer trust by meeting them where they are at in the buying process. This is important because we live in an age where customer expectation is greater than ever - and brands need to provide a seamless and personalized service experience to ensure customer retention and greater sales. When brands worked with distribution companies (or any middleman) this is the information they were sorely lacking and now with D2C, they are able to get to know the consumer and create an experience that the consumer wants. This leads to increased sales and brand loyalty.
Unlocking the Next Normal: Direct Relationships with Customers
Armed with data, businesses can place customers at the centre of their brand which allows for more effective communication via digital channels. There are a variety of ways that businesses are using this kind of customer-centric insight to sell more and forge long-lasting direct to consumer relationships.
Some of these tactics include:
Identifying new opportunities: By using a CRM and social listening tools, brands are able to identify needs and create new service or product initiatives to increase customer lifecycle value.
Better problem-feature solutions to suit their target markets needs: Segmenting the customer experience across a variety of channels helps the brand identify individual customer activities as they progress through the pipeline. This eliminates any possible friction between brand and client. Whether including video tutorials, chatbots or content rich e-books, brands will understand what each customer needs at each stage of the buyer's journey.
Personalization for increased sales and customer retention: With data, brands are able to optimize every interaction and deliver the right brand message to consumers. And by understanding which message suits which lead, businesses are able to personalize conversations to create a positive experience for consumers.
For many brands, D2C presents an opportunity to take greater control over their brand, from the first engagement to the moment a product is purchased and beyond. By using data-driven insights, brands are able to ensure the personal touch that consumers expect in this day and age. This tactic cuts out the middleman, reduces costs and builds brand loyalty beyond the purchase stage.
With everything that is going on in the world, with businesses having to adjust to the new normal at a rapid rate, it is safe to say that direct relationships with customers will be the future of business.
Contact Nexa today for all your D2C strategy requirements, from marketing to sales processes and beyond, we have you covered.