Learning Management Systems (LMS) are the modern way for businesses to train employees and conduct their onboarding processes. It is a framework that facilitates online learning and is where you can house, deliver and keep track of your training materials. If your business hasn't yet introduced a LMS, now is the time - here's why…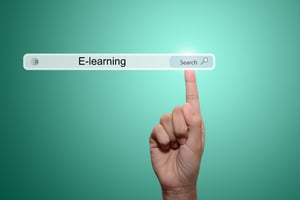 LMSs are being introduced in various sectors and industries. Google is one of the biggest companies to enroll all their staff on their LMS - that's 80,000 people! These systems can assist businesses with onboarding, filing skills gaps, upskilling and meeting legal or regulatory compliance requirements. Training is essential to the workforce, yet it costs a business valuable resources. This is what makes LMSs - central platforms for learning - so valuable to both businesses and employees.
LMSs provide structured and measurable eLearning. In some cases, this will be a standalone training tool, in other it can be used in blended learning that includes traditional on the job training.The format of the materials you share on your LMS will be dependent on the package you have chosen and the functionality it comes with. It can include the likes of short and medium term eLearning courses, in multimedia formats. Businesses can share videos, presentations, documents, webinars, audio and links with employees. This is geared towards providing highly engaging content to employees. Functionality can also include gamification options which boost interactivity in fun ways.
Benefits of LMS training for employees
Employees will have unlimited access to the content that is accessible at any time and from anywhere. Depending on the LMS, you may also be able to access it from various devices.
Employees can improve their performance and therefore be more productive. They can also have access to courses that will develop their skills further, with automated paths and recommended training materials.
It is a comfortable platform to learn from as it is designed to be easy to navigate and understand, with maximum knowledge retention in mind.
An LMS platform can be used to inform employees about updates on relevant information, such as research studies, new methodology, technological updates, new management practices and industry trends.
Benefits of LMS training for businesses
Strategy: Your LMS should align with your business's vision and values, as well as support your strategy.
Micro-learning: Businesses can spend less time and costs on training with LMS, yet increase the knowledge retention of employees.
Formalise training: You can ensure that the brand knowledge shared is of a high quality and consistent across the board. This content and the system itself is designed to facilitate learning that is accurate and timely.
Scalability: LMS is something you can invest in that will expand with your business, meaning you won't have to worry about outgrowing the system.
Automation: Depending on your LMS, you can automate certain functions to further improve your time management and operations in order to optimise the process. In addition to this, you can customise your training with the power of AI to ensure your employees get the best possible experience.
Analytical data: There are valuable insights which can be learned from LMS results, from competency of your employees to the skills gap in your company.
Growth: Having a centralised source of business knowledge assists your employees and therefore aids in business growth. It provides a solution fit for your business in its entirety when it comes to training.
Revenue opportunity: The content which you share on your LMS can be sold to other businesses. This includes courses, webinars and conference footage. Likewise your business can purchase training materials if need be.
LMS training tips
Social learning: Have open communication channels to improve the learning experience. It can put employees in touch with each other, as well as relevant managers who can offer support and constructive engagement.
Onboarding: LMSs are great for onboarding processes, as it allows you to put a systemic induction process in place in order to introduce, assess and integrate new employees in the workplace.
Gamification: Offer leaderboards, badges and completions bars to encourage employees to get involved with LMSs.
Feedback: While important insights can be learnt from monitoring and managing your LMS, it is also important to ask for feedback from employees. This can improve the system and increase satisfaction from all sides.
User-face: LMS design and customisation is crucial. If it is easy to navigate, it will be more effective. The dashboards and design should be thought of as the learning environment and a key factor in the success of your training.
LMS is all about investing in your employees. There are several benefits for employees, as well as your business. All of this leads to increased productivity and business growth. It is therefore a proven tool to facilitate learning and the best way to train a modern workforce.
Creating a LMS System for your business
In a post-COVID-19 world, businesses across the globe have realised the importance of efficiency, time management and automation. Each of these are designed to ensure that employees spend their time performing the most meaningful tasks rather than constantly repeating parts of their role that, with the use of technology, could be automated and implemented with ease. A company-designed learning management system can unlock hundreds of lost hours and can be implemented within weeks.
Day to day aspects such as staff training and new employee onboarding fall into this category of tasks that can embedded into a LMS, where employees can simply log in, access the materials and content they need and invest in their learning - at their own pace.
Are you looking to learn how a LMS can benefit your employees?
Chat with us at Nexa and we'll help you to identify if this is the right approach for your business.