Glassdoor is one of the world's leading recruiting websites and offers valuable insight from candidates and employees who have worked or currently work for companies looking to hire. The Glassdoor mission is to help individuals find the ideal jobs while helping companies recruit the ideal candidates at scale.
Glassdoor was founded by Robert Hohman, Rich Barton and Tim Besse in 2007 and was launched in 2008. The company first began as an American website but has since flourished into a worldwide platform for job seekers, employees, recruiters and businesses. As the company continues to grow, it has expanded its website insight to help those seeking work in the United Arab Emirates.
Made up of 7 emirates, the UAE's impressive growth over the years has made working in the region look rather impressive on any CV and this is why many business people from throughout the world are seeking work in the UAE, with Dubai being the business hub of the emirates. Dubai has a rich cultural heritage and English is the primary language in the region, making it the number one region for career opportunity in the UAE. Many Dubai residents and Dubai hopefuls are turning to Glassdoor to find the ideal job in the region or in the UAE at large.
As many job seekers are using Glassdoor to find the ideal business opportunity in the UAE, it is vital that UAE businesses establish a presence on the platform, engage with reviews and build up their Glassdoor ratings.
Below, we take a look at Glassdoor, how Glassdoor can benefit your company in the UAE and help you find the ideal candidates for your business.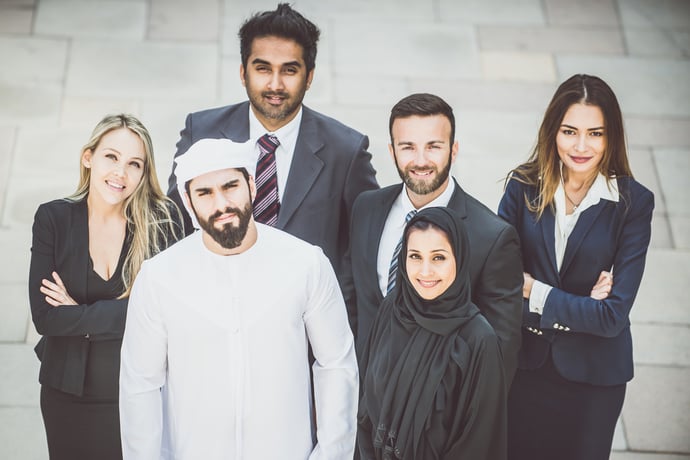 What Is Glassdoor?
Before we dive into how Glassdoor can help your UAE business, let's take a look at what the website offers.
Glassdoor was designed to encourage a sense of workplace transparency and has done this by combining the latest company ratings, reviews and jobs as well as interview questions, office photos, benefits reviews and more. But what sets it apart from other job related platforms? All the information on the site is shared by those who know a business best - its employees or past employees. As employees or past employees are able to share insight into a business anonymously, job-seekers or candidates are able to make well-informed decisions when applying for or considering a job with a particular company.
Now that we have a greater understanding of what the platform offers, let's take a look at how your UAE business can benefit from the website.
The Benefits of Glassdoor for Your UAE Business
When it comes to hiring for your business, your priority should always be to find the most suitable candidate for the position. If you are currently struggling in your hiring processes, then having a Glassdoor profile and focusing time on your Glassdoor presence will boost your employer brand and help you find the ideal candidates for your business.
Think of your candidates as consumers. Just like modern consumers, your candidates will vet everything online before making a decision. Glassdoor features reviews that add credibility or concern to a business, and with 48% of job seekers using Glassdoor, you can be certain your candidates will vet your company through the website.
So, how do you create a powerful Glassdoor profile to attract quality candidates?
3 Tips for Using Glassdoor to Better Your Business
1. Show them what it's like to work for your business
Speak to candidates and employees in a friendly, open and engaging manner when putting your profile together and responding to reviews. Keep clear of industry or business jargon to make your content easier to consume and to make your business appear more personable and trustworthy.
When it comes to posting positions on Glassdoor, keep things descriptive so that potential candidates are able to understand what the position entails - this manages expectations.
On your profile try to incorporate awards or business updates to show off your company's strengths and outline your values and principles. This will show potential employees if they are a good and positive fit for your business and helps them understand your business goals. This ensures that the candidates that reach out to your business are the right fit, and you will save your HR team a lot of time.
2. Concentrate on compensation and benefits
When it comes to job seeking, compensation and benefits matter most to job seekers. This is why it is important you make sure that your compensation packages are in line with your competitors.
Another important thing to note is that when a positive Glassdoor review mentions salary or benefits, you should reply to these reviews and in your reply, emphasize that this is a company priority.
3. Respond to all reviews
As stated above, you need to respond to positive reviews to show your company values and express your priorities. When responding to a positive review make sure to thank the reviewer and highlight positive aspects that can focus the reader's attention on areas of your choice - this will help to balance out negative reviews.
Negative reviews come with the territory and do not necessarily mean negative outcomes. You will stumble upon negative reviews on your Glassdoor profile and it is vital that you respond to them accordingly. Ignoring them is not the answer. Remember, we live in an online world and today's audience expects instant feedback.
So, how do you respond to negative reviews?
Respond to each review in a personable manner. Make sure to outline that you understand the issue, and are working to resolve it. Alternatively, if the review is coming from a place of spite, respond with questions, and try to get to the bottom of what is really going on with the reviewer in question. Be open to listen, remain calm and try to work through the problem with respect and an open mind.
Figure out patterns and fix what isn't working. Are there multiple reviews criticizing particular processes in the business? If so, work on these issues and take the time to resolve what isn't working within the company. Addressing these issues will help prevent further negative reviews while creating a better working environment which ultimately leads to more productivity in the workplace.
Job seekers appreciate honesty and transparency and a candidate will value an honest reply to a negative review. This will immediately put candidates at ease about your business - getting defensive is not the answer. By keeping your responses genuine you are expressing concern which proves a good company morale and great company value - which adds to your employee branding efforts.
By using the above tips you are showing potential candidates that you care about your business and your employees. You are showing initiative and a willingness to fix any internal issues. This is vital when recruiting new candidates in the UAE and will ensure your business receives only the highest quality candidates through Glassdoor - that is, candidates that suit your company values and are up for the task.
The Wrap Up
Today, with workplace competitiveness is on the rise in the UAE and the world over, stakes are high. In fact, 84% of job seekers in today's modern world state that they would switch jobs for a business with a better reputation. 69% of job seekers also state that they will not take a job from a business with a negative reputation. So, with these stats in mind it is important you keep an eye on your Glassdoor profile, engage with reviews and work through common issues in your company.
Glassdoor can play a significant role in bettering your HR efforts, helping you find the ideal candidates for your business. If you are looking to better your HR efforts, we can help.
Speak with us at Nexa. Let's design an HR solution tailored to your business needs so that you can make the most out of your HR efforts.