Today, automation plays a role across all industries and across all departments. CRMs such as HubSpot provide automation across marketing, sales, service and content and this kind of technology is not only bettering our work processes, it's better the bottom line.
The modern marketing world understands the needs of the tech-savvy consumer, and these consumers expect instant communication and brand engagement. With this in mind, marketers are seeking the best widgets and software to make the buyer's journey smoother for the consumer and this is where the chatbot comes into play.
What Exactly is a Chatbot?
A chatbot is a programmed interface that a website visitor is able to interact in real-time. These "bots" are programmed to behave and converse like humans and interact with the visitor in a conversational tone.
You have probably used a live chat tool on a website previously, and chatbots are similar to these tools except the responses of the chatbots are programmed to be more personalized and answer specific questions - not just generic ones. This means that chatbots are designed to drive the customer journey smoothly and quickly without having leads fall through the cracks.
Essentially, chatbots are website assistants that help consumers or potential consumers find their way on your website and learn more about your brand. So, before we get to the main question, let's take a look at the two primary chatbot options.
What Are the 2 Primary Types of Chatbots?
Simple chatbots are designed to respond to certain commands and keywords that have been programmed by the developer.
Advanced chatbots make use of Artificial Intelligence (AI) and this allows them to understand basic language which means they can respond to multiple questions without needing to be pre-programmed for phrases or keywords. With this kind of chatbot, your visitor will be able to have a natural conversation with the chatbot, making it feel as if they are communicating with a real person from your business.
All of the above outlines what a chatbot is and the two main chatbot options available today. Now it's time to look at why your business should invest in a website chatbot as we head into 2022.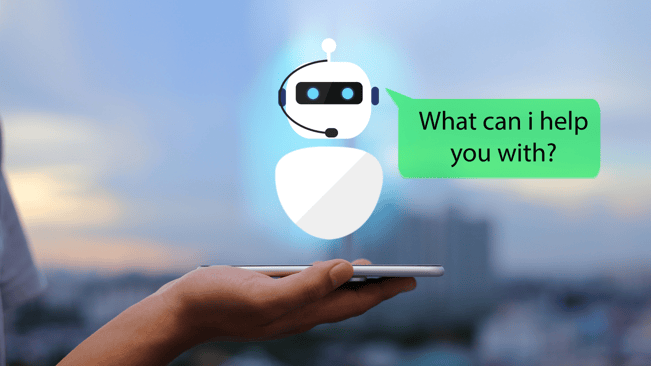 What Are the Benefits of Chatbots?
Simplify the Buyer's Journey
Your website should provide all the information your customer requires about your brand, products or services. However, there may be information that is not readily available on your site and today's modern consumer doesn't want to jump through hoops to get their answers.
If your information is not readily available, you can be sure that the majority of consumers will quickly move on to your competitors and this is why chatbots are vital. Your customer will be able to effortlessly click on your chatbot and get the answers they require without having to click off your website. This betters the buyer's journey and instils confidence in your business - driving the buyer's journey further and ensuring no lead gets left behind.
Bots aren't human however, they are able to mimic human conversation effortlessly. They are also designed to keep the conversation streamlined and flowing, conducting business naturally and in an organized manner.
Bots also take the emotion out of the conversation and are able to be calm and collected if a customer is angry or rude - making the communication process easier and rebuilding trust in the customer. Essentially, your bot will diffuse any problems that may arise as they treat all customers and lead equally and provide them with undivided attention - something the new-age consumer expects.
Bots offer the ultimate customer service and support and this provides your website visitors with a more personalized experience - making them feel important and valued. Bots are also able to navigate leads and customers through your website - even assisting them throughout the checkout process and driving them to make a purchase.
Bots are also similar to virtual assistants and are able to make recommendations and suggestions that are expertly crafted to increase sales and better your bottom line.
Chatbots provide information quickly and answer enquiries timeously, turning visitors into time-sensitive leads. Bots are also able to schedule meetings on the spot and guide potential customers or current customers to members of the sales team. If you are an eCommerce business, they also have the power to turn visitors into paying customers on the spot.
Learn more about Chatbots for eCommerce here.
Another benefit of bots is they can handle the qualification process for you. This is because they are able to collect data based on the prospective customers' website engagement, separating qualified leads from those that aren't. This is a huge advantage for your sales team and reduces dead-end leads that waste company time.
The Wrap Up
With everything a chatbot has to offer your company, you're probably wondering why you are only considering getting one for your website now. It's time to take full advantage of this incredible AI and drive the buyer's journey effortlessly - ultimately increasing your bottom line.
Contact Nexa for all your website requirements, from design and content management to chatbots and AI capabilities.