A world showcase of human achievement will take place in Dubai from 1 October 2021, and over a 6 month period, innovation and inspiration will have a new home.
The "Expo 2020" in Dubai will bring the world together, and show us all how powerful the human mind can be. With the World Expo theme being, "Connecting Minds, Creating the Future," and with its three sub-themes being: Opportunity, Mobility and Sustainability, it is set to drive progress and stir hope throughout the globe. With 192 countries participating in the event, there will be hundreds of exhibitors sharing their innovation and ideas with the attendees - and with so many sharing their inspiration, you need to make sure your expo stand stands out.
So, where do you even begin when it comes to marketing your expo stand? Digital marketing is key to expo success and all digital tactics have one thing in common - they all link back to a website. It's all well and good to have a primary brand website - but it is important that you design and develop a website solely for your exhibition at the Expo. And we are here to tell you why.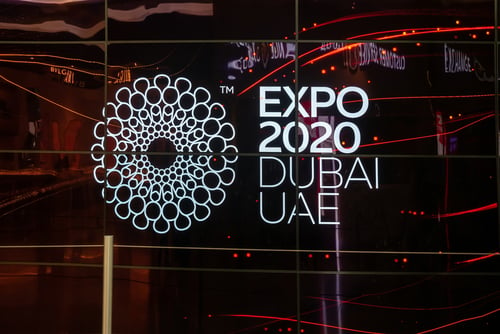 Why you need a new website for the Expo 2020 (2021) Dubai
A website is the home of your business and is the place potential customers visit to find out more about your offerings. Your website is a place that informs, educates, builds trust and nurtures relationships and it is also a powerful marketing tool. Every business or brand needs a website that outlines everything they do and offer as an organisation and of course, if you are showcasing at the Expo 2020 (2021) Dubai, you need to make it prevalent on your website and related digital platforms.
However, the Expo 2020 (2021) Dubai is a massive global event that spans a period of 6 months - and a single web page or landing page on your current business site will not be able to fully inform attendees about the event and what you plan to offer at the event. This is why you should create a brand new website that informs attendees about your business and your appearance at the event. This new website will of course link to your current website - but will house all the relevant information that attendees and potential attendees will need. Your website will also help you rise up the search engine result ranks ensuring information about your stand is discovered by users who are actively searching for information about the event - and this is how you get more feet through the door and create greater buzz.
This is just the tip of the iceberg, so let's take a deeper look.
Reasons you Need a New Website to Target Expo Visitors:
Reach a wider audience


When you are looking for information about something, you usually turn to Google or a related search engine, right? The same goes for event attendees or potential attendees. These individuals will take to the internet to find out more about what is being showcased at the Expo and you will want them to find out about your stand and your expo offerings. This is why it is important you create a website solely dedicated to your showing at the expo. Essentially, you need to be where the global attendees are - and they are all online.

To ensure your website is seen by those searching for information about the event, you need to invest in Search Engine Optimisation services. Search Engine Optimisation, or SEO, is the process of improving the quality and quantity of traffic to your website from the search engines. This tactic ensures that when a user is searching for something related to the expo and your services at the expo, that your website will come up in the results pages. This directs high quality traffic to your site and helps your marketing gain even more momentum. SEO does take time and is a long-term process however, if you want to make a search engine impact as quickly as possible, then Paid advertising is a great alternative or an added benefit on top of your SEO.

An example of Paid advertising is Google AdWords. This is an online advertising model that allows advertisers to bid on specific keywords in order to display a brief website advertisement on the top of the Google search engine results.

Regardless of which marketing model you choose, your website has the power to reach a wider and high quality audience to ensure your stand gets the attention it deserves.



Communicate your Brand Identity:

The Expo 2020 (2021) Dubai is set to be one of the most immersive and eye-opening World Expo's to have ever taken place. Your website needs to take this interactive and immersive event and make it your own. Immerse your website visitors into your brand, innovation and inspiration by creating a brand aware, interactive and engaging website. Make use of videos, blogs, imagery and social sharing buttons to ensure users get a taste of what is to come from your stand at the expo.

Through professional website design you will be able to turn your expo website into a great brand advocate, one that is easy to navigate and provides users with a great experience.

Analyse and Track your Website Visitors:

What makes digital marketing tactics so powerful is the ability to track and analyse these tactics. In the past it was difficult to track traditional marketing efforts (if at all) but thanks to the online age, we are able to track website visitors, analyse their behaviour on websites, and view the pages they visited.

This will help you understand your audience demographics which in return, helps your marketing team view what is working and what is not working on your website.

By knowing your visitors' demographics and interests, you can create targeted content and get better visibility on search engines.



Website analytics will give you an in-depth analysis of your website visitors, allow you to find out how your visitors actually found your website (was it through social media or search engines?) which in turn allows you to amend your tactics to make for even greater success.



Quality Content to Answer Questions and Inform:

By providing potential attendees with helpful information on your expo site, you are saving them time and building trust. Your website content marketing should provide details and organised information about the event and your showing at the event. This content can take the form of blogs, videos or a stand alone page on your website (or all three) and is a good way to help attendees learn more about what they can expect from your business or brand at the expo.

Not only will this kind of quality content inform your audience, it informs search engines about what your website represents. You should always keep that in mind when putting together your website content, and make sure that you use the right keywords and key-phrases in order to accurately communicate your website's purpose to the search engines.
In Summary
These are just a few of the reasons why you should create a new site for your exhibit at the Expo 2020 (2021) Dubai. Essentially, you want your potential attendees to easily identify the value of your expo stand and hit register or sign up for email notifications to keep them informed about your expo attendance - and all of this can be done through a website.
Digital marketing is vital for maintaining your business status at the Expo and is a way to create hype about your brand and what you can offer the public.
Founded in 2005, Nexa has helped hundreds of organisations from small startups to large multinational businesses providing high-quality digital marketing services. As a digital marketing company based in Dubai, and with years of experience in the marketing industry, we can help you market your business and your message during the Expo 2020 Dubai.
Our mission is to help drive growth for forward thinking companies and we will combine innovative marketing, sales and service technology and strategies to maximise your business opportunities.
Contact the Nexa team today and marketing your business for the Expo Dubai 2020