In the past few years, growth marketing has skyrocketed across the globe. In fact, over the last 5 years, interest in growth marketing has doubled in the United States and this search-result trend suggests that marketers are quickly adopting this methodology in 2022.
There are a lot of questions surrounding growth marketing and why this kind of strategy is becoming increasingly popular amongst marketers and businesses.
In this article we answer the below questions:
What is growth marketing?
What is the difference between growth marketing and traditional digital marketing?
What are the primary components of a growth marketing strategy?
How can you implement a growth strategy for your business?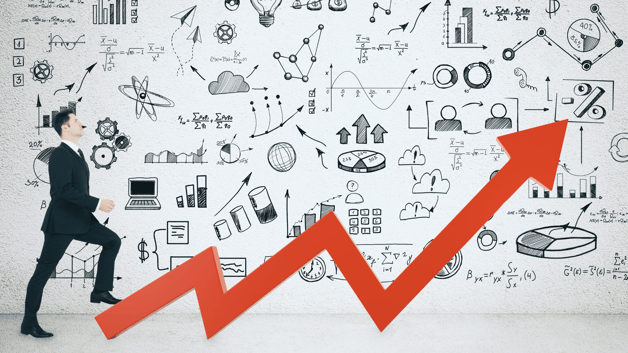 1. What is Growth Marketing?
Today, many marketers are referring to themselves as "growth marketers," but this terminology has a lot of business owners scratching their heads. What exactly does growth marketing mean and what makes it a better option than traditional digital marketing strategies?
Growth marketing refers to the approach of attracting, engaging, and retaining customers through a series of experimentation, data, analytics, and intense customer and potential customer focus. By crafting and delivering personalized and tailored messaging that aligns with each individual customer's needs, marketers are able to optimize organizational growth through a variety of channels - reaching the customer at the right time, in the right place, with the right message.
2. What is the Difference Between Growth Marketing and Traditional Digital Marketing?
Traditional marketing usually relies on the same tried and tested strategies when it comes to reaching customers. For example, marketers will promote a sale, send out an email blast to existing customers, run a Google campaign using repetitive keywords and share social media posts to boost follower engagement. Of course, these kinds of methods yield results, but because this kind of strategy is so repetitive, the response to these campaigns will diminish over a period of time.
In stark contrast, growth marketers are able to use growth hacking that allows room for experimentation with different digital channels, which helps to better marketing spend in the long run. Essentially, through growth hacking businesses are able to identify what marketing tactics are working and what tactics need to be amended for greater results.
You may be wondering how these tactics can actually be tested and how accurate this kind of testing really is. Thanks to continuous advancements in marketing technology, testing is becoming more and more accurate and growth marketers are using A/B testing and related experiments to identify what content is being seen and what kind of audience is viewing this content. This results in highly optimized strategies that can be crafted for the individual viewer/lead.
With growth marketing, campaigns become highly personalized and targeted because marketing technology is able to identify behavioral cues of audience segments and customize strategies to suit the segment, which in turn drives them through the buyer's journey.
By focusing on building a highly personalized buyer's journey, acquisition costs are cut in half, revenue grows up to 15% and efficiency in marketing spend rises by 30%.
To sum it up: Growth marketing places emphasis on building customer relationships and nurturing loyalty. This kind of strategy is long-term and organically grows a customer's lifetime value.
3. What are the Primary Components of a Growth Marketing Strategy?
As stated previously, a growth strategy is one rooted in data, metrics, and analytics. The kind of data included in a growth strategy includes customer acquisition rates, customer retention rates, and customer lifetime value.
The primary components of a growth marketing strategy include:
Also known as multivariate testing, A/B testing is the core component of growth marketing. This kind of strategy can be used in a variety of formats and across landing pages, email marketing, social media advertising, and more. A/B testing involves the deployment of either "A" or "B" tests which help you identify which variation of your content is doing a better job of engaging the audience and reaching the target market. This can be calculated based on conversion rates and optimized for future marketing endeavors. Your team needs to focus on this kind of testing in segments in order to understand how different audiences react to the content. This makes for greater personalization and niche marketing tactics to ensure greater results.
Cross-channel marketing or multi-channel marketing focuses on crafting a strategic marketing channel plan to reach your audience. This includes social media marketing, email marketing, in-app messages, and more, based on your audience preferences. The key here is "audience preference." You need to focus on building individual and segmented experiences for your audience. A/B testing allows you to identify what certain audiences respond to, and this allows you to customize future campaigns accordingly. This kind of strategy helps you build a holistic and organic marketing plan that integrates multiple channels of communication, helping you grow your audience even more through contextual campaigns that reach the right audience, at the right time, with the right message, at the right place.
The customer lifecycle refers to the journey tour customers take as they learn about your business, engage with your business, convert and re-engage with your business. Growth marketing takes 3 stages of the customer lifecycle into consideration, these being:
Activation
Nurture
Reactivation
These three stages are marked by specific marketing campaigns.
The Activation stage: The activation stage is the beginning of the customer lifecycle when consumer attention and interest are activated through marketing. Growth marketers target customers with welcome messages, trials, and related introductory campaigns to build credibility and familiarity.
The Nurture Stage: The nurture stage is where companies create marketing campaigns designed to nurture, engage and strengthen relationships with leads... This stage is made up of the majority of cross-channel marketing.
The Re-engagement Stage: This is when companies reactivate engagement to drive retention and customer loyalty through post-purchase and loyalty marketing campaigns.
4. How Can You Implement a Growth Strategy for Your Business?
When you're attracting new customers you never want to push too hard for a sale, this can be an immediate turn off especially in the digital age. Rather, you need to build a long-term strategy that helps them gain trust and familiarity with your brand. This will organically lead them to the next step in the buyer's journey.
To begin, focus on content and thought leadership articles that engage, inform and add value to the reader's life. It is also vital that you create targeted buyer personas to help you understand who your prospects are and how they prefer to be approached. There are multiple ways to reach your target audience and A/B testing will help you identify which channel works best.
Make sure to experiment, build and test! And begin your growth marketing journey today!
The Final Thought
In the digital age, we have multiple tools and technology such as Customer Relationship Management software designed to help you collect the relevant information and ensure the most optimized growth marketing campaigns.
In the world of business, no word is more important than GROWTH. Standing still should never be an option. If anything, it's a backward move. Growth creates opportunity, growth is power. Fast, sustainable, and efficient growth is the utopia.
This is what we do.
Contact Nexa, for all your growth marketing needs.