Glassdoor is the international leader in job insights and businesses across the globe. The website is built on the foundation of increasing workplace transparency to ensure employees find the ideal job environment to suit their needs. The website combines the latest job listings with millions of business reviews and ratings, salary reports, CEO approval ratings, benefits reviews, office insight and photos, and more. Different to other job related sites, Glassdoor uses information that has been shared by employees or former employees to gain greater insight into the goings-on at a company. Employees and former employees are able to provide their insight anonymously and this is why thousands of employers across all industries are focusing more on employee happiness and company values.
Not only does Glassdoor help employees, it also offers employers and HR departments insight into what is working and what needs to be amended internally, which makes for a greater working environment and less staff turnover. The platform also allows HR teams to recruit and hire only the highest quality candidates at scale who will stay with the company longer.
This is why Glassdoor is one of the fastest growing job related websites in the world.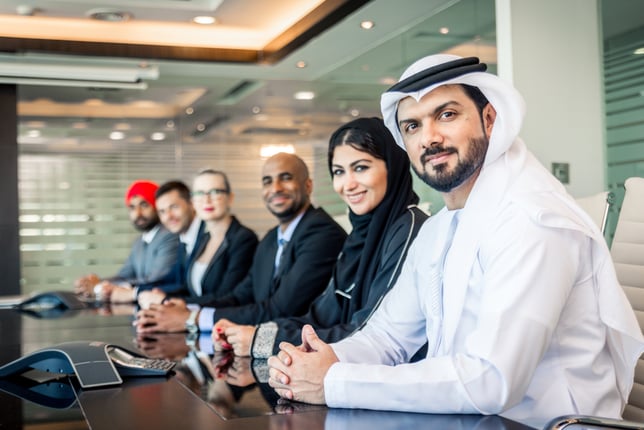 Glassdoor in Dubai
The number of people moving to and working in Dubai is increasing every year, with the popular UAE city becoming a hotspot for expatriates and contractors from around the globe. This is because Dubai is considered the business hub and financial center for the Middle East and offers a stunning lifestyle for those seeking adventure and career growth at the same time.
This is why Glassdoor has become hugely popular in the Dubai space. As the website offers insight into Dubai working environments and provides insight into different industries across Dubai, many job seekers are turning to the site to make career decisions in the region. With this in mind, Dubai businesses are beginning to focus their attention on the website and are using it to gauge employee satisfaction and find the right candidates for their business.
So, how should you use Glassdoor to better your Dubai business and work environment? Let's take a look.
How To Use Glassdoor to Better Your Business in Dubai
It is important that business owners, managers and HR professionals know what employees are saying about their business. This is why it is important that all businesses in Dubai check their ratings on Glassdoor. In today's competitive job market (particularly in Dubai), you can't afford for job seekers or current candidates to form negative opinions about your business. This is why your team needs to address any issues that have been outlined by anonymous employees and work to repair these issues - boosting your Glassdoor rating significantly.
With this kind of attention to detail, you can encourage your employees to take part in Glassdoor so that you are able to view their grievances and provide them with the tools they require for a better working environment. By emphasizing the importance of Glassdoor to your employees, you encourage feedback and provide them with a space that builds trust - which will ultimately improve your ratings. When you begin to improve your ratings you will strengthen your hiring efforts and attract quality talent - building a powerful employer brand.
But, how do you ensure your employees will leave positive feedback? This comes down to strategy. You see, in order to attract great reviews, you need to be a great employee. While there is no perfect method for managing your image on the website, below we have outlined 4 steps to set you on the right path.
1. Optimize Your Free Employer Account
Make sure to keep an eye on your business account as any inaccuracies can cause long-term damage. The way to begin this is to claim your Glassdoor account. This is the best way to protect your business image on the website. Once you have claimed your account, you are also able to update your company information and respond to reviews. You will also be able to flag something if it is not factually correct. You'll also have access to what is known as the "employer center" where you will be able to analyze your business on the account, this means you have access to analytics like page views and profile visitors demographics.
2. Encourage Employee Reviews
By this, we don't mean that you reward employees or incentivize them to leave positive reviews - this is a big no-no and is strictly prohibited. However, you can encourage them to review your business on the website. Encouraging employees to review your companies can give you insight into what you are doing right, what you are doing wrong and how you can improve your internal operations. So, how can you encourage employees to review your business?
Don't reach out to all your employees at once, this will not only look suspicious but it is against best practices. Select a person to reach out to happy employees and inform them of the opportunity to review. But don't only reach out to employees you are certain will leave a positive review, reach out to new employees or employees that may have certain departmental grievances that they feel uncomfortable to speak about or report publicly. By encouraging employees to share their thoughts anonymously, you are building trust and showing your team that you do, in fact, care. It is up to you to put practices in place to amend these grievances or explain why things work in a certain way.
3. Respond to Reviews
We live in the digital age and people expect instant engagement and interactions with brands online. Glassdoor expectation is no different. It is vital that your organization respond to reviews on Glassdoor. This shows that you respect employee opinions and are actively interested in bettering the work environment. In fact, according to Glassdoor data, 62% of candidates say that their perception of a business changes once seeing an employer respond to a review respectfully and in a personalized manner.
4. Improve Best Practices With Reviews
It is all well and good to receive honest feedback regarding your business on a site like Glassdoor - however you need to make this feedback work for you. Take a long, hard look at your reviews and assess what patterns are emerging. If your employees are saying similar things, you need to make a change. This could be a simple change in business processes, such as bettering communication between employees and managers.
Use the negative feedback in a constructive manner and then be transparent with your employees and the anonymous reviewer about what you are doing to fix the situation. This will show potential employees and current employees that you are dedicated to creating a positive work environment and are willing to listen to any feedback.
The Wrap Up
The above outlines the 4 simple steps you should take when beginning your Glassdoor journey as a business. Glassdoor should not be viewed in a negative light by businesses, but rather should be used strategically to better the working environment, customer service and overall brand identity. You see, through this platform you are able to up the employee satisfaction levels which results in increased productivity which ultimately betters your bottom line.
Your HR team needs to embrace Glassdoor, and the digitization of HR as a whole.
The digitization of HR is the use of technological tools, systems and platforms to fulfill the duties of this department in the most effective way. These automations streamline processes, saving both time and money. It also ensures you're hiring the right candidates which as we know, can make all the difference when it comes to the success of a business.
Speak with us at Nexa. Let's design an HR solution tailored to your business needs so that you can make the most out of your HR efforts.