Search Engine Optimization, commonly referred to as SEO, is the process of improving the quality and quantity of website traffic or web page traffic from the search engine results.
As a digital marketing strategy, SEO considers how the search engines work, understands search algorithms, unpacks user intent and analyses user behaviour in order to optimize website or webpage reach.
However, it is not a simple process and SEO consists of a variety of specialized tactics including:
On-Page Optimization
Content Creation
Off-Page Optimization
In this article, we will be unpacking on-page optimization for Search Engine Optimization.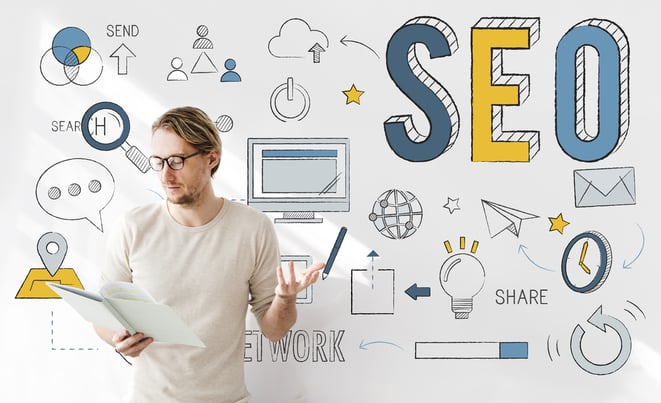 Defining On-Page Optimization
On-page SEO, also referred to as on-site SEO, is the act of optimizing website pages for specific key phrases and keywords in order to better search visibility and website traffic. However, on-page SEO isn't just about keywords, it involves a variety of tactics including page specific elements such as headings, title tags and internal links.
The Importance of On-Page Optimization
If you want the search engines to reward you with website or page visibility, you need to take your on-page optimization efforts seriously. In the past, SEO used to be solely about keywords within website content but keyword stuffing has quickly become a thing of the past. This kind of tactic not only ruins the authenticity of your content and the user-experience, it is also quickly flagged by Google.
Since the age of keyword stuffing, Google and related search engines have advanced and search algorithms have become much more sophisticated, making on-page SEO more user-focused than ever before. Essentially, when implemented properly, your on-page SEO should allow search engines to understand your content and rank the most relevant pages or URLs for specific user queries.
So, how do we keep the search engines and the users happy with on-page optimization? Let's take a look.
What Makes Up On-Page Optimization?
1. URLS for On-Page Optimization
A URL (Uniform Resource Locator) is the address for a resource on the Internet and Search Engine powerhouse Google has explicitly stated that URLs help them understand more about your website and webpages.
Example of a URL:

So, how are you able to optimize your URLs for the search engines?
Include your primary keyword in the URL to help users and search engines understand the content of your web page.
Place keywords as far to the left of the URL as you can. This helps the search engines crawl your website easily.
Make sure to use real words in your URL as opposed to focusing on keyword stuffing for the sake of keywords.
Keep your URLs short and precise. This makes it easier for the search engines to crawl and for your audience to read.
Make use of hyphens between words as this makes your URL more readable.
2. Title Tags and Meta Descriptions for On-Page Optimization
Meta tags are one of the most vital on-page optimization elements, particularly page titles. You see, every web page has its own unique title tag and this appears in the search results as a kind of headline. This meta description is a short summary of the content that appears on the particular page and can be seen below the title of the page that appears in the search results. Both the title tag and meta description are important and help search engines and users understand the purpose of your web page.
Both these elements play a vital role in the decision making process when it comes to whether or not a user clicks on the listing the search results. When both the meta description and title tag are optimized, the Click-Through-Rate will rise, ensuring a webpage gains more quality traffic.
Example of a Title Tag and Meta Description:

So, how are you able to optimize your Title Tags and Meta Descriptions?
Place your primary or chosen keyword toward the beginning of the title itself
Keep your title at a minimum of 60 characters so that it isn't cut off in the search results
Try not to use capitals in your title tags
Each page must have a unique title so that search engines don't read pages as "duplicated"
Your meta description needs to accurately describe the contents of your web page. Essentially, this should be treated like an advertisement.
Make sure to include your primary keyword or chosen keyword in the meta description.
Make sure that your title tag and your meta description is easy to read so that the user is compelled to click through to your website
3. Structured Data for On-Page Optimization
Structured data is specific on-page SEO code that you place on your pages. For example: if you are offering a product page that includes pricing information you need to make sure that the information is presented in a way that Google can understand and interpret.
To put it as simply as possible, it is a standardized format to mark up the information about the web page. This format serves search engines like Google, Bing and others to better understand what the web page is about and this data can then be used by search engines in what is known as rich snippets, to visually improve the user experience. And this rich snippet will increase the chances of someone clicking through to your website as it is more visually appealing and data filled than regular search results.
So, how are you able to optimize your website for structured data?
A tool such as Schema Markup Generator allows you to create structured data for each of your web pages to help you organize your data in the search engine results.
4. Page Headers for On-Page Optimization
Using multiple headers also known as H1, h2 and H3 tags, helps your SEO efforts in multiple ways. Headers make it easier for users to reach your content as it helps them navigate certain sections of information presented on a page. By giving a website multiple headers, you help the user quickly understand the content which improves the user experience and keeps them on your website for longer. And by keeping users on your website for longer, you score points with the Search Engines, which in turn helps you rank higher in the search results.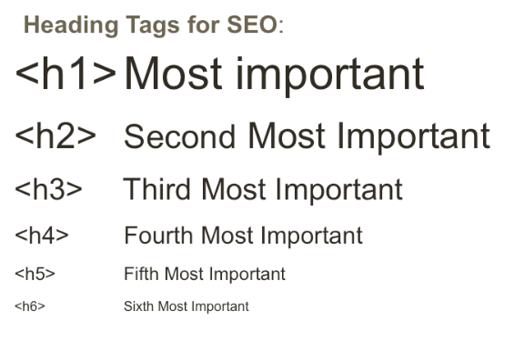 So, how are you able to optimize your headers?
When crafting headers for your website make sure to use your primary keyword
If it makes sense contextually, include keywords in your subheadings
Add long-tail keywords in some of your headers
5. Internal Linking for On-Page Optimization
SEO linking refers to a type of hyperlink on a web page that links through to another online resource or web page. There are two types of SEO linking: external and internal linking.
Internal linking refers to a link on a web page that clicks through to another page on the same site and this tactic helps search engines understand the relationship between pages on your website.
External links clicks through to online resources or web pages hosted on another website which reinforces the context or relevance of your content. This helps the search engines recognize your website as a reliable source of information.
What makes internal linking so powerful is that it makes for a greater user experience and helps people discover more of your content, expertise, offerings and services. For example, a user may click on your product page and can quickly be redirected to a page that offers additional insight into the product being offered. Not only does it keep users on your website for longer, it also betters your bounce rate and conversion rate.
So, how are you able to optimize internal linking?
Link out from authoritative pages such as your homepage
Make sure the anchor text for your links consist of a keyword or key phrase that you want the linked page to rank for.
Don't repeat the same anchor text over and over again as this will be recognized as keyword stuffing.
Internal links don't necessarily boost your website authority but they do keep users on your site for longer, which in turns, solidifies your website's authority.
In Conclusion
The above outlines 5 technical elements of on-page optimization while providing helpful tips to better your on-page optimization efforts.
On-Page Optimization Key Take-Aways:
Use descriptive and straight-to-the-point URLS
Optimize all title tags
Craft informative meta descriptions
Always make sure to add structured data to your webpages
Optimize all your headers
Add internal links and external links to your webpages
But this is not where it ends!
One of the most important aspects of on-page optimization lies in content creation. Keep an eye on our "Guide to SEO series," as we will be diving into the ins and outs of content creation for Search Engine Optimization purposes.
If you are interested in implementing the highest quality SEO for your website, contact the Nexa professionals today.