A key component of your business' digital marketing strategy should be the creation and hosting of Webinars. These online seminars are versatile and offer businesses with a highly effective way to communicate with their audience and build their brand. A business who can attract people to sign up for a Webinar will have the opportunity to share valuable insights with high quality leads who are engaged with the Webinar subject matter and the host company.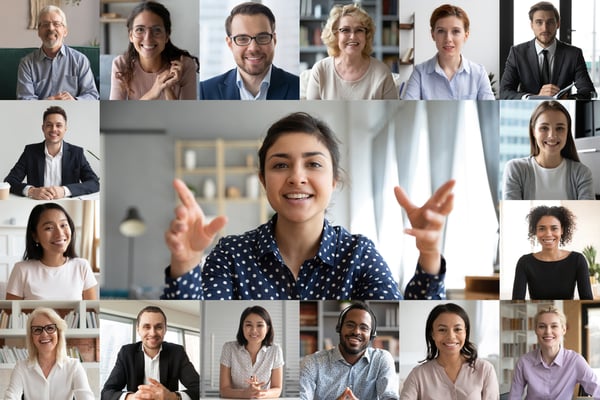 Prior to 2020, Webinars have predominantly been used in B2B marketing in addition to video content and hosted events. The technology, financial and educational industries have utilised this form of content most. With the world moving towards remote living and working due to the COVID-19 pandemic, Webinars have grown in popularity across various industries as an interactive medium of communication and potential source of new business.
For customers, Webinars offer valuable content that is free and easily accessible. After seeing a promotion or invite to join, they simply register for the event. Studies show that on average, 44% of people who register for webinars attend. Businesses can capitalise on this and spark the route down the sales funnel. However, since the audience is investing their time, the content needs to be of a high quality - a perception of wasted time will be damaging to a business. The goal is to increase the visibility, traffic and relationships that your business has.
For a business to host a successful webinar, an ideal start is to create a landing page on their website. This page needs to be geared towards creating conversions, so the call to action of registering for the webinar needs to be clear. Information about the experts or expertise that will feature in the event should be included, as well as the benefits one will gain by participating. While it may seem like a simple live broadcast, webinars require a fair amount of work in order to be successful.
Webinar topics: Pick a topic that engages your audience
Topical: Is there a trending topic that relates to your business? Join in on the discussion - it'll show your business as being transparent, innovative and a though-leader and you can leverage the popularity of the topic to attract a relevant audience eager to learn more about the topic.
Niche: Hone in on the niche topics related to your industry so that your content stands out. Does your company provide a specific product or services that is different to your competitors? Use this to educate your audience about what makes your company different.
Perspective: Offer unique perspectives on whichever content you share - it needs to be fresh.
Tutorial: If your product or service will benefit from tutorials then showcase that to your audience. Webinars can be practical as much as they can be conceptual.
Authority: Gain credibility based on your knowledge and build your perception as an industry leader.
How to produce a webinar
Plan: Design a webinar that is suited to your audience. Your ultimate goal is to present, solve and sell. Brainstorm the best method and decide whether you're going to create a one-off Webinar or if you are going to host a regular Webinar series. Likewise, decide if it's best to have a presenter or multiple presenters, and whether your Webinar is going to be presentation-based or a live, unscripted discussion between panelists and presenters.
Prepare: Once you have planned what you'd like to share, you need to work on creating the content. You will most likely need to research for the webinar, ensuring that you produce high quality content. Remember, if you are unprepared during a live webinar, your audience may see this and may cause damage to your brand.
Promote: It is essential to market your webinar appropriately, since it takes time to prepare. Gather as many people as you can through emails, notices on your website and social media. Consider running digital media campaigns so that you can attract a wider audience than your existing database or social media community.
Run: And you're going live! Have your set up ready with any equipment necessary - a mic, camera, an appropriate setting and back up plans for technical issues well ahead of the start time. You should also ensure any resources you need are prepared. Consider running a trial Webinar as well especially if you have guests or panelists that are unfamiliar with the technology.
Follow up: Be sure to follow up with a message of thanks to your audience, along with any other resources or links you'd like to share with them.
Redirect: Any viewers who watched or participated in the webinar but did not go further down the sales funnel for a particular product or service at the time can be redirected to other, more suited options that exist within your business.
Repurpose: You can repurpose the webinar so that is it available on demand. Also think about repurposing the content for use and distribution on other platforms. Many popular Webinars are now converted to Podcasts and are enjoying great success from this.
Tips and best practices
Understand your audience: Make considered decisions regarding the format of the Webinar - what topics would they appreciate you covering and what's the best way to present and convey the information?
Format: Depending on the topic at hand, you may decide to have an expert, a panel, or an interviewee for the webinar. The format could be topically based discussion with interactive Q&A's. It could also be more direct, showing a demonstration or presentation for a particular product.
Platform: Zoom, FB Live, IG Live, YouTube Live, Adobe Connect, Zoho are just some of the options of platforms for your webinar. Social media has few restrictions, can be accessed from a browser and has high reach, while using a specific software platform, there is a more professional execution, more specific and invested viewers and improved opportunity for them to interact.
Emails: Each registration is an addition to your email list and with their permission, should be added to a database where you can inform them of future events or other related information.
Test: Run through your presentation before going live to iron out any issues and identify ways in which you can make improvements.
Schedule: Stats show that Tuesday, Wednesday and Thursday are the most popular days for webinars. Select a time (and time zone) that is convenient for the majority of your audience.
The unknown: Be early and ready to deal with the unexpected, from technical issues to q&a time after the webinar. It is advisable to have an assistant on hand for this.
Experience: Your audience should end the webinar feeling as though they enjoyed their time spent with you and gained valuable takeaways. If you want to go the extra mile, you can secure these leads by also offering viewers further incentives.
Ready to incorporate webinars into your digital marketing strategy? With a slew of benefits and opportunity, there's no time like now to begin producing live seminars for your audience. Book a meeting with us at Nexa; we can help get you started.
Join our Digital Growth Series, hosted by Nexa CEO, Amit Vyas, and Managing Director Andrew Thomas.