The UAE and Saudi Arabia are two of the main countries driving business opportunities in the GCC. Tap into these emerging markets with guidance from Nexa, one of Dubai's best digital marketing agencies. Here's how to market your business for successful brand awareness and marketing for these consumers.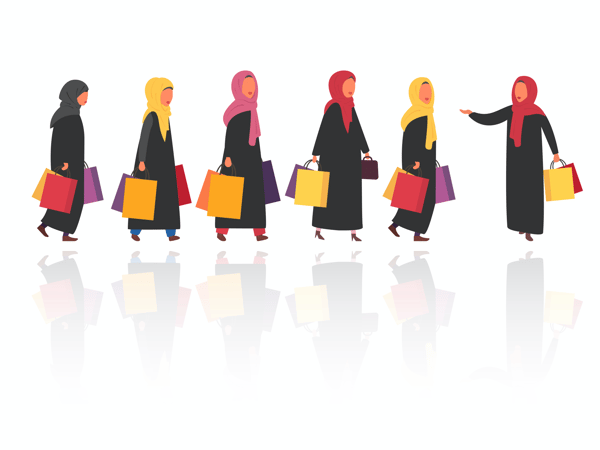 You've honed in on two top performing markets in the GCC. The UAE leads, with its market revenue accounting for over 45% of that of the entire Middle East region. The Kingdom of Saudi Arabia (KSA), while different in many ways and with far greater future potential, comes in as a close second. This is a great starting point for your business to expand within the Middle East. Let's take a look at where you need to concentrate your marketing efforts, as well as who you're marketing to.
Shoppers in the UAE & Saudi Arabia have experienced changes in their shopping behaviours and patterns due to COVID-19, 52% of these behaviors reported as being significant according to an Ernst & Young (EY) survey conducted in May 2020. Businesses have therefore had to develop their online presence in order to cater to changing consumer preferences and habits. This has led to the expansion of fulfilment centres and delivery capacities.
According to Majid Al-Futtaim, there has been a 400% growth in orders placed for retail and a 300% increase in online sales between March and May 2020 compared to the same period in 2019. The items frequently bought reflect the lockdown, as there is an increase in demand for homeschooling products, as well as gym equipment, which has increased by 600%. Malls are also adapting, with Dubai Mall, for instance, who now offer virtual shopping from some of their top stores via Noon.com.
Marketing that matters in the Middle East
In order to successfully market your business to the UAE and Saudi Arabian markets, you need to consider what matters most to these consumers. Here are the top 2 factors to take note of and how to tailor your marketing approach to meet these needs:
Trust: Trust is a foundational factor for these consumers. If your business is not an established brand name, you will need to focus your marketing efforts on building trustworthiness. Trust often forms the basis of loyalty which is a strong deciding factor in repeat purchases. This is especially true when it comes to online shopping, a growing business sector in the region. This refers not only to purchases made online, but also to the payment options available, as consumers are hesitant to share their credit card information.

Mobile-first: The UAE and Saudi Arabia consumers are highly connected to the internet. Most of their activity online occurs on mobile devices. In fact, 97% of people in the UAE have mobile phones and Saudi Arabia is known to have one of the highest growth rates in social media. Your business therefore needs to be present online and connected via various channels. Whichever channels you chose for your business need to be connected with cross-channels campaigns. Online shopping also needs to have a mobile-first approach for seamless transactions.
Market your business online for UAE & KSA consumers
Based on the above, your business needs to be online to reach these consumers. There are increasing digital ad spends by businesses in the market currently, so your business definitely needs to develop an online marketing strategy and invest in it in order to grow and reach your targeted audiences. Here's how:
Social media: The UAE and Saudi Arabia have high social media penetration. An active and effective social media presence is very influential for online sales and brand perception. With several platforms to choose from and various advertising options, social media is a must. As you develop this online presence, it is essential that you support and boost your content and channels with optimisation and advertising. Middle Eastern consumers value content that is authentic, responsive to their needs and engaging through interactive social media posts.

Ecommerce: In the UAE in particular, there are favourable regulations for online commerce which are aided by the government. This promotes foreign direct investment into Dubai's online shopping sector, especially thanks to the development and launch of Dubai CommerCity, a $735 million project dedicated to ecommerce, located next to the airport. Saudi Arabia doesn't have the same governmental initiatives as the UAE or quality of infrastructure - instead, they have a 'Saudization scheme' to boost local businesses. New businesses entering these markets should consider listing, selling and processing orders through popular online marketplaces.
Marketing drivers for your business
When marketing your business online through various channels, these are the kinds of content you should be sharing with consumers:
Informative content that teaches and educates on your brand and industry trends.
Promotional information including cross-selling, up-selling and repeat purchase offers.
Lead magnets such as events and gated content.
Post-purchase care, including support and invitations to review consumer's experiences with your business.
Quickfire guide to UAE and Saudi Arabian consumers
Email communication from marketers is preferred but also, don't discount SMS and Whatsapp communication in line with the high mobile penetration.
Saudi Arabian consumers still prefer cash on delivery as a payment option.
Attractive offers and lower online pricing attracts repeat purchases by consumers.
Online presence must model the specific market preferences. Localisation and language are important, as there are various cultures and versions of Arabic spoken throughout the Middle East.
These consumers are shopping online more often and making less frequent, but higher spend trips to malls.
1 in 2 consumers are willing to pay premium prices for high quality, especially when it comes to health and wellness products.
Understanding the market is an integral part of satisfying consumer needs. With the information shared in this article in mind, your business can effectively market itself to consumers in the UAE and Saudi Arabia.
Ready to get started?
Book a virtual meeting with us at Nexa.