Lead generation refers to a strategy designed to attract and convert a target audience that has shown interest in your business. The goal of lead generation is to effortlessly guide a prospective client through the buyer's journey to the end of the sales funnel. Today, lead generation doesn't just end when the deal is closed, lead nurturing continues after the sale to ensure customer loyalty and continued sales.
For centuries, organizations have been generating and managing leads through a variety of tactics. Today, there are many elements that make up lead generation including content creation, social media, blog posts, lead nurturing email campaigns, lead data collection, lead analysis, and more. With this in mind, the act of lead generation can quickly become overwhelming and a lot of lead information can be lost along the way as data moves from department to department. However, thanks to modern-day marketing technology, the process of lead generation and lead management have become more efficient and departmental aligned than ever before.
A Customer Relationship Management platform (or CRM) has changed the way businesses market and sell their products and services. This kind of platform has also taken the lead generation and lead management process and made it more personalized, automated, and aligned, ensuring greater conversions and returning customers.
You have probably heard about CRM's and you may have even researched the right one for your business however, it is important you understand just how powerful a CRM is and how you can optimize the platform for greater lead generation, lead management, and business growth for your business.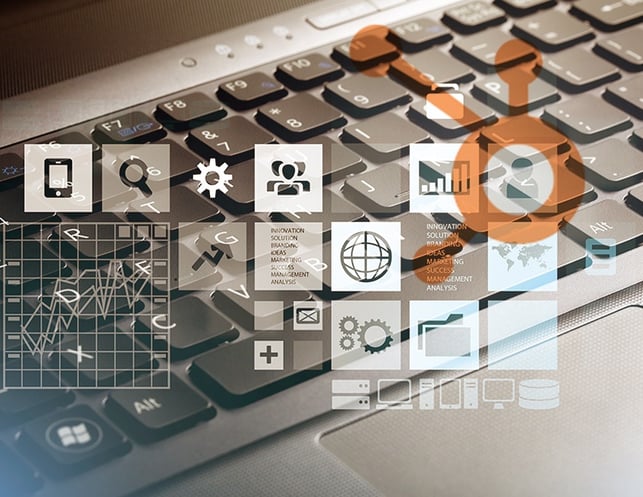 Why a CRM is Essential for Greater Lead Generation and Conversion
As stated previously, the goal of lead generation is to attract your target audience and convert them into customers. In order to do this, you need to identify leads, nurture them from marketing and convert them into loyal clients through effective sales and customer service.
A CRM software has the ability to streamline the above processes by helping your marketing and sales departments work in sync to collect and store leads, track them, measure them and nurture them with personalized strategies.
A CRM has the power to create a digital database of leads and ensures you store accurate lead records in a single and easily accessible location. We live in a data-driven world and a CRM helps you use this data to drive a lead through the sales funnel and convert them into loyal clients.
So, how can you use a CRM for your lead generation and lead management efforts? Let's take a look.
Using a CRM for Lead Generation and Lead Management
Your marketing team should be collecting thousands of leads every month and it is vital you have an effective way to collect, track and monitor these leads if you want your marketing endeavors to amount to something tangible. CRM software has the power to help you organize this data quickly through the use of Artificial Intelligence and marketing technology. By investing in a powerful CRM system, you are able to not only store and track your leads, but you also have the tools to score them based on interest and where they are at in the buying cycle.
The methodology of CRM lead tracking and lead scoring is becoming increasingly vital for marketing and sales departments as this technology aligns these teams by providing them with insights into the most qualified leads. Not only does this technology ensure that your teams don't waste time on weak leads, it helps your marketing teams implement the most appropriate marketing messaging for a specific lead and helps drive them through the sales funnel toward becoming sales qualified leads. Once sales qualified, a lead's information will be sent to the relevant salesperson for conversion which streamlines your entire marketing, sales, and service process like never before
HubSpot is a powerful CRM software that has been expertly designed to do all of the above (and more). By using HubSpot, you are able to convert your prospects into leads, and eventually convert them into loyal, paying clients.
How you Can Use the HubSpot CRM for Lead Generation and Lead Management
HubSpot offers a single location that allows you to create and manage all your digital marketing and lead generation efforts including your website content, blogs, and social media as well as your lead nurturing efforts such as personalized email marketing and remarketing campaigns. Through HubSpot's powerful marketing, sales, content management, and service platforms you are able to create a streamlined lead generation process.
Below, we take a look at the lead generation and lead management tools offered by HubSpot and how you can use these tools to optimize your lead data and grow your business better.
Creating Lead Generation Forms through HubSpot
When a visitor lands on your website, they need to be able to contact you immediately or leave their information. If this is not in place, how do you convert your visitors into customers? As a business, it is vital you provide an easily accessible place for visitors to fill out their information, or else you will lose all means to convert them into leads.
First off, you need to make sure that your website offers informative content that is able to capture the visitor's interest, then when you have them "hooked", you need to offer a form where they can fill in their information for further information about your business. Once they have filled out your form, you are given a direct line to them and are able to continue the conversation around your business and your offerings.
By creating these lead forms, you have the ability to collect your potential customers' contact information, as well as other helpful data, which allows your marketing team to follow up with them at a later stage.
These forms are available for any landing page, blog post, or website page that is hosted by HubSpot. You can also add these forms to external pages by installing the HubSpot tracking code on your external site, you are also able to install a HubSpot form to a WordPress site using the HubSpot WordPress plugin.
An advantage to using HubSpot for online forms is that all data automatically flows into the free HubSpot CRM tool. Once you have collected the data, it will be updated on the CRM and you are able to use this information to send out email campaigns and nurture your leads.
Lead Nurturing with HubSpot
Once your potential customer has filled in their contact information, you have the opportunity to nurture a relationship with them with HubSpot and have the power to convert them into paying clients.
Lead nurturing refers to a series of emails or communications that are sent to leads based on their specific interests. A lead nurturing campaign is where you are able to use the data you have gathered on prospective clients to deliver times and targeted information to them, to help guide them on the buyer journey.
The process of lead nurturing is not as difficult as it sounds, in fact, lead nurturing campaigns are easily implemented through the HubSpot platform and can be automated and personalized to suit your specific needs.
HubSpot Newsletters and Email Campaigns with HubSpot
Once you have expanded on your database using HubSpot forms, you need to carry on the conversation with your prospective clients. This is where newsletters and email campaigns become important.
By sending your prospective clients personalized, informative and relevant emails, you have the power to convert your contacts into warm leads.
If you want to take an in-depth look at how to create your newsletter or email campaign using your HubSpot database, click here.
You can also take advantage of HubSpot's email marketing automation platform. This platform allows you to create timed sequences of emails that will be sent out to each contact.
This kind of email-driven marketing is a powerful tool for lead generation and offers a way to warm up a lead. This is done with tailored email campaigns that showcase your products, upcoming events, white papers, informative blog content, or case studies.
Live Chat and Customer Service with HubSpot
HubSpot offers a variety of ways to engage with your audience, from email campaigns to lead generation forms. HubSpot's live chat is another useful tool to make use of in your lead generation endeavors.
When a person visits your website, they want immediate answers. We live in the age of instant communication and you want to be able to provide the option of instant communication to your visitors. By offering live chat on your website, you are able to answer your visitors' questions in real-time, and this kind of engagement is a great way to win them over, establish a relationship, gain trust, and convert them into paying clients.
Through HubSpot live chat you are able to customize your chat widget to ensure it fits with your brand identity, you are also able to automate a "chatbot" to qualify your leads, answer frequently asked questions, book meetings, and so much more.
Learn more about creating your HubSpot live chat, here.
Lead Scoring with HubSpot
A lead scoring model is a specialized and analytical system used to evaluate the quality of your leads. Essentially, points are given to a lead based on a variety of factors including their industry, level of interest in your business, and related qualities associated with previous high-value clients and leads. Lead scoring is an important component of lead generation and helps make for a more efficient sales process.
As stated previously, this tactic assigns scores to your leads based on where they are at in the buying process and this insight helps marketers and sales representatives identify which leads are still in the nurturing stage and which leads are sales qualified. If a lead is identified as sales qualified, their details will be handed over to the sales department for further engagement.
Thanks to Customer Relationship Management systems (CRMs) such as HubSpot, this model is made easy thanks to online data collection, automation, and audience segmentation.
Take a deep dive into how you can use HubSpot for lead scoring, here.
The Wrap Up
Today's modern marketing and sales tools are vital for business growth and it is important you create a marketing stack for your business that helps better your lead generation processes... HubSpot is the ideal CRM for this as the platform is designed to fulfill all of the above lead generation tactics in a single location ensuring the most streamlined lead generation, lead management, and sales processes.
How We Can Help
Contact the team at Nexa if you are interested in implementing the above-mentioned CRM lead generation tools and tactics for your business.