The importance of a functional website cannot be overstated. By establishing an online presence through your website, you are able to reach more leads and convert them into customers. The more users you reach online, the greater your opportunity to make a sale. With an e-commerce website, you have the opportunity to sell your products 24 hours a day.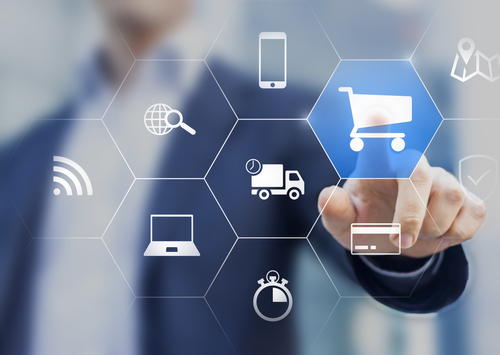 Before we delve into how long it takes to create an e-commerce website. Let's take a look at what an e-commerce site is.
What is an e-commerce website?
Electronic Commerce or e-commerce as it is known, refers to the purchasing and selling of goods and services, and the transmission of funds or data, over the internet. An e-commerce website is designed for business-to-business, business-to-consumer, consumer-to-consumer, or consumer-to-business.
Building an e-commerce website is one of the most beneficial things you can do for your business, especially considering that more and more people are exclusively shopping online. But how long does it take to build an e-commerce website and what kind of resources are required to do so?
All websites are diverse, and there is no one size fits all answer to these questions. However, it is possible to adjust the time of the build based on the resources you have available and your website goals.
How long does it take to build an effective e-commerce website for your business?
No two E-commerce websites are the same and a number of different factors influence how long it takes to design and develop a strong, high-quality and secure E-Commerce website. For example, the more products or services you have to sell online, the longer it will take to build your website. Think about the largest online e-commerce sites, such as Amazon.
Amazon offers hundreds upon thousands of products and services, and if your site were to host that many offerings, it would take an exceptionally long period of time to create. However, if you are selling a few products or have shop-building software, you can build an effective e-commerce site swiftly. But CEO of The Media Captain, Jason Parks, recommends that you give your agency 12 months to create and launch an effective, highly functional e-commerce website. At Nexa, we believe that the design and development time can be much shorter (see below), but the optimization of the website so that you maximise your revenue opportunities is a process that also must be taken into consideration when planning out your e-commerce project,
The reason for this recommendation is because the work that goes into creating a functional website of this magnitude is not easy work. You want everything to run effortlessly before you launch your site to the world. A lot of work goes into building an effective e-commerce site, below, we take a look at what it takes to build a successful e-commerce website.

What you need to build an e-commerce website
Building an e-commerce website is significantly different than creating a standard website. You will not just need to secure a domain and find hosting, you will need to consider software and tools for processing payments.
What you will need to build your e-commerce site:
A domain name

A web hosting provider

A tool or platform to build your online store

Product packaging

Product shipping / distribution provider

Payment gateway / platform
Building an e-commerce site needs to be set up to sell physical products and you need to anticipate upfront work before you get your website ready. It all begins with market research and finding your niche.
Market Research


Before you begin your e-commerce journey, you need to spend time finding the right products to sell and to understand your market, and your competitors. You need to uncover a need in the marketplace that can be filled by your business and your product offerings.

There are a variety of market research tools you can use to find out if your product and services are trending online, and you can discover more about your competitors. For example, Google trends helps you identify the online market growth in your industry and will give you an idea of what your consumers are searching for online.

Choosing your e-commerce platform

When it comes to finding the preferred platform for your e-commerce site, you will have a lot of options to choose from.

Some of the most popular options include:

WordPress/WooCommerce

Magento

Shopify

Website Builders



At Nexa, we work with both open-sourced solutions such as Magento or Shopify or we can even custom code the e-commerce platform for you, depending on the size and scale of your business. Magento and Shopify are popular e-commerce solutions each with a customisable Content Management System (CMS) that allows you to manage the day to day operations of your website. Both Magento and Shopify websites require skill and knowledge to build and develop. The platforms are powerful and gives you more options when it comes to customising and building functionality within your e-commerce store.

If your business requires a highly complex and customised e-commerce solution, our team have the skills and expertise to help create this. Custom stores allow a great deal of scale, can be built specific to the needs of your business and customers with little or no technical limitations. The building of your e-commerce site will take time as you need to ensure it is functioning correctly before it is launched. Rome was not built in a day, and your e-commerce site should never be rushed. You want to give the user an effortless online shopping experience, and this will take time.
Setting up payments and distribution
An important part of e-commerce stores, especially where the sale of physical products is. the offering, is to ensure that you have the right payments partner and distribution and delivery network in place. With both, you need to ensure that there is little or no friction as this may impact conversion rates as well as provide a negative purchasing experience. The higher the friction, the less likely your customers are to buy from you again, so it's important that you take the time and conduct the right level of due diligence when selecting your partners.

Launching your store


Once you have built your e-commerce site, you are ready to launch your store. It is important to launch your business once it is fully functional. You only have one chance to make a good impression. Before your site goes to launch, spend time checking every page for typos, broken links or other issues that may come up. Make sure to go through a few sample purchases yourself to make sure the checkout process is working smoothly. Also ensure that your website is secure with accreditations that provide both security and guarantees to your customers, who's private and personal data will be stored on your website.
Using data to optimize performance
Once your E-commerce website is live and generating traffic, it's important to take time to understand how your visitors are behaving with your website. Some of the useful data points to consider are:

Time spent by users on your website
The number of products / pages they look at
Conversion rates (visitors to purchase ratios)
Average cart value (average spend on your website)
Customer acquisition costs (how much it costs you to attract the customer to your website)
You should look to improve these key metrics on your website, having a clear strategy for each in order for you to maximise the revenue potential and return on investment from your e-commerce website.
What are the estimated time frames required to build an E-Commerce Website?
It's important to make sure that you have all of the above taken into consideration when creating a new E-Commerce Website and the reality is that the more prepared you are, the faster the development will be. To help you understand the timeframes required, here's a realistic summary:
Simple E-Commerce Website with up to 25 Products: 4 Weeks
Semi-Complex E-Commerce Website with multiple categories and products: 6 Weeks
Full, complex and custom E-Commerce Website: 16 Weeks
In Conclusion
E-commerce website development is a science on its own and while instant solutions work, the most successful websites are those with a well thought-out strategy and post-live action plan to drive volumes of qualified traffic to the website. Every online shop is different, depending on the number of items available for purchase. Each page will require a product description, and each page needs to offer a great user experience - with no bugs or glitches so that your customers return again and again.
Designing a site on this level takes time, and a professional digital marketing agency will be able to guide you on the timeline that will best suit your e-commerce site expectations. If you are looking to setup an online business, we are here to help. We work with both open-sourced solutions such as Magento template based solutions such as Shopify and can custom code the e-commerce platform for you depending on the size and scale of your business. We can also assist you with the selection of the right payment gateway / provider for your business.
We also provide consultancy to new e-commerce retailers ensuring success-related components such as Search Engine Optimisation, Email Marketing and Social Media marketing to help you gain even greater success.
Want to see how much your next e-commerce website will cost? Click her for our Website Calculator or contact us today!