LinkedIn is the world's leading professional social network. Having a presence on the platform enhances the visibility of businesses, helping to build trust and credibility. Advertising on the platform can result in marketing success for your business, particularly in the B2B sector. Creating a campaign on LinkedIn is simple - here's all you need to know.
With more than 660 million users who are active on the platform, many of which frequently use the app. LinkedIn offers marketers a great opportunity for effective advertising. The costs of advertising on this platform can be slightly higher than other social media networks, however they are able to offer more specific targeting capabilities. In addition to this, businesses who use LinkedIn can benefit from growing their professional network with both customers and employees.
Where to begin on LinkedIn
You're going to need a LinkedIn Page for your business. These are free to create and provide a way for your business to be established on the platform and by sharing quality content from there, you'll be increasing your bid auction results. Bid auction results are LinkedIn's measures of relevance for marketers who post regularly and generate engagement on that on content. Video ad formats give you the option to bid based on the cost per view.
To create a page, you'll need to use your LinkedIn account and a verified email address. With your LinkedIn page, you'll be able to share Sponsored Content and Message Ads.
Now that you're sorted, you need to create a Campaign Manager account. This is where you can set up ad accounts, run campaigns and control your budget. This platform will guide you through each step of setting up your first campaign.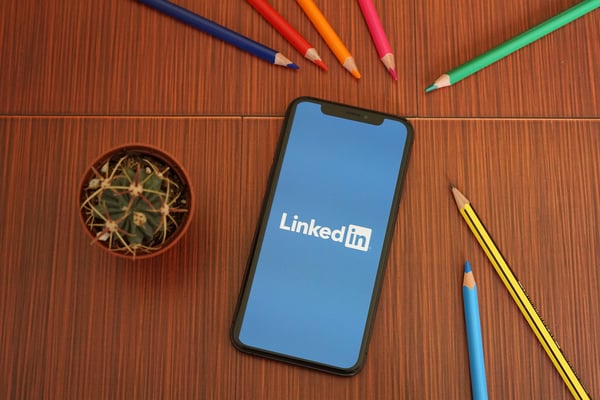 Create a Campaign on LinkedIn
To begin with, you need to determine your objective for the advert. This will affect how your campaign is customised and created to ensure that your objective is met. LinkedIn supports full funnel objectives, from top-of-funnel awareness building campaigns to lower-funnel conversion campaigns." The objective can be one of the following:
Awareness: Maximise your visibility through impressions
Consideration: Encourage engagement through actions such as views and clicks
Conversion: Lead generation based with trackable information captures or downloads. LinkedIn uses forms pre-filled with member's data from their profile, making it an easy and effective way to generate quality leads.
Next, select the ad format. There are three options, namely:
Sponsored Content: native advertising that appears in the LinkedIn feeds, featuring either a single-image, carousel or video.
Message Ads: Personalised direct LinkedIn messages (also known as InMails) that drive more conversions than email.
Text Ads: Pay-per-click (PPC) or cost-per-impression (CPM) ads that appear across LinkedIn desktop, featuring a headline, description and small image.
Dynamic Ads: Personalised ads based on the specific information related to a member, including their job title and company name.
Now it's time to determine the details of your targeted audience. Once you select the audience for your campaign, you can save it for future use. You can base your targeting on specific professional traits and interests, with details including industry-specific professionals to location-based factors. If you'd prefer, you can also use your own data with Matched Audiences for re-targeting, email contact targeting and/or account-based targeting.
At this stage, you need to bid and budget. Determine your starting budget, keeping in mind that this can be adjusted over time based on the ad's performance. Having a well estimated starting budget can improve your ability to control costs according to your marketing strategy. LinkedIn's Campaign Manager will also suggest a budget range based on other competing bids who are targeting a similar audience.
Finally, it's time to create your ad. As you setup your ad, Campaign Manager will generate previews so you can see what your ad will look like across various devices. Message Ads can be previewed by sending yourself a test.
Once you're happy with your ad and your payment details are ready to go, your campaign will go through a review process before it is launched. The review process ensure that LinkedIn maintains a high quality user experience by meeting the guidelines. This process is usually completed within 24 hours, the status of which is viewable in the Campaign Manager. If your ad is rejected, you will be provided with an explanation, many of which can be edited and re-submitted for review.
Finally, it's time to measure the performance of your campaign. This can be done from the Campaign Manager. This includes data on impressions, clicks, budget and social actions (which are organic engagements). Based on this information, you can adjust your ads and refine them where necessary to improve their performance.
What are you waiting for? Creating and managing campaigns on LinkedIn is simple and effective. Utilise the many possibilities available for your campaigns, from the format to the objective and budget. Watch your business grow in terms of increased visibility, engagement and high quality lead increase.
Need a Specialist B2B Social Media Agency to handle your social media?
Become one of Nexa's success stories. Whether you;re a startup business or a multinational company, we've got everything you need for a winning social media strategy. Book a session with us.